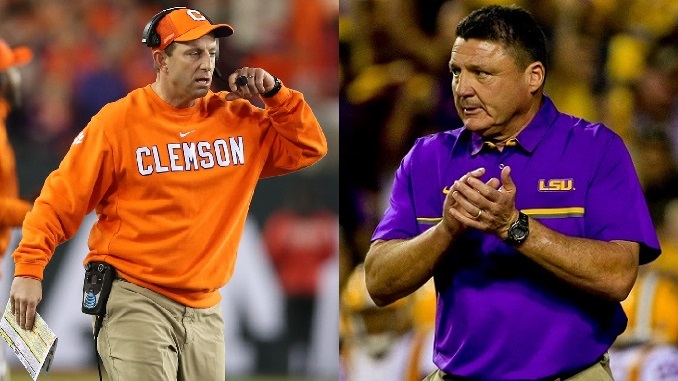 There are many similarities between Dabo Swinney and Ed Orgeron.  Is LSU patient enough to let him build his program?  You can build your bankroll easily at MyBookie.ag – the BEST online sportsbook out there.  Right now, they've got it setup where you can literally make money for nothing.  Go to MyBookie.ag, enter promo code WCE100, and you get a 50% deposit bonus just for signing up.  That's right – free money.  Check it out now!

Ed Orgeron's popularity at LSU in 2016, as interim coach, was unheralded.
LSU fans were excited because he was from Louisiana.  He had the accent.  He beat up on Ole Miss and Texas A&M, went 6-2 and kept the team together over the majority of the season.
Orgeron had the same 6-2 record as interim coach at USC.
So where are the similarities with Dabo Swinney?
Dabo Swinney's coaching career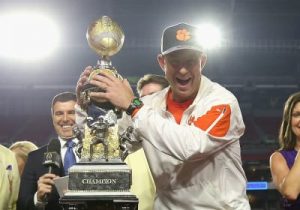 Swinney was on Mike DuBose's staff at Alabama, and was let go after the 2000 season, along with every other coach on that staff.
He then took the 2001 and 2002 seasons off and worked as a real estate leasing agent before getting a call to join Tommy Bowden's staff at Clemson as a WR coach.
He stayed in the same position all the way through 2008, when Bowden was let go after taking a preseason #8 ranking to a 3-3 record mid-way through the year.
He had never been a coordinator, or a head coach, but he got the interim head coaching job at Clemson in the wake of Bowden's firing.
On the practice field, [Athletic Director Terry Don] Phillips noticed a distinct sense of fairness in Swinney. Perhaps it harkened back to Swinney's days as a walk-on at the University of Alabama, but whatever the impetus, Swinney treated everyone equally, from his stars to his third-teamers. And Phillips liked that.

On game days, Phillips detected an unmistakable fire in Swinney. He demanded that all of his players maximize their effort – every game, every possession, every snap. And Phillips liked that, too.

In the football offices of the McFadden building, Phillips would stroll by the open door of Swinney's office and take note of the many players – regardless of position – who would migrate there, seeking advice or a pat on the back or someone to simply listen.

And Phillips loved that.

"Seeing those things over a period of time made me think that he was a leader," Phillips said. "It was obvious that Dabo genuinely cared about his players. They didn't look at him strictly as a coach."

There were other things appealing about Swinney as well.

"We started signing players that heretofore we'd had a hard time even getting to come for a visit," Phillips said. "So that told me he was a great recruiter."

But perhaps more important was Phillips' homespun yet accurate personal barometer: "Dabo is good people," he said.
A coach that all the players love, regardless of position.  A great recruiter.  A demand that players maximize their effort.
Who does that sound like?
Ed Orgeron.
Dabo went 4-2 as interim coach, including a big win over rival South Carolina, and was hired before losing the bowl game.
Nobody really knew much about Swinney.  In fact, Pat Forde (when he was at ESPN) gave the hire a D+ ranking.
After starting his career 19-15, it looked like those that laughed at the hire might have been right.
How did Dabo get the Clemson program headed in the right direction?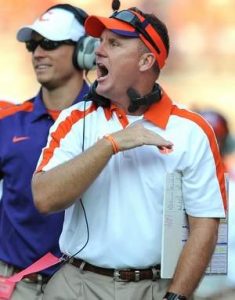 Dabo never had a major issue recruiting.
In 2009, his first year really recruiting, they didn't have much space on the roster, so they only signed 13 players – 6 of which were 4 stars, and seven 3 stars.  A year in which they went 9-5 overall.
In 2010, Dabo's bunch brought in the Rivals #19 class in the country, and in 2011, he brought in the #9 class, including four 5 star players.
Recruiting was fine, but the biggest thing that changed the trajectory of Dabo's career was his assistant coaching hires.
Dabo hired in Chad Morris as his offensive coordinator, from Tulsa, in 2011.
Morris had been a high school coach in Texas for years, and had been on the job at Tulsa for exactly one season.  In that season, Tulsa was able to take their record from 5-7, in 2009, to 10-3 in 2010, thanks to the offense going from 44th in the country (29.2 ppg) to 6th in the country (41.4 ppg).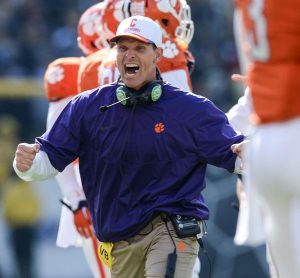 Chad Morris immediately flipped the offense at Clemson.  In 2010, Clemson's offense ranked #86 in the country (24.0 ppg), and in Morris's first season, he took the offense to #24 in the country (33.6 ppg).  In 2012, Clemson was the #6 scoring offense in the country (41.0 ppg).
The problem, then became the defense.  In 2010, in the 2nd year under Kevin Steele, Clemson was 13th in the country in scoring defense, giving up only 18.8 ppg.  In 2011, Steele's 3rd year, the Clemson defense gave up 29.3 ppg (81st in the country), highlighted by a 70-33 beating in the Orange Bowl at the hands of West Virginia.
Steele was shown the door, and Swinney brought in Brent Venables from Oklahoma as his defensive coordinator in 2012.  Clemson was able to get it done by paying Venables $800k a year, making him the 3rd highest paid assistant coach in the country.
Venables took the defense to the #48 scoring defense in his first season (24.8 ppg), followed by #24 in 2013 (22.2 ppg), and #3 in 2014 (16.8 ppg).
How does this relate to Ed Orgeron?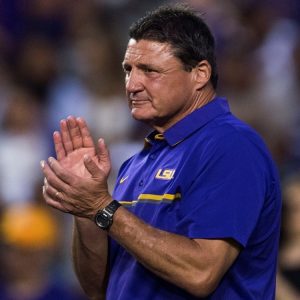 Nobody will say that Dabo Swinney is a genius X's and O's football coach.
Nobody is going to say that about Ed Orgeron either.
It took Dabo Swinney years to understand his role at Clemson.  He's a great recruiter, but he had to allow (and trust) his coordinators to do their job, and act as the CEO over the entire program.  There's too much involved with coaching a Power 5 football team to do it by yourself.
Dabo took less money so that his administration would pay his coordinators adequately.
Ed Orgeron has taken less money, and now LSU has 2 of the highest paid coordinators in college football – OC Matt Canada at $1.5M per year, and DC Dave Aranda at $1.8M per year.
Ed Orgeron was a position coach at LSU that got the interim job and worked his way into getting the head coaching job.
Dabo Swinney was a position coach at Clemson that got the interim job and worked his way into getting the head coaching job.
The only difference here is that Ed Orgeron got his early failures out of the way, thanks to his time as head coach at Ole Miss.
Rather than take a few years to figure out that coordinators and assistant coaches do matter to your football team, Orgeron and the LSU administration understood that from the very beginning.
There are only two questions that remain:
Will Ed Orgeron be able to just be the CEO and not get too involved in what his coordinators are doing?
Will LSU be patient with Orgeron and allow him to work out the kinks as he builds the program his way?