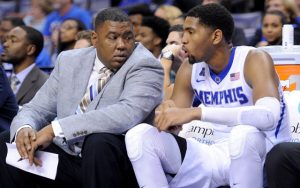 If you follow college basketball, and have any interest in Memphis basketball, then you have already heard the news that Keelon Lawson is leaving his position as Director of Player Development at the University of Memphis and his sons, KJ and Dedric Lawson, are both transferring out of the program.
Add to that the growing belief that Markel Crawford is going to transfer out of the program, and you've got the Tigers 3 best players leaving to play somewhere else next season.
That's 3 top 60 players leaving the school, along with the transfers of forward Chad Rykhoek and guard Craig Randall.
Tubby Smith and his staff have signed 3 recruits for next year:
Jamal Johnson (3* #151 6'4″ combo guard from Birmingham – had offers from Arkansas, Alabama, Vandy, Wake Forest, Georgia, Texas A&M and more)
David Nickeberry (3* #212 6'7″ small forward from Windermere, FL – had offers from Vandy, USC, Miami, Texas, Florida St, Florida, and more)
Victor Enoh (3* #245 6'8″ power forward from Decatur, GA – had offers from Arkansas, Vandy, Kansas St, Oklahoma St, Providence, Tennessee & more)
So, no top 150 kids coming in.
The sky is obviously falling.
Or is it?  I just watched South Carolina make a final four.  I just watched Gonzaga and Xavier play in the Elite Eight.  I just watched a North Carolina team with maybe 1 or 2 pros on the team win a national championship.
I'm of the opinion that talent isn't worth as much as good team chemistry.
South Carolina's recruiting rankings before their Final Four run?  2016: 63rd (12/14 in SEC)  2015: 33rd (7/14 in SEC)  2014: 43rd (10/14 in SEC).
Basically, your recruiting rankings don't matter, so long as the team builds chemistry and works together.  We've seen Butler, George Mason, Wichita St, and a slew of other teams that brought in players and developed them over several years, established team chemistry, and had great basketball teams without NBA level talent.
Kentucky wins a lot, but they don't win the National Championship every year.
Is it possible the Lawsons were a cancer to the Memphis locker room?  They can be the nicest guys in the world, but if they don't buy in to what the new coach is selling, and they let it be known, it can bring down the whole team.  Dedric was the leader of this team, and other players pay attention to what he and KJ were thinking.  Body language tells a lot, even if they don't say anything.  You could see a shift towards the end of the season, and when news leaked that Dedric may be leaving, while there were still several games left in the season, the whole team went in the tank.
There was no chemistry.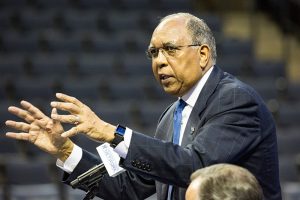 Tubby Smith needs guys in his corner.  And the Lawsons were never going to be that.
Now, you can say that Smith should have done everything he could to keep the Lawsons happy – this doesn't just affect next year's team, but you lose out on a top 30 kid in 2019 (Chandler Lawson) and a possible top 10 kid in 2021 (Johnathan Lawson), and you also lose out on the possibility of adding top 10 wing DJ Jeffries from Olive Branch (the Lawsons cousin, who I was convinced they weren't signing anyway – not with Calipari making trips to north Mississippi) – but I am of the opinion that as soon as you slip down that slope of trying to keep all parents of star recruits happy, you end up with the inmates running the asylum.
Coach Smith knows what he's doing.  This program was a mess.  Nothing has been stable here for a long time.  You see this kind of thing happen almost every single time a new coach comes in.  It takes time to set a standard.
And let's be real – there was no standard set under Josh Pastner at Memphis.
There was no respect from the players towards the coach.  Equally, Josh had a bad habit of throwing his players under the bus, so there was no respect from the coach towards the players.  There was no direction of what the team should be.  The kids that Memphis recruits could not connect with somebody like Josh Pastner.
Under Tubby Smith, that will change.  Memphis has a coach that doesn't care what fans or players or AAU guys, or anybody else thinks about what he's doing.  He's confident in his plan, and doesn't get caught up in the hype or negative press from the fans and media.  He continues to do what he does.  He establishes discipline and chemistry.
Luckily, in a league like the AAC, he doesn't have to have incredible recruiting classes every single year, he's not going to get in trouble with the NCAA, and he's sure as hell not going to let one player (and his "handlers") bring down the foundation he's trying to establish in the Bluff City.
So, Memphis fans – before everyone immediately starts trying to fire Tubby Smith after only one season on the job, think about the fact that you'll have good people, and good kids, representing the University of Memphis.  You won't have to put up with anything shady, or hearing from other fans how dirty your program is.  You won't have to sell your morals to be a fan of your basketball team like you did under John Calipari.  Winning is fun, but there's more than one way to do it.  Give him time.  I'm sure you'll be happy with the results.