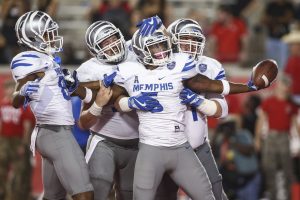 The halftime score was 17-0 Houston.  The home fans were raucous.
The Cougars were ready to get a top 25 win in their own stadium just 5 days after being blown out at Tulsa, who was 1-5 coming into that game.  A stadium they had only lost inside once in the last 3 years.
Memphis had been held scoreless in a half for the first time since 2012 – a span of 63 games.  Memphis had never come back to win a game after being down by 17 points (0-59 record all time).
And then something happened.
Memphis remembered how to score.  Or Houston forgot how to play defense.  Either way, adjustments were made, and Memphis scored quickly in the 3rd quarter to cut it to 17-7.
Then Houston scored again to make it 24-7.
Tony Pollard returned the kickoff to make it 24-14.  But then Houston came right back and scored again to make it 31-14.  That's 3 different times in the game that Memphis was down by 17.
But Houston got scared of kicking to Tony Pollard.  Who could blame em, right?  So coach Major Applewhite's team squib kicked and the Tigers got the ball on their own 38.
Memphis scored in 3 plays, and took just 1:01 off the clock, cutting the lead to 31-21.  You kinda started to get the feeling that Memphis would need turnovers to get a shot to win the game.
And they finally got one.  A fumble by Houston QB Kyle Postma that Memphis recovered on their own 36 yard line.
And Ferguson and the Tiger offense did what they do – went down the field in 9 plays, and only 1:41 off the clock, and scored a touchdown to make it 31-28.
But the time of possession didn't give the defense much time to breathe, so Houston got the ball back and went on a 13 play, 81 yard drive that took 4:20 and pushed the lead back to 38-28 with only 6:44 left.
The only issue with that was they had to give Riley Ferguson the ball back again.  He led Memphis on a 5 play, 77 yard touchdown drive in only 1:30.
Memphis needed a stop or a turnover.  And, somehow, they got a 3-and-out.  Looking back, I'm guessing Major Applewhite wishes he had gone for it on 4th-and-1, because his defense had not stopped Memphis from scoring a touchdown on any drive in the 2nd half.
So Riley Ferguson got back out there and led them down the field again, scoring in 8 plays, going 80 yards, and taking their first lead, 42-38, in just 1:49.  That left 1:28 left on the clock.
Which, to Tiger fans that saw how easily Houston had been moving the ball, felt like an eternity.
If you had told me TJ Carter would be able to force 2 turnovers from Houston in less than 1:28, I'd have said you were crazy.
But that's what he did, and Memphis grabbed a win by outscoring Houston 42-21 in the 2nd half.
Where does Memphis go from here?
Let's go back to Chris's and my predictions for the 2017 Memphis season back on July 10th, 2017.
Chris didn't think there was enough talent on this Memphis team to get these kinds of wins.
Honestly, after losing so many defensive players early in the season, I started to believe him.  But Memphis is currently 6-1, with wins over UCLA, Navy, and at Houston.  They'll be favored in all 4 of their games that are left this season.
ESPN's FPI lists their probability for a victory in each game:

That's not a guarantee they will win all of them, but that's a good spot to be sitting in.
How did Memphis get to this point?  Let me pull out a quote from that prior article:
While the team lost 4 games last year, Norvell has upgraded the talent at Memphis.

In addition to that talent, this year he has a ton of experience coming back.

Memphis is the #6 most experienced team in FBS according to Phil Steele.

There are standout skill players all over the field, and the defense will improve. That, along with a coaching change at Houston, and significant personnel losses at Tulsa, along with getting UCLA in an 11am CT game (9am local time for the Bruins) in September, sets this schedule up perfectly for the Tigers to really make some noise.
Obviously, we're still relatively early in the season (there's still 4 games left), but this is setting up very nicely.  Memphis's experienced players know what it takes to be able to come back in games like these.  They've got veterans on that team.  When one guy goes down, there's enough talent now to be able to slide somebody else in for them.
Memphis hasn't had that before.
If Memphis can get 4 more wins, and get to 10-1, they'll win the AAC West and get to the conference championship game at either South Florida (currently #16 AP, #13 Coaches) or a rematch at UCF (#20 AP, #20 Coaches).
How does the bowl situation stack up?
Before the Houston game, Memphis was projected in the following bowls:
While Hawaii and St Pete would be nice, especially against either Boise St or Lane Kiffin's FAU, and a Birmingham Bowl rivalry game against Tennessee (who will probably have an interim coach by that point), that's not what Memphis was shooting for this year.
Memphis sits at #25 in the AP poll.  They're the 3rd highest ranked Group of 5 team left.  The other two are South Florida and UCF, both in the AAC Eastern division, who play each other in the last game before the conference championship game.
South Florida's schedule is not very good – their Power 5 win is over Illinois (who is 2-4 right now after a loss at home to Rutgers, which means they may end up 2-10 at the end of the season), and their cross division games are against 4-3 Houston, 2-5 Tulsa, and 3-3 Tulane.  So if South Florida loses at UCF to end the season, they're out of the running.
UCF, however, has the win over Memphis during the regular season, would have a win over South Florida, Navy, SMU, and a 38-10 beatdown of Maryland on the road.
Either way, if Memphis wins out and wins the AAC Championship Game, they'll be going to a New Year's 6 Bowl.  Most likely the Mercedes Benz Stadium hosted Peach Bowl on New Year's Day.
Can you imagine how many Memphis fans would fill up Atlanta for New Year's Day?
There's 4 games left on the Tigers' schedule, starting with Tulane on Friday night, October 27th.  It's going to be an interesting ride to see if they can finish as hot as they were in that 2nd half at Houston.