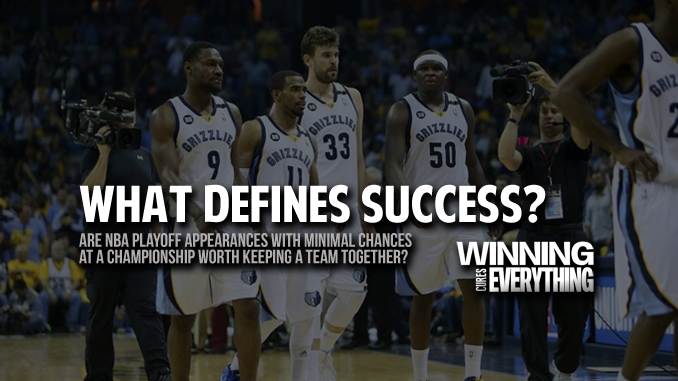 Saturday night, the Memphis Grizzlies defeated the San Antonio Spurs 110-108 in overtime in Game 4 of their 2017 NBA Playoffs first round series.
Through this year's playoffs, this was the absolute most entertaining game of all the playoff games.  There were so many intense plays through the 4th quarter and overtime that this should be an immediate "ESPN Classic."
Kawhi Leonard had an MVP performance, putting up 43 points in the loss, dominating the 4th quarter and overtime.  Tony Allen is out, but the other 3 members of the Grizzlies' "Core 4" stepped up – Zach Randolph had 12 points and 11 rebounds, Marc Gasol had 16 points and 12 rebounds, and Mike Conley had a monster game with 35 points, 9 rebounds and 8 assists.
Mike had the game tying floater with 4.7 seconds left in the 4th quarter, and Marc Gasol hit the game winner with 0.7 seconds left in the game.  Even Andrew Harrison got in on the action with a massive block of a layup with the Grizzlies down two with just over a minute left in OT.
The Grizzlies were demolished in Game 1.  And the first half of Game 2 looked the exact same.
But Grizzlies coach David Fizdale, the creator of "Take that for data" and "They're not gonna rook us," who previously had Zach Randolph coming off the bench, decided to put ZBo into the starting lineup with Marc and Mike, and it has paid off in dividends ever since.  The Grizzlies outscored the Spurs 45-40 in the 2nd half of Game 2, won Game 3 105-94, and won Game 4 110-108 in overtime.  They found a matchup against the Spurs that is actually working.
Back to the real topic at hand; This article is not being written to discuss this year's Grizzlies – Spurs series.  This is being written to discuss what truly defines success in the NBA.
I saw a run of tweets by Jon Crawczynski, AP national NBA writer, sometime after the game was over, and it got me thinking about what has been a trending topic in the city of Memphis regarding the Grizzlies.
Listening to Gary Parrish last week, once the Grizzlies went down 2-0 in the series, the question arose on his radio show of whether or not Grizz ownership should "blow it up" and try to rebuild the roster from the ground up.
The premise was simple – make your best players available via trade, and try to gather as many assets as possible to work towards an NBA Championship caliber team.  Several "basketball minds" that were in town for Game 3 told him that, personally, they would make it known that they are willing to trade Conley or Gasol, and try to gather pieces to build something up like the Warriors have done.
Before we jump into that, here are the tweets from Krawczynski, in order.  Yes, it's a little bit long, but it's worthwhile.

The "Rings Culture" that he's discussing is NBA Championship rings.  Basically, history states that you're not successful unless you have championships.
Basketball is a different animal though.  Unless you have one of the 2 or 3 best players in the league, and surround him with other top 10 talent, it's almost impossible to win an NBA Championship.  Let's look at the last 20 NBA Championships, just so you have an idea of what kind of teams win titles in the NBA.
1997: Chicago Bulls (best players: Jordan, Pippen, Rodman)
1998: Chicago Bulls (best players: Jordan, Pippen, Rodman)
1999: San Antonio Spurs (best players: Robinson, Duncan, Avery Johnson)
2000: LA Lakers (best players: Bryant, Shaq, Glen Rice)
2001: LA Lakers (best players: Bryant, Shaq, Derek Fisher)
2002: LA Lakers (best players: Bryant, Shaq, Derek Fisher)
2003: San Antonio Spurs (best players: Duncan, Parker, Stephen Jackson)
2004: Detroit Pistons (best players: Rasheed Wallace, Chauncey Billups, Rip Hamilton)
2005: San Antonio Spurs (best players: Duncan, Ginobili, Parker)
2006: Miami Heat (best players: Wade, Shaq, Antoine Walker)
2007: San Antonio Spurs (best players: Duncan, Ginobili, Parker)
2008: Boston Celtics (best players: Pierce, Garnett, Allen)
2009: Los Angeles Lakers (best players: Bryant, Gasol, Fisher)
2010: Los Angeles Lakers (best players: Bryant, Gasol, Fisher)
2011: Dallas Mavericks (best players: Nowitzki, Kidd, Tyson Chandler)
2012: Miami Heat (best players: LeBron, Wade, Bosh)
2013: Miami Heat (best players: LeBron, Wade, Bosh)
2014: San Antonio Spurs (best players: Duncan, Parker, Kawhi Leonard)
2015: Golden St Warriors (best players: Curry, Thompson, Draymond Green)
2016: Cleveland Cavaliers (best players: LeBron, Kyrie, Kevin Love)
In the last 20 years, there have only been 9 teams that have won titles.  Bulls with Michael Jordan won 2, Spurs with Duncan and his cast won 5.  Lakers behind Kobe Bryant won 5.  Miami Heat won 3 with Dwayne Wade (2 with Lebron, 1 with Shaq).  And, lately, LeBron has gotten one with Cleveland, the Warriors grabbed one two years ago, the Celtics got one with the Big 3… and the only two teams that were built anything like the Memphis Grizzlies – the Detroit Pistons in 2004 and the Dallas Mavericks in 2011.
So if you know that, in order to win a title, you HAVE to sign the best free agents, and you absolutely CANNOT whiff on a draft pick, what are the odds that you can pull off something like the Golden St Warriors, who, between 2009 and 2012, hit homeruns on drafting FOUR ALL-STAR STARTERS ('09 Steph Curry, '11 Klay Thompson, '12 Harrison Barnes, '12 Draymond Green).  Once those players became All-Stars, then it was easier to lure somebody like Kevin Durant to the team.
Even if you draft amazing talent that seems to work, you still have to have everything else in place to build the right chemistry, and then have the right team philosophy to get them to fulfill their potential.  Mark Jackson was only able to take that team to the playoffs.  It took Steve Kerr to turn them into the best team in the NBA.
The chances of having the exact right coach, and the exact right players for his system, and having draft picks that are homeruns… that's almost impossible.
With the current Memphis Grizzlies, do you purposely blow up having moments like what took place at the Grindhouse Saturday night just for the miniscule chance that, in a few years, you MIGHT hit on the right draft picks, and bring in the right veterans that fit exactly what David Fizdale wants to do?
Truth is, the Grizzlies have been one of the best teams in the NBA over the last 7 years.  They've been to the playoffs 7 straight seasons.  The only teams that have done that are the Grizzlies and the Spurs.  There are a few that have made 6 of 7, or 5 of 7 (Clippers, Pacers, etc), but the Grizzlies have built a strong foundation of winning, and the "Core 4" are the ones that have done it.  They've had 3 different head coaches – Lionel Hollins, Dave Joeger, and, now, David Fizdale.  In the last 6 playoffs, they've lost in the first round 3 times, made it to the 2nd round 3 times, and made it to the Western Conference Finals once.  That's a lot of success for a small market team that has only drafted ONE of their starters (Mike Conley).
Eventually, we'll go back through all of the amazing playoff games that we've gotten to experience with these "Core 4," but we'll close with this:
Winning in the NBA is incredibly difficult.  Whether in the regular season or in the playoffs.  What the Grizzlies have built, even if the main cogs are steadily getting older, is nothing short of incredible for a team that had no real history prior to this run.  The seasons are fun.  It's fun to wake up and check the standings, and know that you have games that actually matter towards seeding, or making it to the playoffs, etc.  I was here when they couldn't give away tickets to games because the team was awful.  I remember 20 win seasons.  Thankfully, now, I remember 50 win seasons, and Western Conference Finals, and exciting wins over teams that the national media said Memphis couldn't beat.  I remember just last week when people thought the Spurs would sweep the series.  And now it's 2-2, and the Grizzlies actually have a chance to win.
This is not worth "blowing up" just to take a chance at some "assets" and hope that the players drafted by the organization turn into All-Stars.  The chances usually don't work in your favor.  But this team fights for this city, and it's the most entertaining thing going in this town.  Their motto "Grit Grind" encompasses the entire region.  Zach Randolph's quote after the 2011 upset of the #1 seeded Spurs perfectly described it – he (and the Core Four) are blue collar players, and this is a blue collar city.  Nowhere else would a city appreciate this group of players the way that Memphis has.
Success doesn't have to be defined by championships. Hopefully ownership understands that.
Success is defined by memories.  And these Grizzlies have given us so so many of those.