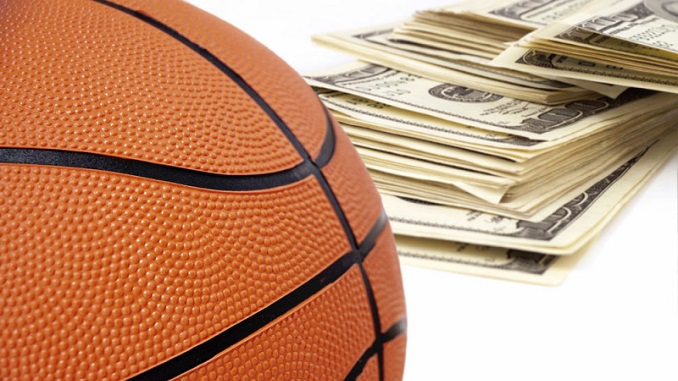 If you're anything like Chris and myself, you're looking for new ways to gamble on the biggest sporting events every year.  You can fly to Vegas, you can sign in to an offshore sportsbook, you can call your local bookie…
Or you can gamble with your friends on something as simple as a dinner or $10 or whatever you all feel comfortable with.  It doesn't have to be insane amounts of money… just something to keep you more interested and give you more of a rooting interest.
According to NBA Commissioner Adam Silver's 2014 Op-Ed in the New York Times, there is more than $400 billion wagered on sports every year.
Let me reiterate that point.  $400 BILLION PER YEAR on sports gambling.
That means there's A LOT of people that bet on sports, and some that spend A LOT of money.  So back to the idea of just gambling small amounts with your friends… there are a multitude of ways to gamble (squares, point spreads, point totals, parlays, prop bets, season wins, playoff series, etc), but we have been enlightened to a new one.
We have friends that are doing an NBA Playoff pool based on points.  So here is how this one works.  There are 4 players (and you can have as many players as you want, so long as it's equal teams for everyone), and with 16 NBA playoff teams, there are 4 teams for each player.  You get to pick which NBA teams you want in a snake draft (which we will show an example of below), and you pick teams based on who you think will earn you the most points.  Points are scored by seed number, and each round that they win multiplies the seed number by that total.
For example – the Golden State Warriors are a 1 seed.  If they win round 1, they get you 1 point.  Round 2 gets you 2 points.  Conference Finals gets you 3, and the NBA Finals would give you 4 total points for that round.  So the overall point total for the Warriors would be 10 points.  But, say you think the Memphis Grizzlies could sneak up and win a title this year as a 7 seed (this is hypothetical – we know the Grizzlies won't win the NBA Championship this year).  If the Grizzlies beat the Spurs, that's 7 points.  If they win the 2nd round, that's 14 points.  If they win the conference finals, that's 21 points.  If they win the NBA Championship, that's 28 points.  So the total number of points the Grizz could possibly get you is 70 (7+14+21+28).  If your team loses a series, they get 0 points.  So upsets are fun to pick, unless they cost you points.
The snake draft is easy – you pick names out of a hat randomly to determine the draft order, and then each round after that is done backwards.  So the person with the 1st pick also gets the 8th, and the person with the 4th pick also gets the 5th, and so on.
Here's how this particular group's draft went:
Player 1: #1 – Cavs
Player 2: #2 – Spurs
Player 3: #3 – Warriors
Player 4: #4 – Rockets
Player 4: #5 – Wizards
Player 3: #6 – Raptors
Player 2: #7 – Hawks
Player 1: #8 – Thunder
Player 1: #9 – Jazz
Player 2: #10 – Celtics
Player 3: #11 – Clippers
Player 4: #12 – Bucks
Player 4: #13 – Pacers
Player 3: #14 – Grizzlies
Player 2: #15 – Bulls
Player 1: #16 – Blazers
So here is how the teams end up
Player 1:
#2 Cleveland Cavaliers
#6 Oklahoma City Thunder
#5 Utah Jazz
#8 Portland Trailblazers
Player 2:
#2 San Antonio Spurs
#5 Atlanta Hawks
#1 Boston Celtics
#8 Chicago Bulls
Player 3:
#1 Golden St Warriors
#3 Toronto Raptors
#4 Los Angeles Clippers
#7 Memphis Grizzlies
Player 4:
#3 Houston Rockets
#4 Washington Wizards
#6 Milwaukee Bucks
#7 Indiana Pacers
Keep up with this post – we'll update the scoring as the NBA Playoffs go along, so you can see how this works.