The NCAA Tournament selection committee meets this weekend to select the 36 at-large qualifiers.
There are 32 automatic qualifiers in the 68 team field.
According to the NCAA's selection criteria, these are the factors included:
RPI (Rating Percentage Index)
An extensive season-long evaluation of teams through watching games, conference monitoring calls and regional advisory committee rankings;
Complete box scores and results;
Head-to-head results and results versus common opponents;
Imbalanced conference schedules and results;
Overall and non-conference strength of schedule;
The quality of wins and losses;
Road record;
Player and coach availability; and
Various computer metrics.
"Quadrant" results
ESPN Strength of Record (SOR)
ESPN BPI ranking
KPI ranking
KenPom ranking
Sagarin ranking
If you notice, the selection committee no longer factors in the last 10 games of the season, so teams like Alabama, who – if they lose to Texas A&M Thursday in the SEC Tournament – will be on a 6 game losing streak, including 5 Quadrant 1 losses and 1 Quadrant 2 loss, won't be as affected by this.
I've created a formula that gives us an idea of how the committee will be looking at these teams.
Here is formula, if everything were weighted the exact same:
(RPI + KPI + SOR + BPI + KENPOM + SAGARIN + SOS + Non-Conference SOS + Non-Conference RPI + Quad 1 # of wins rank + Quad 1 # of games rank + Quad 1 Win % rank + Quad 2 # of wins rank + Quad 2 # of games rank + Quad 2 Win % rank) / 15
No, all of these things are not weighted the same when the committee meets up, because there is always going to be a human element to the selection.
But if they are weighted the same, this is what the formula would look like.
First off, let's go through and see the initial rankings.  I've only ranked through #73, and for the automatic qualifiers in smaller conferences, I'll be using the RPI to seed those teams.
Below is a list of the conferences whose tournament champions will receive an automatic berth into the NCAA tournament (teams in bold already earned a berth, teams in italics have won regular season title).
Atlantic Sun (Lipscomb)
Big South (Radford)
Big Ten (Michigan)
Missouri Valley (Loyola-Chicago)
Ohio Valley (Murray St)
AAC (Cincinnati)
ACC (Virginia)
America East (Vermont)
Atlantic 10 (Rhode Island)
Big East (Xavier)
Big Sky (Montana)
Big 12 (Kansas)
Big West (UC Davis)
Colonial (Charleston)
Conference USA (MTSU)
Horizon League (Northern Kentucky)
Ivy League (Pennsylvania)
MAAC (Rider)
MAC (Buffalo)
MEAC (Hampton)
Mountain West (Nevada)
Northeast (Wagner)
Pac-12 (Arizona)
Patriot (Bucknell)
SEC (Auburn)
Southern (UNC Greensboro)
Southland (SE Louisiana)
Summit (S Dakota St)
Sun Belt (Louisiana)
SWAC (Grambling)
WAC (New Mexico St)
West Coast (Gonzaga)
Taking each of those teams as the Automatic Qualifiers for their conferences, this is how the bracket should look, if you don't take the last 10 games into consideration, and you actually look at strength of schedule, non-conference strength of schedule, and all of the other factors into consideration, as they said they would be doing.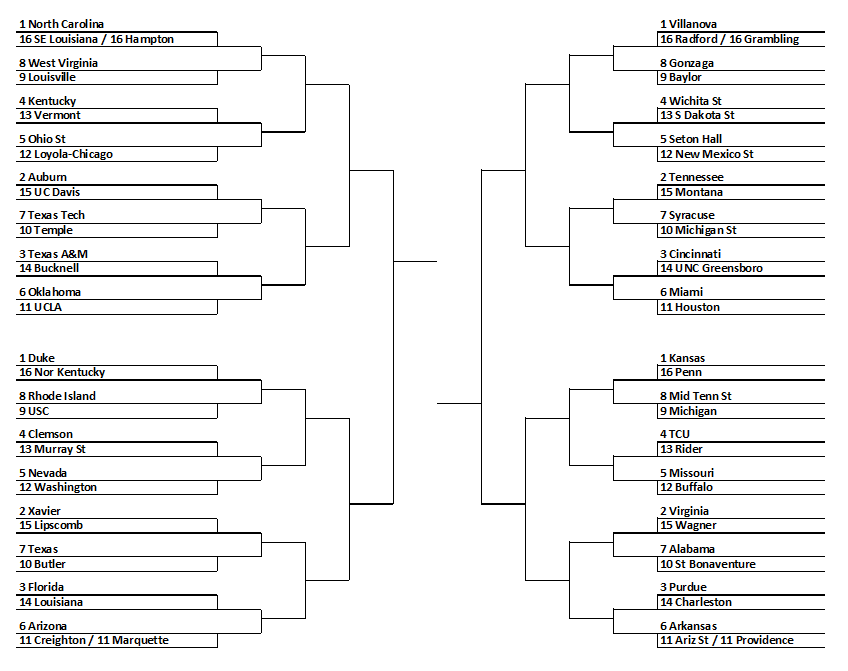 First Four Out
Florida St
Virginia Tech
NC State
Penn St
Next Four Out
Stanford
Kansas St
Mississippi St
St. Mary's
The biggest factor in these teams missing the NCAA Tournament is their putrid out-of-conference scheduling.
The committee rewards teams that play really difficult schedules.
You can see their numbers in the formula ranking above.