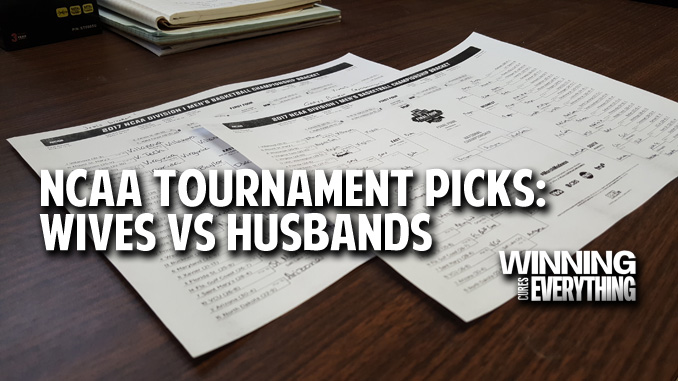 I have not had as much time to dive into the NCAA tournament this year because I've been on spring break vacation with my wife and daughter, but I did want to jump in with some picks.  Every year, men dive into the NCAA tournament and do as much research as humanly possible to find the correct upset picks in order to have the perfect bracket in their company pool.  They've watched these teams all year.  They have a feeling about who cinderella will be.
And then they get beat by somebody who picks their bracket based on what mascots they like more, or color schemes.
It happened to me back in college.  I was in a pool with somebody that had never even watched a college basketball game that season.  Had no idea who was on the teams, who the coaches were, etc.  He won our entire 15-man pool because he picked UCLA and UAB to be in the national championship (he picked his bracket based on how much he liked the names), and because of how the scoring was setup, he won the whole thing based on UCLA making it to the Final Four, and UAB beating Kentucky to get to the Sweet 16 that year.
I was furious.  But it just goes to show that there is no exact science to this.  Sometimes teams have a bad day.  Sometimes teams that have no business winning can hit every 3-pointer on the day.  It happens.
So, we wanted to test things out this year – we had our wives fill out brackets along with us, to see if the wives do better after not having watched a single game all year, or us guys, who actually follow the sport and know a thing or two about it.
UPDATE: The Wives have won the competition, thanks to North Carolina and Gonzaga streaking to the National Championship game.
Chris Giannini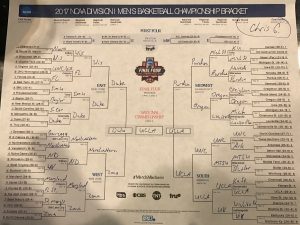 Round of 64: 26-6

Round of 32: 8-8
Sweet 16: 2-6
Elite 8: 0-4
Final 4: 0-2
Total wins: 36
Gary Segars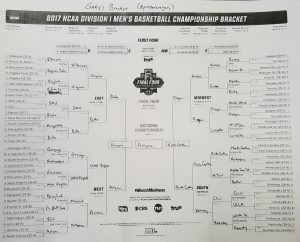 Round of 64: 22-10

Round of 32: 8-8

Sweet 16: 4-4

Elite 8: 2-2

Final 4: 1-1

Total wins: 37
Now we move on to the wives:
Amy Giannini
Amy picked games based on a coin-flip and alphabetical order:  If it flipped heads, she went with the team that started sooner in the alphabet, and tails was the one closer to the end.  Yes, that's literally how she picked her bracket.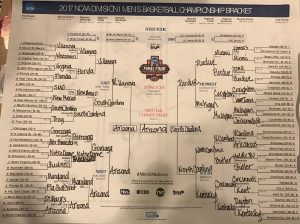 Round of 64: 20-12

Round of 32: 9-7

Sweet 16: 4-4

Elite 8: 1-3

Final 4: 1-1

Total wins: 35
Jessica Segars – BRACKET CHAMPION

My wife picked based on teams with the coolest names, and if the teams were within a few seed lines, she went with the underdog (because she likes underdogs), unless the other team has a cooler name.  Yes, you read that correctly.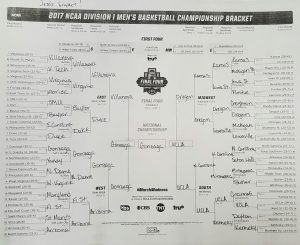 Round of 64: 24-8

Round of 32: 8-8

Sweet 16: 4-4

Elite 8: 2-2

Final 4: 1-1

Total wins: 39