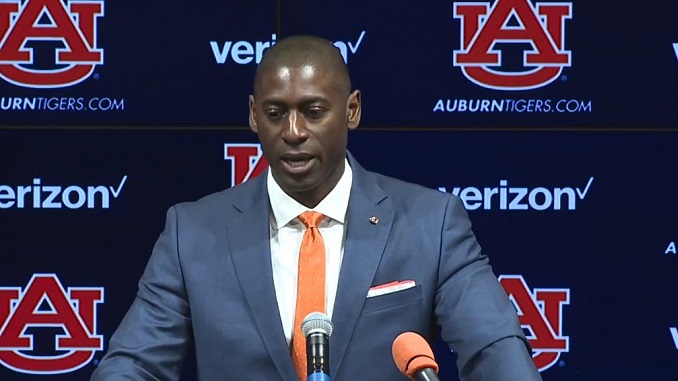 When it was announced that Allen Greene was being hired as Auburn's new Athletics Director, the immediate reaction from most people was "Who?"
Greene is the 3rd African-American AD in SEC history, behind Vanderbilt's David Williams and former Georgia AD Damon Evans.  You can read more about his background in this story from al.com, and another from SECCountry.com.
So how did he end up on Auburn's radar after only 2 years at Buffalo, after making no major hires, as Greene was hired at Buffalo in November 2015, immediately after new coaching hires for football and men's college basketball?
University of Central Florida's Danny White, who found time to fly to Auburn for today's press conference, and was mentioned multiple times by Greene, and by current Auburn President Steven Leath.  In AL.com's rewind of Greene's introductory press conference at Auburn today, Leath was mentioned as saying "References were an important factor, some of whom came to be here today, including UCF's Danny White."
Greene's ties to Danny White run back to their days at Ole Miss, where Greene worked under White inside the UMAA, which is the Ole Miss fundraising arm of Ole Miss Athletics.
Danny White was the Senior Associate Athletics Director at Ole Miss.  Per his bio on the Ole Miss website: "The UMAA Foundation added success, experience and a familiar face with the addition of Danny White as Chief Development Officer in August 2009. White was later promoted to Executive Director in December 2009, and Senior Associate Athletics Director in December 2010. White provides leadership to the Revenue Team, comprised of the UMAA Foundation and Ticket Office staffs, and focused on all fundraising efforts as well as season ticket sales for Ole Miss Athletics."
Danny's brother, Michael White, is the head basketball coach at Florida (and was an assistant at Ole Miss until 2011), and his father, Kevin White, is the athletics director at Duke.
Greene was hired at Ole Miss in 2009, 4 months after Danny White, who was quoted in the press release on his hiring at Ole Miss: "We couldn't be more excited to add a development officer of Allen's ability to our staff," said Danny White, UMAA Foundation Chief Development Officer. "To that end, he possesses the talent and experience to make a major impact on the future of Ole Miss Athletics."
According to Greene's bio on the Ole Miss website: "Ole Miss Athletics expanded its philanthropy efforts with the addition of Allen Greene to the UMAA Foundation as Major Gifts Officer in November of 2009. Since then, he has been elevated twice and currently represents the UMAA Foundation as the Assistant Athletics Director for Development/Priority Seating."
The UMAA is the group that Houston Nutt sued and settled with, along with receiving a public apology, based on a contract written in December 2011, as part of Houston Nutt's severence, after the University stripped former AD Pete Boone of his duties, with Boone's resignation being announced alongside Houston Nutt's firing.
In that same time period, 2010 is when David Saunders (an Auburn University alum) and Chris Vaughn were involved in faking ACT scores in Wayne County, MS for student-athletes that enrolled at Ole Miss.  David Saunders was administrative operations coordinator in 2010 at Ole Miss, while Danny White and Allen Greene were both employed by the UMAA.
White left Ole Miss in 2012 to become the Athletic Director at Buffalo.  White took Greene with him to Buffalo, where Greene served as UB's senior associate athletic director for administration and, before White's leaving for UCF, deputy director of athletics.
As of 2015, White has been the AD at UCF, which is where his ties to Bobby Lowder began.
Lowder's former company, Colonial BancGroup, was founded in Alabama, but their warehouse lending department was based in Orlando, FL.  As stated in the Orlando Sentinel back in 1998, "Robert "Bobby" Lowder, head of a vast family business empire that includes Orlando real estate and banking, stands out in his native Alabama as implacably determined to have his way."
Two of the biggest donations that Danny White has been able to pull together at UCF happened to come from Orlando natives that are heavily involved in the real estate market in Orlando.
In Feb 2017, UCF's athletics department received a $5M pledge from Kenneth Dixon, which was the largest donation, from an alum, that the school had ever received.  As stated in the story: "For Ken Dixon, a real estate developer from Kissimmee, it's the second time he's donated a significant sum to the school."
Dixon's bio, on UCF's College of Business Website, states this: "Mr. Dixon is the founder and CEO of Leland Enterprises, Inc. Leland is a diversified real estate company located in Central Florida. Leland is active in all phases of multifamily housing including acquisition, development, construction, management and brokerage. In addition, Mr. Dixon is involved in various other businesses including homebuilding, lending, investment banking and land development."
In August of 2017, UCF's athletics department received another donation for $2M, this time from Tony Nicholson and his wife, Sonja.  On the couple's "benefactors" page on the UCF website, "Nicholson's present companies include Nicholson USA Properties Inc., Affordable Homes of America Inc., Magic Housing Inc., United States Financial Services Inc., U.S. Title Co., and Systems and Solutions International. He is also one of the owners of the Orlando Predators."
Robert Garvey, in January 2017, donated $1M to a student-athlete nutrition center for UCF.  Garvey's background, per his page on UCF's website (as he is a member of the Board of Trustees at UCF), states: Robert A. Garvy, founder and chairman emeritus of INTECH, joined the company in January 1991, and in partnership with Dr. E. Robert Fernholz, has helped build the firm from a single product provider into a solutions-based global investment manager with over $50 billion in assets under management in 2014. Mr. Garvy's broad exposure to plan design, asset allocation, manager selection and performance analysis provided a unique background and perspective that led to the growth and development of INTECH among institutional investors around the world.
Obviously, there have been other donations from other people, but the real estate market in Orlando is where the biggest donors seem to tie together.
Auburn's hiring of Greene has been applauded for getting away from people with Auburn roots, and bringing in some new blood.
Allen Greene may end up being a great Athletics Director for Auburn University, but this hiring, in my opinion, has Bobby Lowder's fingerprints all over it.