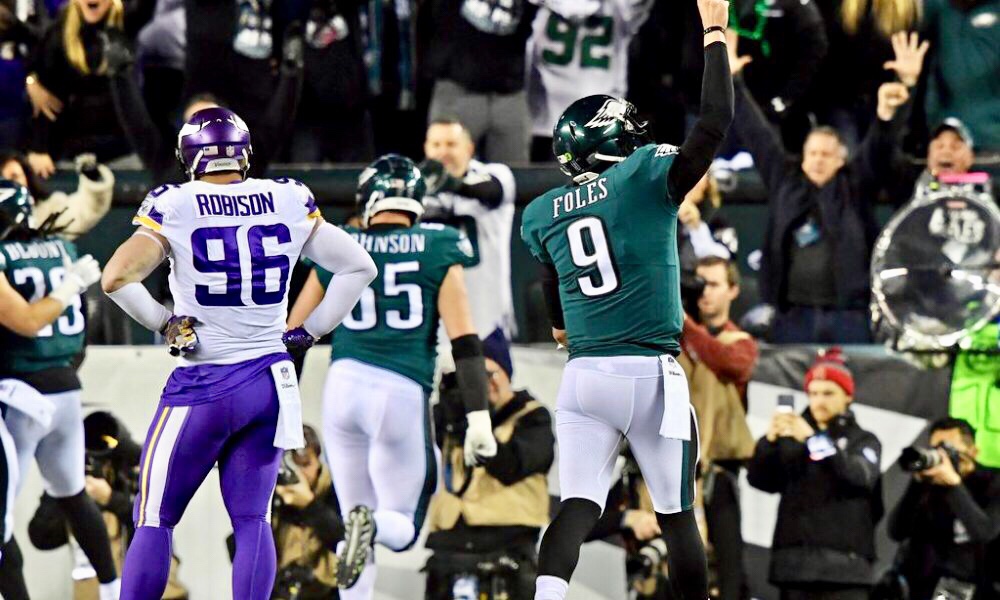 In 2013, Nick Foles went 8-2 as a starter for Chip Kelly's Philadelphia Eagles.
He threw 27 touchdowns and only 2 interceptions.
For the entire year.
Yes, you read that number correctly. 27 TDs and 2 INTs in one season. His only regular season loss was a 48-30 whipping at Minnesota.
But in the Eagles' only game in the NFL Playoffs, they lost 26-24 at home to the New Orleans Saints. Foles went 23 / 33 for 195 yards and 2 touchdowns.
So what has he done since then?
Well, for starters, he never made the playoffs again until this year.
In 2014, he went 6-2 as the starter before breaking his collarbone the first weekend in November. He had a completion percentage below 60%, and he threw 13 TDs to 10 INTs. After that season, Foles was traded to the St. Louis Rams.
In 2015, his completion percentage dropped to just over 56%, and he threw 7 TDs to 10 INTs before being benched in early December.
In 2016, he ended up with Kansas City, winning both games in which he played significant minutes, as Alex Smith was out injured. In those 2 games, he had 3 TDs and 0 INTs, and his completion percentage jumped back up to 65%.
This year, after Carson Wentz went out, Foles came in and took over as the starter. In his first start, on Dec 17th against the New York Giants, he went 24/38 (63.16%) for 237 yards, 4 TDs and 0 INTs in a 34-29 win.
In the next two games, a 19-10 win over Oakland and a 6-0 loss to Dallas, Foles went 23/49 with 1 TD and 2 INTs.
Once the Eagles arrived in the playoffs, it looks like a brand new QB. In a 15-10 win over the Atlanta Falcons in a divisional game, Foles was 23/30 for 246 yards with 0 TDs and 0 INTs, and in the NFC Championship game, he went bananas, throwing 26/33 for 352 yards, 3 TDs, and 0 INTs. So far, in this year's playoffs, Foles is 49/63 (77.78% completions) for 598 yards with 3 TDs and 0 turnovers.
The NFC Championship game looked like a man possessed. Foles was otherworldly, throwing deep and finding open receivers, only missing 7 passes out of 33.
So, a 75% completion rate, 3 TDs with no turnovers, and throwing over 300 yards… has he ever had back to back games like that in his entire career? Because you would have to assume the Eagles will need that to be able to beat Tom Brady and the New England Patriots in this year's Super Bowl.
In 2014, he opened the season with 3 straight 300+ yard passing games, but he threw an interception in each of the first 2 games, and never had a completion percentage over 65% (and the first two games were 60% and 56%). He threw for 2 TDs, 1 TD, and 3 TDs in that span.
In 2015, with the Rams, he never eclipsed 300 yards passing in any of the 11 games that he played in.
In 2016, with the Chiefs, he did not eclipse 300 yards in his only start, or in the game in which he came in after Alex Smith's injury.
In all 3 of his NFL playoff appearances, he has never had a QBR lower than 100. But how many times has he hit that in the regular season?
In 8 of his 10 starts in 2013, he eclipsed a QBR of 100. In 2014, he hit that twice – once in the 3rd game of the season, and he went 9/12 for 124 yards, 1 TD and 1 INT for a QBR of 100.7 before breaking his collarbone against Houston.
In 2015, with the Rams, he eclipsed a 100 QBR in 3 games – 2 of which he didn't even reach 200 yards passing. In 2016, in the game in which he came in after Smith's injury, he had a 135.2 QBR, but in the game he started, only had an 85.
This season, after starting for Carson Wentz, he had one regular season game where he eclipsed a 100 QBR – against the Giants.
In the playoffs, Nick Foles has been a different animal, but he's never been away from Lincoln Financial, the Eagles home stadium. This will be a different situation.
If I had to wager, we will see a very different, less efficient, Nick Foles than we saw against the Vikings. That doesn't mean that he won't be able to make plays that could win them a Super Bowl… but if the Eagles win, I would wager it would be because of the defense more so than anything the offense does.