We've already hit on several other "What ifs" with Ole Miss, but there are more that questions that need to be asked.
–Initially published on Aug 1st, 2017–
If you missed Part I of this "What If" series, you can find it here: http://winningcureseverything.com/more-to-ole-miss-escort-calls/
To start off with, the date of the infamous escort call was incorrectly reported through several outlets.
Hugh Freeze's call to the Detroit number that was linked to a Tampa area escort service was actually on Jan 19th.
It's entirely possible that Freeze was in Tampa that night.  There's no record of his whereabouts.  These are his tweets from Jan 19th and 20th.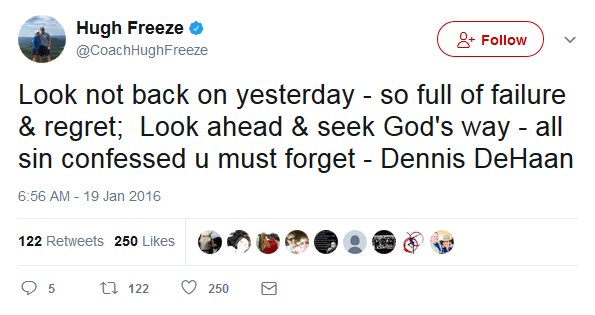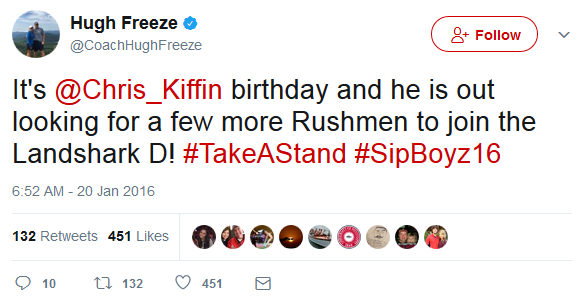 (UPDATED 8/18: Wall St Journal reports Freeze was in Tampa that night)
Funny how we brought up Chris Kiffin being the main recruiter for Jacob Mathis?  Mathis is a TE, so this doesn't fit the mold… but there was a report about Ole Miss coaches visiting Rashan Gary (the #1 recruit in the country) on Jan 18th.
Freeze already visited Rashan Gary prior to an article that was posted on Jan 6th, 2016.  The mother confirmed it.  So he was not there around that time.
So let's be fair and say that Hugh Freeze was actually in Tampa on Jan 19th, 2016 and that the escort call was for him.
I'm disappointed in all of you that read through the first article and didn't correct that.  Don't let your biases skew the truth, fellas.  😉
We may have a few things wrong, but there's still more to dissect.  The overall idea remains the same.
If Freeze's phone is technically not a University phone, why did Ole Miss turn over any records?
This is the part that I cannot figure out.
Ole Miss turned over a few days of phone records to Thomas Mars, Houston Nutt's attorney, that archived logs around the time of the media reports disparaging Nutt.
Mars and Steve Robertson (from GenesPage.com) were able to dig through those records and find the infamous call that ended up resulting in Hugh Freeze's resignation from Ole Miss.
Thomas Mars then came back and asked for all of Freeze's records dating back to June 2012.
Ole Miss's legal counsel informed Mars he would be charged over $25K for the records, because it would take 190 hours for outside legal assistants to go through and redact certain things.
Mars then came back and publicly said that they cannot redact anything, and all they can do is produce the records, according to the laws of the state of Mississippi.
Ole Miss then comes back and states that Freeze's phone was paid for by the Ole Miss Athletic Foundation, not the school, which was revealed by Pat Forde.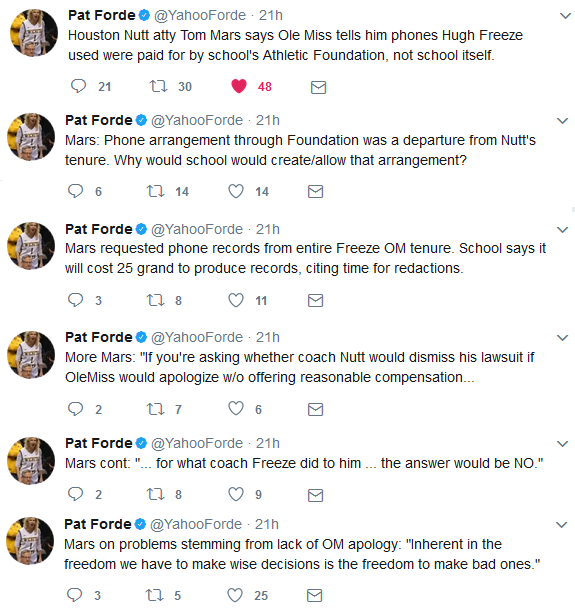 What?
So if that was the case, why provide records to Mars for any of the dates?
Did Ole Miss want that information to come out on Freeze?
I have discussed this before, both on Out of Bounds with Bo Bounds, and in my article "Ole Miss wants to keep Hugh Freeze, and Here's Why."
Hugh Freeze's buyout was around $16M.
In 1994, Ole Miss fired head coach Billy Brewer in July before their hearing with the Committee on Infractions.
Brewer was not implicated in the violations and, after he was fired with no severance and no buy-out, he won a lawsuit against the school for wrongful termination.
Hugh Freeze's NCAA allegations were just that: allegations.  Ole Miss did not yet have the ability to fire Hugh Freeze "with cause," which means that, until this came out, they were on the hook for all $16M of Freeze's contract.
As soon as the escort call was found, they had an out.
But, if they already knew what was in the records, why would they want Freeze's reputation tarnished?  Especially after building their entire NCAA defense based on Freeze's exemplary character?
That part doesn't make sense.
Is it possible that Ole Miss just has bad legal counsel representing them?
Back to Yuma, AZ
Along with Jonathan Kongbo, Ole Miss was also recruiting David Luafatasage, an OLB from Arizona Western, in Yuma, AZ back in 2016.
Ole Miss had a commitment from him, and then he eventually ended up signing with Utah.
So let's say that the Yuma, AZ calls are actually just to recruits.  Those are a non-starter now.
Let's change course and start asking exactly what Thomas Mars is looking for, and why he would make it public that he's looking into burner phones in Yuma, AZ.
How big of a violation is it to have burner phones for athletes?
There could be a burner phone element to this. I'm sure the NCAA would frown on this.
But would you think that Ole Miss is the only school doing this?  Surely not.
On the other hand, how surprising would it be for Hugh Freeze to have called an escort service in Yuma on a recruiting trip?  Not very, at this point.
Would any of this do anything other than embarass Ole Miss?
I don't think so.  But there's still something they don't want people to see in those phone records.
Why would Ole Miss be worried about further embarrassment of Freeze?
I don't think they're worried about Freeze at all.
The only issue here is that Freeze's character would be completely shattered, hurting their chances in the lawsuit Houston Nutt has filed against them.
That's the point in a civil case – to make it where the other party is not believable, so that it looks like he absolutely would have done the things alleged against them.
But I don't believe this has anything to do with Hugh Freeze.
What has Mars hit on that has Ole Miss so scared?
Let's just say that there's nothing to the escorts-for-players rumors.  There's no evidence to support it.
Ole Miss is still trying their best to not release these phone records.
We've concluded that they're not trying to protect Hugh Freeze anymore, so this has to be something that could come out that would hurt the school itself.
What, in Hugh Freeze's phone records, could possibly hurt the school?
Let's play the "what-if" game again.
What if Ole Miss – who, if you remember, is still in the middle of an NCAA defense – knows there are calls to boosters implicated in the NCAA case?
(UPDATED 8/18: USA TODAY REPORTS OVER 200 CALLS FROM FREEZE TO BOOSTER LEE HARRIS, OWNER OF FUNKY'S)
What if those calls to boosters happen to line up with the violations alleged in the 2nd NOA?
What if Freeze actually DID know everything that was going on, and Ole Miss was trying to cover for him the entire time?
What if Ole Miss lied to the NCAA during an investigation
We laid it out for a while that the NCAA was out to get Hugh Freeze.  That could still be true.  But there's a long history of boosters breaking rules in Oxford.
What if the NCAA is trying to clean up "The Network" around the Ole Miss football program?
But if that's the case…
Why is Mars asking for these phone records, and the NCAA has not?
The NCAA has forever found ways to screw things up.  But that's why their rules are setup the way they are.
They don't have to have proof of everything.
In 2000, for Alabama, there was no paper trail of payments for Albert Means.  They just had one guy's word – Milton Kirk.
The FBI came in and couldn't find any proof of anything.  But the NCAA hammered Alabama anyway.
It happens everywhere.
How on earth did the NCAA not request phone records from Ole Miss?
Ole Miss has a responsibility to cooperate with investigations.  If the NCAA had ever asked for those records, Ole Miss would have been obligated to hand them over.
Now Ole Miss is doing everything they can to not let those records out to Thomas Mars.