Saturday, April 8th in Oxford, MS brought blue skies and perfect weather to Vaught-Hemingway Stadium.
It also brought the first chance for fans to see Phil Longo's offense, along with a chance to hang out in the Grove on a beautiful spring day.
That apparently was not enough to get the fanbase to show up for the "Grove Bowl," which is Ole Miss's spring football game.
Let's not kid ourselves… their numbers were never upper-tier for SEC Spring Games over the past 5 years, and last year's Grove Bowl did not happen due to stadium renovations.  Their highest attended spring game was after the daunted 2013 recruiting class, which brought in #1 overall recruit Robert Nkemdiche, along with heralded highly ranked recruits Laquon Treadwell and Laremy Tunsil, among others.  In 2013, the Rebels drew 28,000.
But the next season, people lost interest in the Ole Miss spring games, drawing only 15,000 in 2014 and then 15,000 in 2015, before not holding a spring game in 2016 because of stadium renovations.
This year, after the first losing season under Hugh Freeze, a lacking recruiting class, NCAA issues hovering over the program, and looking at a postseason ban, Ole Miss fans seem to have lost all interest.  The Rebels only drew 8,000 people to the stadium Saturday.  We can blame it on the game being shown on SEC Network, or the fact that it started at 11am… but with perfect weather, and the fact that there was not a spring game last year, you would think they could at least grab around 15,000 die hard Rebel fans that would come out to see what the team will look like with a new OC, new DC, and a lot of new faces on offense and defense.
This is what you saw in the stands on Saturday: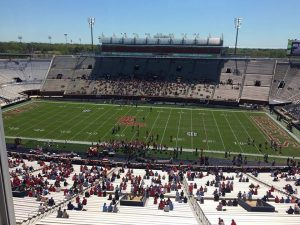 Here's what the numbers have looked like for the SEC Spring Games so far: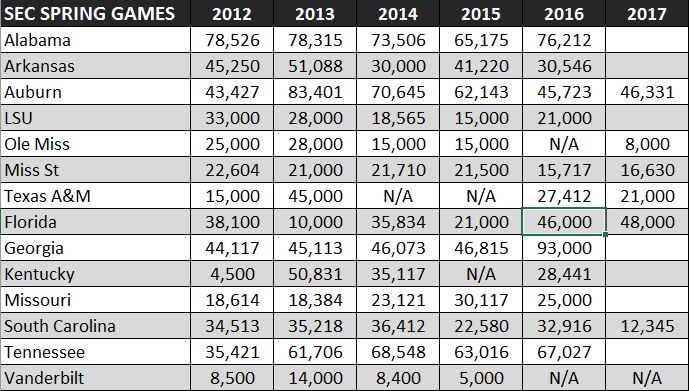 Out of 71 total spring games that have occurred in the SEC over the past 6 seasons, Saturday's Grove Bowl ranked 69 of those 71.  The only games that were lower attended were the 2015 Vanderbilt spring game and the 2012 Kentucky spring game (which was poorly attended due to rain and temperatures in the low 50s).
Now, that's not to say that Ole Miss won't have success on the field.  We've seen crazier things, and their new offense could possibly put up points in a hurry.  But, if this spring game is any indication of what this season is going to be like regarding enthusiasm for the Ole Miss program… it's going to be a long year for the Ole Miss football team.
UPDATE: Here are the final figures for the 2017 spring games, thanks to GridironNow.com.
OVERALL (from highest to lowest)
1. Alabama: 74,326 (April 22)
2. Georgia: 66,133 (April 22)
3. Florida: estimated 48,000 (April 7)
4. Auburn: 46,331 (April 8)
5. LSU: estimated 35,000 (April 22)
5. Tennessee: estimated 35,000 (April 22)
6. Texas A&M: nearly 21,000 (April 8)
7. Mississippi State: 16,630 (April 8)
8. Missouri: 16,457 (April 15)
9. South Carolina: estimated 12,345 (April 1)
10. Ole Miss: approximately 8,000 (April 8)
***
Arkansas: N/A (April 29, closed to the public – held indoors due to severe thunderstorms)
Kentucky: 37,172 (not official attendance, but that's how many tickets were distributed) (April 14)
Vanderbilt: N/A (March 25, spring showcase)