Arrogance, egotism and pride will be looked at as the things that cost Ole Miss one of the most successful eras in their football program's history.
At some point, fans and alums of the University of Mississippi have to get fed up with being fed lies from the people that are running this athletic department.
On Monday, October 17th, Ole Miss apologized to Houston Nutt, and settled the lawsuit brought on by Nutt and his attorney, Tom Mars.
Here are the statements from the parties involved.

Why settle and apologize now?
According to Neal McCready and Chase Parham on today's Oxford Exxon Podcast starting at 3:44:
Neal: I think Ole Miss feels really good about the COI.  It's cautious optimism.  I think they feel good about it, though.

I think they feel confident it's going to come down before the end of the season, whatever it may be.

I think Ross Bjork and people there – this is just a theory. Nobody there has told me this. I think they're just trying to get loose ends tied up.  Anything that could be a distraction.  Anything that could be a hangnail.  Anything that could just be bothersome, eliminated.

I think they're ready to close those chapters of the history book.  Wrap it up, put the cover on, put the binder on it, put it on the shelf, and let it start collecting dust.  And move on to a new book.  I really do believe that.

Chase: You think that's way more important than the optics of saying a month and a half ago saying "no apology needed," then apologize, and anything along those lines?

Neal: Here's my belief.  People are stupid.  Attention spans are incredibly short.  Nobody can remember what happened yesterday.
I don't think it's quite that simple.
Mars was going to win this case.  McCready admitted that they were going to be deposed, and he, and other journalists, were going to admit that, yes, they were called by these guys and that they were told exactly what they wrote.  McCready questioned whether or not Mars would be able to prove intent, but let's get past that for a second.
There's a real issue here.  Let's dive into where the case actually started.
Where the lawsuit started
On May 25th, 2017, Pat Forde wrote an article, at YahooSports.com, about how Houston Nutt had been hurt by Ole Miss attempting to save their 2016 recruiting class, and how he wanted an apology from the school.
In late January 2016, Houston Nutt suddenly started getting questions about NCAA violations at his last coaching job, at the University of Mississippi.

Questions from colleagues at CBS Sports, where Nutt was working as an analyst. Questions from coaching friends within the sport. Even questions from his mother. Emogene Nutt read the latest news back home in the Arkansas Democrat-Gazette and called her son asking, "What did you do?"

"It hurts you," Nutt said to Yahoo Sports this week. "It devastates you."

This was the residual effect of an Ole Miss damage-control strategy in the wake of revelations about NCAA violations – a strategy that seemed like an attempt to divert scrutiny from current coach Hugh Freeze and staff to Nutt, who was the Rebels' head coach from 2008-11. That has left Nutt feeling wronged and seeking recourse – a public apology from the university, and an acknowledgement that Mississippi tried to portray him as a bigger part of its problem than he actually was.
Remember… this was May.  Nutt wanted an apology, from Ole Miss, clearing his name.  He was not implicated or named in either NCAA Notice of Allegations, but his name was plastered all over every story that came out after Forde revealed that Ole Miss had received the NOA back on Jan 29th, 2016.
We've been over all the lies that were spread by Freeze, Bjork, and Campbell (and you can follow the links at the bottom of this article to keep up with what all we've written on it).  Before there was any kind of lawsuit, it was just a request for an apology.
Thus far there has been little in the way of meaningful response from the school. If an acknowledgement and apology isn't forthcoming, the possibility of a defamation suit against Ole Miss remains in play according to Nutt's very persistent attorney, Thomas Mars.

"I would hope this wouldn't become a legal situation," Mars said. "But if the university doesn't recognize at some point the damage that's been done … I would like to think the appropriate action will be taken.

"This was a smear campaign. If it weren't so deceitful and morally wrong, it would probably go down in college football history as one of the best trick plays ever."

…Mars is certain of what transpired: Someone or some group of people at Ole Miss quickly leaked information to media members in an effort to minimize the appearance of impropriety related to the football program in general and Freeze's staff in specific.

"I'm 100 percent certain the information was leaked by the university," Mars said. "And I'm absolutely certain I could prove that in court."

Mars argued that his repeated attempts to engage Ole Miss officials on this topic – most notably general counsel Lee Tyner – have gotten him nowhere.

"I've been stonewalled every step of the way," said Mars, who provided Yahoo Sports with copies of email exchanges with Mississippi officials expressing his frustration in attempts to get information and establish dialogue. "It's very disappointing that a university with the reputation Ole Miss has would react in this way."

That has led to Mars taking his fight for Houston Nutt's reputation beyond emails to administrators in Oxford.

"The university can still do the right thing," [Mars] said. "Only time will tell if Chancellor [Jeffrey] Vitter has that kind of courage."
It was obvious that the "anonymous sources" had lied about the details – they gave incorrect information before a big recruiting weekend on Jan 29th, 2016, and the University waited until May 2016 to release the actual Notice of Allegations.  Once the NOA came out publicly, everyone could see for themselves how the media had been duped.
Instead of just apologizing, an entire year later, after the media had already known they were lied to, Ole Miss's pride got in the way.
On July 12th, 2017, Tom Mars filed a lawsuit, on behalf of Houston Nutt, against Ole Miss.  Specifically, against Ole Miss Athletics Foundation, The University of Mississippi, and The Board of Trustees for Institutions of Higher Learning.  The lawsuit was regarding a disparagement clause in Houston Nutt's severance agreement when Ole Miss fired him back in 2011.

Why did Ole Miss try to smear Houston Nutt's name?
For outsiders, it never made much sense why the Ole Miss administration, at the time, would want to smear Houston Nutt's name.
Hugh Freeze came to Oxford in December 2011, after Houston Nutt was let go.  Ross Bjork was hired after that, in March 2012.  Jeffrey Vitter was hired as Chancellor at Ole Miss in January 2016.
None of them worked with Nutt.  So why would anybody want to go after him?
Bo Bounds had an interesting discussion on his show this morning, starting at 6:27.  You can start earlier, if you want to hear what he believes was the deciding factor in the settlement, as well.
You know how Freeze and Nutt did not like each other?

Freeze begged to stay on Nutt's staff, because Freeze was named the interim for… what?  7-10 days that year?  While they were going out and doing the deal with Houston Nutt?

Maybe it wasn't that long, but when they fired Orgeron, Hugh Freeze was the interim coach, briefly. 

Now, if you read the article this summer… do y'all remember where that was?  Where it said Freeze went in and pitched Houston Nutt and said "I want to be part of the staff."  There were rumors that he even broke down and cried, said "I need this job," etc.  He ends up at Lambuth.  We know the whole story.  Goes to Arkansas St, wins his way back to Ole Miss.

That's where, I think, the animosity towards Nutt was established.  In that conversation.

Now, if it's true that… because, in May, Freeze, believe it or not, still had a lot of power… if it's true that Freeze was one of the driving forces, along with some alums, of saying "heck no, we will not settle," just out of spite, or hard headedness, or whatever.  Think about what that did July 20th to Hugh Freeze. 
Imagine… Hugh Freeze was so prideful, and egotistical, that he, possibly, ended up costing himself his own job (and $16M in buyout money) because he was spiteful towards a guy that's not even coaching right now.
Hugh Freeze appears to have controlled the narrative, and informed his AD, associate AD, and whoever else, what to do in order to save a football recruiting class.
How ridiculous does that look?
Why did the University change course?
I would have to believe that the adults at the University finally stood up and said "enough is enough."
Even just a few months ago, Ross Bjork was still spouting the company line in interviews.
On Aug 3rd, Bjork was on the Head2Head show with Matt Wyatt and Richard Cross, discussing the NCAA case, the Houston Nutt lawsuit, etc.  In Clip 2 (at 00:30) he explained where the University stood on the lawsuit:
Host: Are you losing sleep over this lawsuit?

Bjork: Well, to me, I know we did the right thing every step of the way.  So, I believe I sleep well at night.  I think my wife says that.

Here's the thing that I'll say.  One, I think, as a leader, you have to be disciplined.  You can't whine or complain or make excuses.  I really believe in that, so, we're not choosing to battle this publicly, like they are.  I believe that there was an article that just came out in the Clarion Ledger, where our outside counsel provided some statements… y'know, to me, here's what we'll say about it.

One, we don't think the case has merit.  We didn't do anything wrong, so an apology, we don't think, is worthy.  Two, the thing that we're being accused of, y'know, they're doing. They're campaigning in public, creating a lot of false information that's out there.  So hopefully this article can correct some of that.

And then the separation agreement that was created between the University and Houston Nutt back in 2011, paid him a settlement.  The folks that I've heard from have said "y'know, Ole Miss has paid him enough."  We're going to really let our filings, at this point, speak to that.  We believe in our case.  We have a great team of attorneys, and we're going to take it one step at a time. 
That's significantly different than what just happened.  Ole Miss just apologized to Houston Nutt.
My guess is that the IHL got involved, saw the proof that Mars had, and realized the people under them had been lying about all of this.
Bjork's statements here are just absurd.  "I know we did the right thing every step of the way."  Give me a break.
"We didn't do anything wrong, so, an apology, we don't think, is worthy."  If you listen to the audio, you'll hear how much he's stuttering with his "uhhhs" and "umms" and "y'knows" here.
And the best of all… "The folks that I've heard from have said 'y'know, Ole Miss has paid him enough.'"
If you needed any more proof that someone other than the administration is running this athletic department, or the Ole Miss Athletic Foundation, Bjork basically provides it here.
This wasn't about the case, or whether or not Nutt's request for an apology was warranted.
This was a grudge against Houston Nutt.
What happens next?
I would expect firings.  Several of them.
Once the NCAA verdict is handed down, I would expect Ole Miss to terminate AD Ross Bjork, attorney Lee Tyner, and Associate AD Kyle Campbell, along with anyone else that may have been involved with this.
Bjork has had 3 athletic programs investigated by the NCAA under his watch, and has had a lawsuit that focused on him and a fired football coach that he stood by, up until he couldn't anymore.  This lawsuit helped prove that he was at the very center of spreading lies to the media regarding what was happening at Ole Miss, in order to try and get kids to sign with his football program.
That's about as dirty as it gets.
Ole Miss fans should be livid that they have been lied to so frequently by the brass in Oxford.
The house cleaning inside that athletic department should have been done months ago.
Oh, and for those that think Ole Miss got away without paying Nutt anything…
After what we've seen Tom Mars and Houston Nutt do over the last few months, I'm not about to doubt anything these two men say…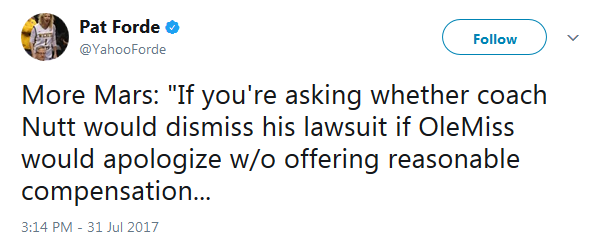 ---
Get caught up with our other stories on the Ole Miss vs NCAA mess:
Ole Miss vs NCAA: All Your Questions Answered
Hugh Freeze: Why is the NCAA going after him?
Hugh Freeze: Why is Ole Miss standing with him against the NCAA?
Ole Miss vs NCAA: The Story Behind Barney Farrar
Ole Miss: Football Enthusiasm is in serious trouble
Barney Farrar's Attorney Responds to Ole Miss
Barney Farrar Response to the NCAA's NOA
Rebel Rags vs Miss St: Does this help Ole Miss?
Bruse Loyd, Farrar's attorney, on Louisville, Rebel Rags & more
Ole Miss vs NCAA: With Nutt lawsuit, how does Freeze keep his job?
Ole Miss Wants to Keep Hugh Freeze, and Here's Why
Hugh Freeze is Out at Ole Miss: What Happened and What's Next
Are things trending positive for Ole Miss vs NCAA?
What if there is more to the Ole Miss Escort Calls? (Part I)
What if there is more to the Ole Miss Escort Calls? (Part II)
Ole Miss vs NCAA: Good News… and then Bad News
Houston Nutt vs Ole Miss: Q&A with Thomas Mars
Thomas Mars: Ole Miss made it clear all employees would comply with contract
Houston Nutt vs Ole Miss: Mars Responds to Ole Miss release of Freeze phone records
Ole Miss vs NCAA: Sworn Affidavit claims Freeze used Burner Phones for Recruits
Rutgers compared to Ole Miss, and why the NCAA might delay release of sanctions
Ole Miss settles with / apologizes to Houston Nutt.  Now what?
---