Ole Miss had the Houston Nutt lawsuit against them dismissed… and then Thomas Mars released a statement, and Ole Miss released the NCAA's response to them.
Wednesday afternoon, US District Judge Neal B. Biggers Jr granted Ole Miss (the Athletic Foundation and the IHL Board of Trustees) a motion to dismiss.
According to the Clarion Ledger:
In their motion to dismiss, the university and the IHL argued they weren't citizens, but "arms of the state" which made them immune to suit in federal court.

"In response to the instant motion, the plaintiff concedes that the defendants' argument is meritorious and asserts 'it is agreed that this court lacks subject matter jurisdiction,'" the order states.
Ole Miss fans finally had something to smile about.
Until Mars released his statment.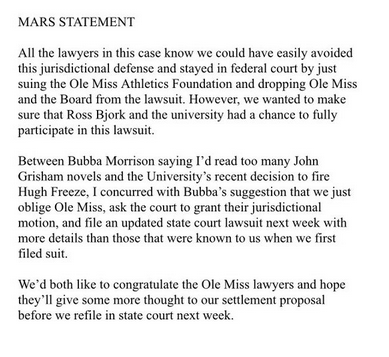 Read this line again:
"I concurred with Bubba's suggestion that we just oblige Ole Miss, ask the court to grant their jurisdictional motion, and file and updated state court lawsuit next week with more details than those that were known to us when we first filed suit."
Mars and his partner on this case, Walter Morrison, were actually ok with them dismissing this case at this point.
I'm sure nobody saw that coming.
Oh, and there's more.
"We'd both like to congratulate the Ole Miss lawyers and hope they'll give some more thought to our settlement proposal before we refile in state court next week."
What a response.
You can tell that Thomas Mars has something up his sleeve in this case.
I suppose I could go on with more "What If?" articles, but, for now, I'll hold off.
The public didn't expect this level of drama today, but it went down exactly as you would expect it to.
And then we got another surprise.
Ole Miss finally released the NCAA's response to the school.
19 days after they received it.
I am quoted in multiple places saying that if they don't release it swiftly, it contains bad news for the school.
Hate to say I told you so.
The most comedic part of this is the fact that it was so easy to predict. Ole Miss gets a public relations win, due to the Houston Nutt lawsuit being dismissed, and then Ole Miss releases the response at the end of the newsday.
The Clarion Ledger's news story on it was actually released at 4:56pm. About as close to 5pm as you can get.
You can read the entire response for yourself at the bottom of this article, as I've embedded the document into the article.
We're going to dig into some of the allegations, and the NCAA's stances on them, just to see what Ole Miss is dealing with.
We'll do another post with some other ones as well.
First off, let's jump into the scope of this.

This spans about as many different types of NCAA violations as actually exist. Academic fraud, extra benefits and inducements, cash payments to recruits, booster misconduct, and a head coach and program that let this stuff go on.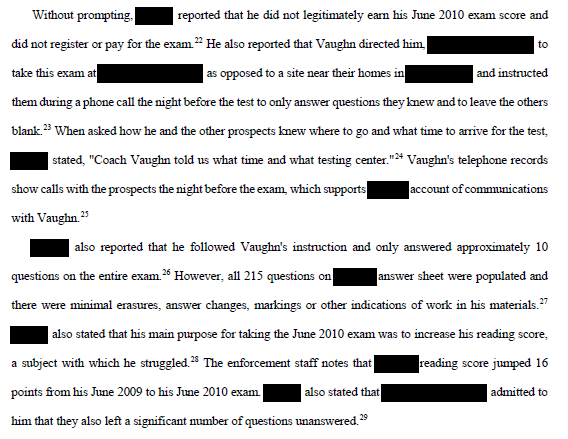 The ACT stuff that went on here would have been enough to earn all kinds of NCAA sanctions.
The fact that the school admitted to these and just wrote them off because they were from a prior coaching staff. That just absolutely baffles me.
The coaches accused lied to the NCAA and then had the phone logs prove them incorrect.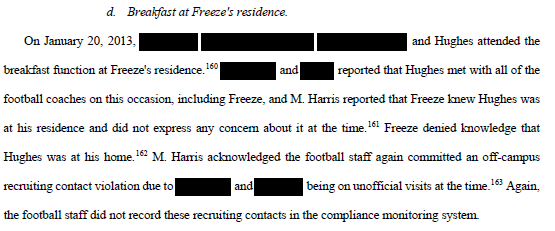 Hughes, one of the boosters, attended a breakfast at Hugh Freeze's house. The recruits stated that the booster met with Freeze, and Harris, one of the assistant coaches, admitted that Freeze knew Hughes was there and wasn't concerned about it.
Freeze denied knowing that Hughes was at the home.
On top of that, none of this was recorded in the compliance monitoring system.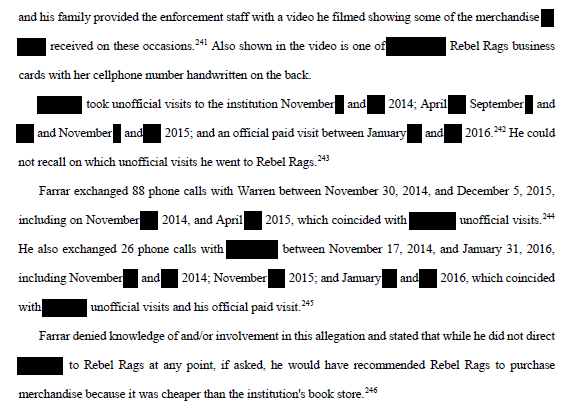 The NCAA comes out and claims that Leo Lewis is a credible witness.
Far different from what Rebel Rags alleges in their lawsuit.
On top of that, he had video of the merch, along with a Rebel Rags business card with a cellphone number handwritten on the back.
That may not seem like much, but Farrar exchanged 88 phone calls with the booster between Nov 2014 and April 2015, which coincided with the recruit's unofficial visits, and more calls with the booster that coincided with the recruits unofficial visits and official paid visit.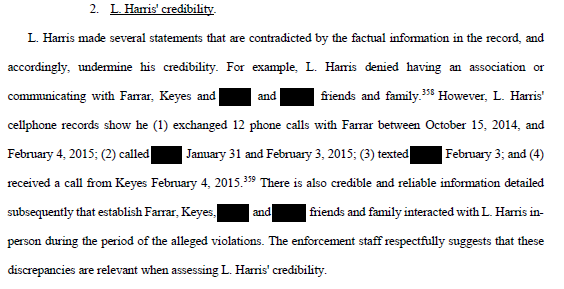 The owner of Funky's is accused of giving out cash payments to a recruit.
This segment goes through and explains why Harris's denials are not credible.
Seriously, this dude denied having an association or even communicating with Farrar, Keyes and the recruits, but his phone records show he talked to literally all of them, and there's also reliable information that all of them interacted together inperson during the alleged violations.
We could dive into a ton more of this, but we'll save that for another day. Right now, this is just a few of the examples of problems that have popped up in this investigation for Ole Miss.
They also received word that the COI hearing is going to be Sept 11th, just outside of Cincinnati.  That's the week before the Cal game.
Enforcement Staff Reply – Redacted by mtjrolemiss on Scribd
COI Appearance Letter by mtjrolemiss on Scribd
---
Get caught up with our other stories on the Ole Miss vs NCAA mess:
Ole Miss vs NCAA: All Your Questions Answered
Hugh Freeze: Why is the NCAA going after him?
Hugh Freeze: Why is Ole Miss standing with him against the NCAA?
Ole Miss vs NCAA: The Story Behind Barney Farrar
Ole Miss: Football Enthusiasm is in serious trouble
Barney Farrar's Attorney Responds to Ole Miss
Barney Farrar Response to the NCAA's NOA
Rebel Rags vs Miss St: Does this help Ole Miss?
Bruse Loyd, Farrar's attorney, on Louisville, Rebel Rags & more
Ole Miss vs NCAA: With Nutt lawsuit, how does Freeze keep his job?
Ole Miss Wants to Keep Hugh Freeze, and Here's Why
Hugh Freeze is Out at Ole Miss: What Happened and What's Next
Are things trending positive for Ole Miss vs NCAA?
What if there is more to the Ole Miss Escort Calls? (Part I)
What if there is more to the Ole Miss Escort Calls? (Part II)
Ole Miss vs NCAA: Good News… and then Bad News
---