Houston Nutt has filed a lawsuit against Ole Miss, claiming they damaged his reputation.
At what point does the University of Mississippi decide that Hugh Freeze is more trouble to defend than he's actually worth?
And, to another point, if Ross Bjork was involved in this, how does he keep his job?
Let's break down this Houston Nutt lawsuit.
To start, Houston Dale Nutt was not fired from Ole Miss for any NCAA violations.
Nutt replaced Ed Orgeron after the 2007 season, leaving Arkansas after a scandal involving him and a television reporter having an affair.
At Ole Miss, he went 18-8 in his first 2 seasons, with 2 Cotton Bowl wins… but then went on to a 4-8 and 2-10 record in his last 2 seasons (6-18), ending with a 31-3 loss to Mississippi St in the Egg Bowl. He was fired at Ole Miss because his teams had become an embarrasment on the field, including a 52-7 loss to Alabama and 52-3 loss to LSU during that last season as part of a 1-15 record in the SEC in his last 2 seasons.
The thing that wrecked him at Arkansas was a public information request for cell phone records. Which is ironic, because that's what he's used as the basis of this lawsuit.
So let's break it down.
Ole Miss received the first Notice of Allegations on Jan 22nd, 2016.
Pat Forde, of Yahoo.com, released a story about that NOA on Jan 29th, 2016.
Jan 29-31st was the same weekend that Ole Miss was bringing in two 5 star and fifteen 4 star recruits for a big Rebel recruiting visit for the 2016 recruiting class.
In Forde's story, he stated "Calls to officials at Mississippi were not immediately returned Friday." The story was posted at 1:40pm that day.
Shortly after the story made the rounds, several writers stated that "sources" told them the majority of the allegations in the NOA were from the Houston Nutt era at Ole Miss. One of those, specifically, was on SBNation.com, by Steven Godfrey, Alex Kirshner, and Bud Elliot – "Only a few of NCAA's Ole Miss allegations believed to concern football, sources say" – which was released at 4:04pm (about 2 and a half hours after Forde's story) and included a picture of Houston Nutt with the headline, along with statements like:

"An Ole Miss official told Godfrey that almost all of the allegations are women's basketball, track, Tunsil, and football from six years ago, during previous coach Houston Nutt's tenure."

Houston Nutt and his attorney placed a public information request for cell phone records from the University of Mississippi, and it appears that those "sources" that were calling different media members (which were not named in the lawsuit) were actually Coach Hugh Freeze, Athletic Director Ross Bjork, and Associate A.D. for Communications Kyle Campbell.
To make it even easier for people:
Ole Miss receives an NOA from the NCAA on Jan 22nd, 2016, less than 2 weeks before National Signing Day.
The Rebels are hosting 17 four and five star recruits in Oxford starting on Fri, Jan 29th, 2016.
On that same day, Pat Forde reveals that Ole Miss has received that NOA.
Ole Miss does not reveal the allegations publicly, but the head coach, the AD, and the associate AD for communications call around to College Football reporters and "anonymously" tell them that the allegations are mostly to do with Houston Nutt, not the current staff, so that the incoming recruits are led to believe that they won't have any problems with the NCAA if they sign with Ole Miss.
Hugh Freeze and his staff signed the #5 recruiting class in the country just a few days later, including 3 five stars and 12 four stars, according to 247sports.com.
To be fair, there is no law against spinning a story to fit your narrative. But it is sleazy.
And, in this case, it could cost Ole Miss a lot of money, and is an absolute reputation killer for a coach that talks so much about "integrity" and "doing things the right way."
Why would this cost Ole Miss money?
Because, as part of Nutt's severance agreement with the school, they were not allowed to make public comments disparaging Nutt's reputation: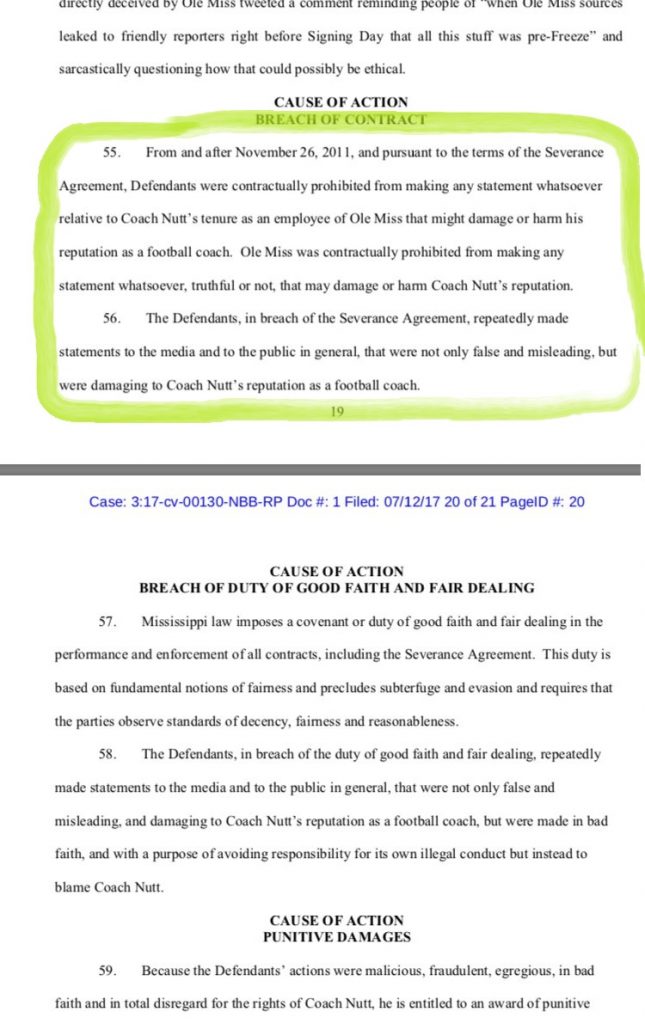 Freeze, Bjork, and Campbell all violated the details of the severance agreement with Houston Nutt by placing the NCAA blame on him instead of on themselves. And Ole Miss fans wonder why some of the media seem to be so mad at the Ole Miss administration. (Hint: It's because they were leaked false information from people they thought they could trust, so it looks like they didn't do their jobs)
Freeze was involved in another lawsuit, as well.
Now that we've gotten that out of the way, don't forget that Freeze was also involved in a lawsuit between Laremy Tunsil, and his step-father Lindsey Miller, which was laid out in brief detail in a CBSSports.com story by Jon Soloman.
"Miller claims Tunsil owes him money for assault and battery, intentional infliction of emotional distress, and defamation of character. Freeze fits into the picture because he publicly discussed an incident between Tunsil and Miller in a story that described the stepfather as abusive, thus opening the door for Freeze to be deposed."
If nothing else, things like this will only strengthen the NCAA's allegations that Hugh Freeze is a liar, and it won't help Freeze make anyone in Indianapolis believe that he did not know things were going on inside his program, even if he actually did not know.
Freeze is also the reason the NCAA has gone so hard after Ole Miss
Not that the NCAA didn't have reason to be in Oxford anyway, but don't forget our story back on Feb 27th that laid out why they were going after Hugh Freeze and Ole Miss. In part of that, I transcribed an interview with Neal McCready, from RebelGrove.com, where he outlined a few things:
When the NCAA first came to Oxford and talked to Hugh Freeze, that meeting did not go well. I've heard different accounts of what happened. It wasn't anything physical, or anything like that. It got personal. I think it stayed personal. There were times in the process where I think it, maybe, would have been the more prudent thing for Freeze to make some changes on his staff that might have taken some of the steam away from the NCAA, and instead, he doubled down with those staffers. I think that increased the rhetoric.
Anway, back to the point of the story…
How much can Freeze get away with?
The point of this story was to showcase just SOME of the things that Hugh Freeze has been involved in over the last few years.
meeting with NCAA gets personal, causing the NCAA to stick around campus even longer
involved in lawsuit with player's step-father for publicly stating that he was abusive
current lawsuit showing that he lied to media and recruits to try and save 2016 recruiting class
his lawfirm repped Barney Farrar as well as Freeze, got Farrar's testimony, then declined to represent him anymore and twisted the narrative to throw Farrar under the bus
In this Houston Nutt lawsuit, the AD was also involved in spreading the lies.
Which still makes me wonder what in the world is connecting Freeze and Athletic Director Ross Bjork, who stated this after firing former women's basketball head coach Adrian Wiggins on October 20, 2012, after Wiggins had only been on the job for a few months:
"Although there is no current evidence that Coach Wiggins was complicit in or had direct knowledge of this misconduct, as head coach, he is accountable for the actions of those who report to him."
If Freeze and Bjork are proven to be at the center of this, and it costs the school even more money (bowl ban = approximately $8M, Nutt lawsuit = approximately $4M?), how long will the University continue to stand by somebody that they cannot trust, who is also costing them money?
I would have to imagine that, eventually, somebody at Ole Miss is going to get fed up with all of the mess that is being brought on by one man.
The other side of this
Houston Nutt is definitely being petty, and there's no real proof of what these phone calls were about.
But the fact that the calls were made just minutes before these reporters tweeted or wrote stories all saying the exact same story ("allegations were mostly about Houston Nutt and not the current staff, and there weren't that many football allegations anyway") does lead readers, or perhaps a jury, to believe that something was going on here.
Freeze has found a way to stay clean through this and has surrounded himself with an administration and staff that truly believes he is a man of integrity.
But, there are SO MANY things piling on, that eventually, somebody will find fire under all of this smoke.
To this point, though, nothing has completely tied Hugh Freeze to any wrongdoing.
If I were a betting man, I imagine that, once the sanctions are handed down, Hugh Freeze will be let go and the school will cut their losses before anything else can happen.
---
Get caught up with our other stories on the Ole Miss vs NCAA mess:
Ole Miss vs NCAA: All Your Questions Answered
Hugh Freeze: Why is the NCAA going after him?
Hugh Freeze: Why is Ole Miss standing with him against the NCAA?
Ole Miss vs NCAA: The Story Behind Barney Farrar
Ole Miss: Football Enthusiasm is in serious trouble
Barney Farrar's Attorney Responds to Ole Miss
Barney Farrar Response to the NCAA's NOA
Rebel Rags vs Miss St: Does this help Ole Miss?
Bruse Loyd, Farrar's attorney, on Louisville, Rebel Rags & more
---