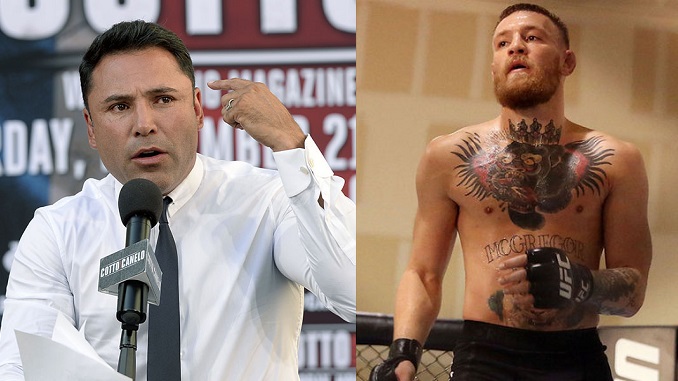 De La Hoya, months after saying McGregor was "disrespecting boxing," is now challenging McGregor to a fight.
Oscar De La Hoya, the retired boxer who was inducted into the International Boxing Hall of Fame in 2014 after retiring in 2008 at the end of a loss to Manny Pacquiao, has announced that he wants to come back to the ring.
De La Hoya is 44.  And he only wants one fight.
He wants Conor McGregor.
He stated this on the debut show of "Golden Boy Radio with Tattoo and the Crew" on Monday:
"You know I'm competitive," De La Hoya told Tattoo and Jessica Rosales. "I still have it in me. I've been secretly training, secretly training. I'm faster than ever and stronger than ever. I know I can take out Conor McGregor in two rounds. I'll come back for that fight.

"Two rounds. Just one more [fight]. I'm calling him out. Two rounds, that's all I need."
First off… give me a break.
De La Hoya tried to get a piece of the McGregor action back in May, before the Mayweather fight was announced.
"If Conor is serious about fighting – first of all, would love to talk to him, and promote him. I mean, imagine Conor McGregor and Golden Boy coming together. But the only fight I would like to see, and this is the one that makes the most sense, it would be the most exciting, that would be a guaranteed knockout, is against Canelo Alvarez. And they're in the same weight class. So it makes all the sense in the world. Imagine. 154. 160. It would be at 160 actually."
As the McGregor fight with Mayweather was preparing to be announced, De La Hoya wrote a letter to fans trying to convince people to not buy the fight:
But if you thought Mayweather/Pacquiao was a black eye for our sport – a matchup between two of the best pound-for-pound fighters that simply didn't deliver — just wait until the best boxer of a generation dismantles someone who has never boxed competitively at any level – amateur or professional.

Our sport might not ever recover.
After his plea to fans did not work, De La Hoya went scorched earth on the eve of the fight, cursing at both fighters on twitter.

Obviously, De La Hoya was going to be a little irritated, because Mayweather vs McGregor was announced for the same night that he was going to be promoting Miguel Cotto vs Yoshihiro Kamegai on HBO (Aug 26th, 2017).
Now that McGregor / Mayweather is over, and it drew in a huge gate and a massive PPV audience, De La Hoya wants a piece of the action.
Why would McGregor need to fight Oscar De La Hoya?  Sure it's a big pay day, but is it the biggest he could get?  It wouldn't reach the levels of the Mayweather fight, but it would definitely draw numbers.
But basically anything McGregor does is going to draw numbers.
On the other hand, the fight makes all the sense in the world for De La Hoya.
As McGregor said back in 2016 – he's the money fight.
De La Hoya's obsession with the Notorious just makes him look desperate at this point.
Oscar, find something else to talk about.  Maybe spend your time getting us a Canelo / Triple G fight that's not rigged by a crooked judge.