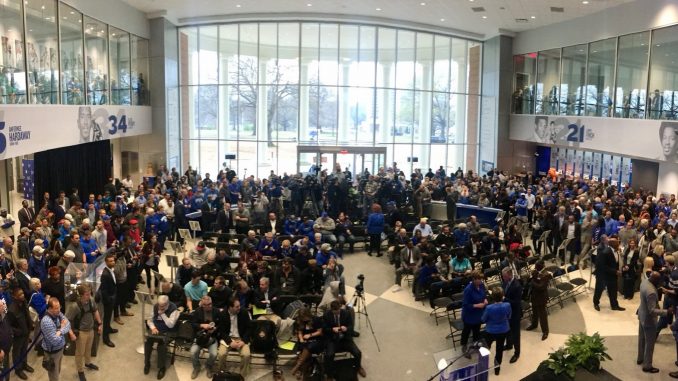 On Tuesday, March 19th, Memphis hired Anfernee "Penny" Hardaway as their 19th head men's basketball coach.
He is the first coach, since the late Larry Finch, that is an alum of the school.
I am going to lay out a slew of information that has been revealed, from Coach Hardaway, the University of Memphis, and other sources, since the hiring was announced by the school.
There have been a slew of articles, both local and national, that have weighed in on the subject.
First, let's link up some of those articles:
Yahoo Sports' Pat Forde: Penny Hardaway would likely be a costly mistake for Memphis
ESPN's Myron Medcalf: Penny Hardaway and former NBA All-Stars struggling as college head coaches
Commercial Appeal's Geoff Calkins: Penny Hardaway reminds Memphis what Tigers basketball can be
Commercial Appeal's Mark Giannotto: Inside Penny Hardaway's first 24 hours as Memphis Tigers basketball coach
As you can see, there's a mixture of negative – the people that don't understand the financial situation at the University, or what was actually happening – and positive – the people that have been in the city for decades and actually do understand what this basketball program needed.
So let's dive into what all we have learned after the announcement was made.
Penny has been better at "hugging back" than expected
He stayed after the press conference shaking hands and taking pictures with fans for at least 45 minutes – everyone from random fans that can't afford season tickets, to the biggest boosters in the room that provide millions to the athletic program.
He referenced the Tiger basketball program as family, and referenced a "family reunion."
And then the media blitz started:
Eric Hasseltine Show on ESPN 92.9: 2:15pm Tues
Fish N Stats on Sports 56: 3:15pm Tues
Gary Parrish Show on ESPN 92.9: 4:15pm Tues
TV interview with Doc Holliday on Local 24 News – Tues
Wolo & Peter on Sports 56: 8:15am Wed
Geoff Calkins Show on ESPN 92.9: 9:15am Wed
Dan Patrick Show on Fox Sports Radio
Penny has already seemed to talk to the media more than Tubby Smith did in 2 entire years.
He understands that he has to be visible in the community to be successful at this job.
The Memphis basketball program was hemorrhaging money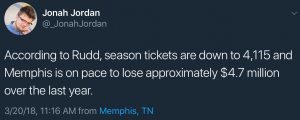 Everyone around the program knew that it had gotten bad… but the season ticket base is down to 25% of what it was 4 years ago.
$4.7M is ungodly money for a school that only receives just over $2M a year from television contracts, and was paying $3M a year to the head basketball coach and just signed their football coach to a $2.65M a year extension.
Penny, unlike Tubby, believes it IS his job to get fans into FedExForum
On the Gary Parrish show, on Tuesday afternoon, Hardaway was asked how much getting fans back to Tiger games was his responsibility.  He responded:
"I take full responsibility for that. I don't care what I have to do," Hardaway said. "We need the energy back in the city. We need the energy back into the building. It's my job to put the players on the floor that the fans want to see … I feel like it's totally my responsibility to have that happen again."
That's completely different from the statement that Tubby Smith's attorney gave during the AAC tournament, where he stated that "it's not the head coach's job to put butts in seats."
Tony Madlock will be an assistant coach

Tony Madlock, former Tiger player from 1988-92, played with Penny Hardaway on Coach Larry Finch's only Elite Eight team.  He's been a college basketball assistant coach for over 20 years, and was most recently at Ole Miss under Andy Kennedy, before taking over as interim head coach after Kennedy resigned.
Penny believes he can schedule big home-and-home matchups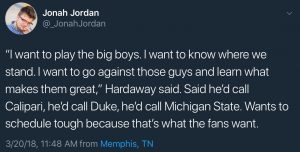 On today's Geoff Calkins show, the guys put together the fact that Penny Hardaway's connection with Nike could actually help Memphis schedule better home-and-home matchups.
Penny truly believes that he will be able to get Kentucky to play a game inside FedExForum.  A made-for-TV matchup.
In fact, he's so confident, that I'm starting to believe that Nike has already told him it will happen.
Former NBA players will be at Tiger games regularly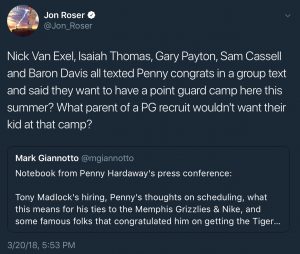 The five players listed above are all former NBA all-stars.
Imagine having guys like this just hanging around the program.
Penny wants to bring back the vintage uniforms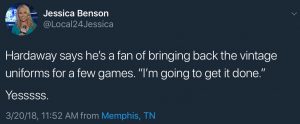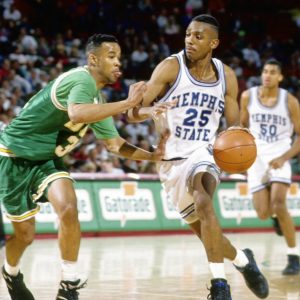 I think Memphis fans might be a little bit excited about seeing these uniforms on the court again.
In several hours, he already has a better recruit than Tubby Smith's staff got in 2 years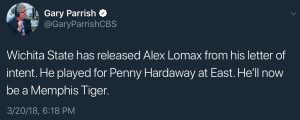 On Nov. 8th, Alex Lomax, the #143 player in the country at 247sports.com (and the #3 player in the state of Tennessee), signed a LOI with Wichita St.
On Tuesday night, he received a release from Wichita St.
Penny, technically, couldn't talk to Lomax until after he passed his NCAA compliance test on Wednesday… but everybody knows that Lomax has been mentored by, and playing for, Penny since 6th grade.
Penny wants Larry Brown involved, Larry Brown wants to be involved, and we're still waiting on the AD to approve it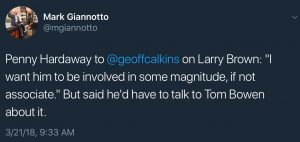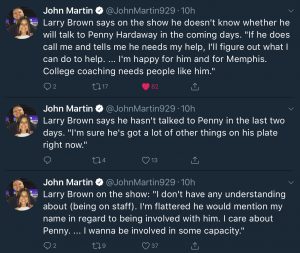 It's pretty obvious – Penny wants to hire Larry Brown.  Larry Brown wants to be involved with Penny.  Tom Bowen has to approve it.
Nike's contract with Memphis is up after this season… but they're going to re-up with a bigger deal
On this morning's Geoff Calkins show, Penny was asked about his deal with Nike:
This is when a discussion about his Nike affiliation broke out and what it could mean for Memphis. Hardaway made sure to note he was the "first signature shoe athlete that's ever become a head coach."

"This is history for college," Hardaway added, "so Nike is really overly excited about that and they're willing to do a lot of great things for the university."
Louisville signed a lucrative deal with Adidas not too long ago – $160M for 10 years.  Here is a list of apparel deals for schools from last year.
Also hearing that Lil Penny could be brought back for some local advertising, through the deal with Nike.
Penny passed his NCAA rules test on Wednesday
Per a school spokesperson, and revealed by the Commercial Appeal's Mark Giannato, Penny passed his NCAA rules test.  He couldn't contact any recruits until he passed.
He now has 8 days until another NCAA dead period.  He will be attending the Sweet 16 in Atlanta this weekend… the site where Kentucky will be playing.