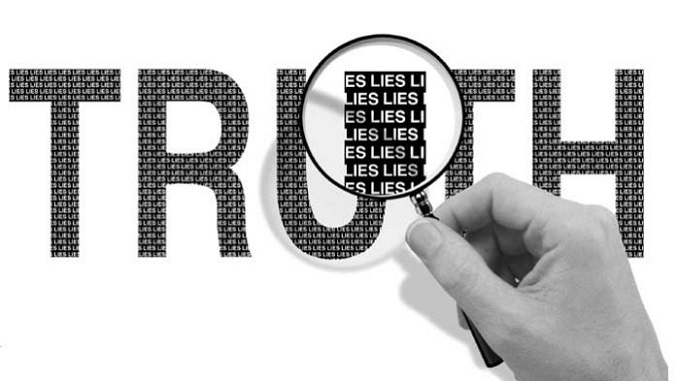 With a new lawsuit being prepared, Ole Miss may need to prepare for awful sanctions.  Tom Mars gives me a statement regarding Ole Miss message board rumors.

We are now at 10 weeks since the COI hearing, and things do not appear to be getting better for Ole Miss.
Ole Miss safety, Deontay Anderson, former 4-star recruit who committed to Ole Miss by jumping out of a plane, has hired attorney Tom Mars to represent him in a lawsuit against the University of Mississippi.
Anderson says that former head coach Hugh Freeze, and current athletic director Ross Bjork, tricked him into signing with Ole Miss back in 2016 by lying about the severity of the NCAA case.
The player submitted his request for a full transfer release Sunday night, and will petition the NCAA for a waiver to be eligible immediately next season at the school of his choice.  This includes schools in the SEC.
Let's look at both sides of this story.
Coaches mislead recruits all the time
Coaches will tell kids just about anything to get them signed on campus.  Players transfer all the time for reasons like playing time, or "coach said I would start," etc.
Allowing an exception for a player that was lied to, by a coach, would open a whole new can of worms that the NCAA may not want to get involved with.
No, it is not a good look for the school, but it is something that goes on.
Of course, the old saying goes "just because everybody else is doing it, that doesn't make it right."
On the other hand…
A lawsuit like this could keep Ole Miss counsel tied up in court for years
The school would almost have to allow everybody from that 2016 class the chance to transfer in order to avoid all of the "they killed my NFL chances" lawsuits that would, undoubtedly, come in.
As it stands, the lies by Ole Miss's administration, could end up costing these players eligibility and/or a chance to compete on a good football team.
How many kids from Mississippi signed with Ole Miss in 2016??
There are 23 kids that signed with Ole Miss out of high school in 2016.  One signed, but is enrolled currently at Northwest Community College.  2 others signed out of junior college and would not have any eligibility remaining.
Of the 23 players that would have eligibility remaining, only 6 students actually came from high schools in Mississippi.
Here is the breakdown of other states:
Texas: 5
Florida: 3
Georgia: 4
Tennessee: 2
Alabama: 1
Massachusetts: 1
Illinois: 1
By contrast, in 2001, the year before Alabama's NCAA fate was found out, there were 12 of 20 kids that signed with Alabama actually from the state of Alabama.
The point of this stat is to show that, generally, kids don't sign with a school that's going to be in NCAA trouble, unless it is their home state team.  4 and 5 star recruits from out of state do not sign with schools that appear to be headed towards NCAA penalties.
The NCAA is not named, but what is their role in this lawsuit?
Anderson, who played as a freshman last year, is voluntarily redshirting this season. If he is forced to sit-out a transfer year at another institution, he would only have 2 years of eligibility remaining instead of 3.
This lawsuit almost guarantees the NCAA handing down AT LEAST a 2 year bowl ban (and maybe longer) for Ole Miss, because Anderson will likely file suit against the NCAA if he has to give up a year of eligibility.
Per USA Today:
Should Ole Miss receive a second bowl ban, it could trigger a recommendation from the Committee on Infractions that players without eligibility beyond the penalty period (essentially, seniors, but potentially others) are free to transfer and play immediately. But that likely would not apply to Anderson, who will be eligible to play in 2018, 2019 and 2020.
That is a huge predicament for the NCAA.
The NCAA would have to allow ALL players from the 2016 class to transfer, without consequence, just to thwart the chances of lawsuits coming in against them because a member institution misled them during recruitment.
What did the Houston Nutt lawsuit have to do with this?
This is why Ole Miss wanted to fight the Houston Nutt lawsuit rather than caving and apologizing.
Because an apology, in that case, basically sets up this lawsuit.
The apology, issued by Ole Miss to Houston Nutt, after Tom Mars's most recent case against the school, stated:
"Certain statements made by University employees in January 2016 appear to have contributed to misleading media reports about Coach Nutt. To the extent any such statement harmed Coach Nutt's reputation, the University apologizes, as this was not the intent. The NCAA's Notice of Allegations dated January 22, 2016, did not name or implicate Coach Nutt in any misconduct, and it would have been inappropriate for an University employee to suggest otherwise."
Here is more from Dan Wolken's recent USA Today story:
Ole Miss' partial admission that the allegations were mischaracterized by university employees in media reports could now factor into a second Mars case with Anderson. Mars said the complaint filed in state court against Ole Miss would be included as supporting material for Anderson's appeal.

"The first thing that comes to mind is Deontay's request to be fully released and any requests that follow by other players is a very predictable outgrowth of all that was revealed in the Houston Nutt litigation," Mars told USA TODAY Sports. "As everyone knows now, the so-called false narrative that was the basis of Coach Nutt's lawsuit was intended to convince student-athletes and their parents of something that wasn't true so Ole Miss could sign them in the few days remaining before National Signing Day, and I doubt even the most fanatic Ole Miss fans would condone misleading high school students and their parents for the purpose of signing top talent to the football program."
By giving a 2 year (or longer) bowl ban, the NCAA effectively avoids being subject to more lawsuits like this one, they do right by the kids that were lied to, and Ole Miss is, basically, handed a fate worse than the death penalty.
Message Board rumors
I reached out to attorney Tom Mars requesting a quote regarding Ole Miss message board rumors.  I brought up several examples of "conspiracy theories" by Ole Miss fans.
These are a few of the examples: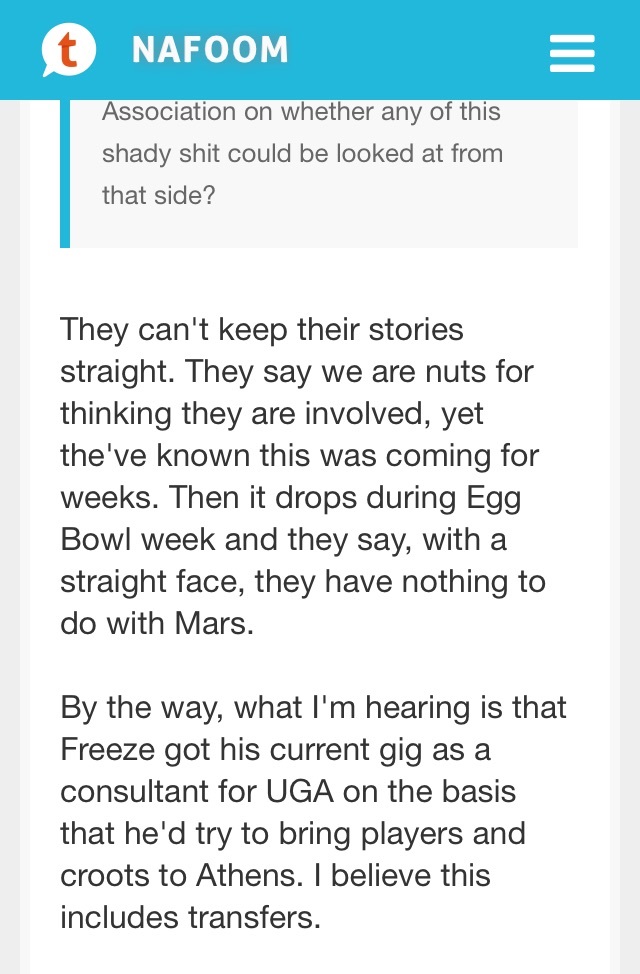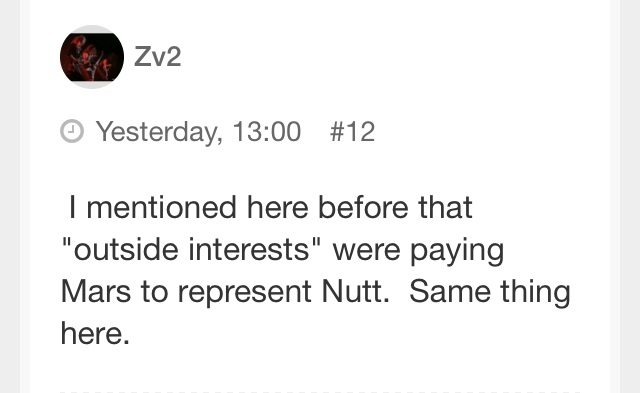 I asked Mars if he had a response to the allegations that he is colluding with Mississippi State, or with Scout.com recruiting reporter Steve Robertson, on bringing problems to Ole Miss.
Mars stated this:
The people who are posting messages saying or suggesting that I'm part of some conspiracy with Steve Robertson or the NCAA, or that I'm being paid by "outside interests," need to get a grip on reality. Those assertions are totally false.

While that kind of nonsense being posted on message boards doesn't bother me at all, I'm starting to feel sorry for these people. Someone needs to tell them (and I'd be glad to) that they'd be mortified if they knew just how delusional they sound to level-headed people when they embrace these crazy conspiracy theories.

What's more, nobody outside of Oxford cares enough about Ole Miss football to spend one minute being part of a conspiracy to hurt the school or its football program. If these fanatic Ole Miss fans aren't happy about all the recent challenges facing the football program, I'd suggest they take a cold, hard look at how the Ole Miss leadership brought this on themselves. If they need to blame someone in order to feel better about themselves, that would be the rational place to start.
---
Get caught up with our other stories on the Ole Miss vs NCAA mess:
Ole Miss vs NCAA: All Your Questions Answered
Hugh Freeze: Why is the NCAA going after him?
Hugh Freeze: Why is Ole Miss standing with him against the NCAA?
Ole Miss vs NCAA: The Story Behind Barney Farrar
Ole Miss: Football Enthusiasm is in serious trouble
Barney Farrar's Attorney Responds to Ole Miss
Barney Farrar Response to the NCAA's NOA
Rebel Rags vs Miss St: Does this help Ole Miss?
Bruse Loyd, Farrar's attorney, on Louisville, Rebel Rags & more
Ole Miss vs NCAA: With Nutt lawsuit, how does Freeze keep his job?
Ole Miss Wants to Keep Hugh Freeze, and Here's Why
Hugh Freeze is Out at Ole Miss: What Happened and What's Next
Are things trending positive for Ole Miss vs NCAA?
What if there is more to the Ole Miss Escort Calls? (Part I)
What if there is more to the Ole Miss Escort Calls? (Part II)
Ole Miss vs NCAA: Good News… and then Bad News
Houston Nutt vs Ole Miss: Q&A with Thomas Mars
Thomas Mars: Ole Miss made it clear all employees would comply with contract
Houston Nutt vs Ole Miss: Mars Responds to Ole Miss release of Freeze phone records
Ole Miss vs NCAA: Sworn Affidavit claims Freeze used Burner Phones for Recruits
Rutgers compared to Ole Miss, and why the NCAA might delay release of sanctions
Ole Miss settles with / apologizes to Houston Nutt.  Now what?
Ole Miss vs NCAA: It's Been 8 Weeks.  Where's the NCAA's report?
---