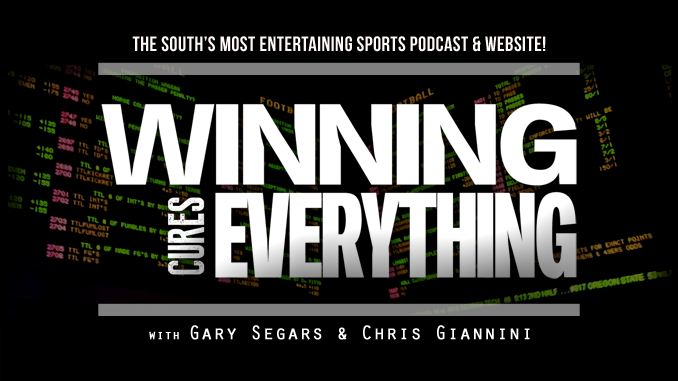 Podcast 111: Grizz PA tryout, Barstool vs Outkick, Sex Robots, CFB overrated/underrated coaches, Zeke suspension

Gary and Chris kick off Tuesday with Gary going through his own tryouts for the Memphis Grizzlies PA announcer job.  Then the two jump into a discussion on the Barstool Sports vs Outkick the Coverage feud, complete with pros and cons of each outlet.
In segment 2, the duo breakdown the problems with CBSSports.com's recent anonymous survey of college football coaches discussing the most overrated and underrated coaches, including a couple of their own overrated and underrated.
From there, the guys jump in on the Ezekiel Elliot suspension, debating whether it's warranted or not, and compare the NFL's punishment policy to the NCAA's policies, before going through whether or not 6 games without Elliot could cost the Cowboys a spot in the playoffs. The two also discuss how crazy the preseason has been, and what to make of several rookie QBs looking really good so far – and whether or not the Browns wasted a pick on Deshon Kizer.
Finally, the guys hit their latest segment – The Tuesday Trifecta – where they discuss the following topics
– there's a company making sex robots that look like spouses who are deceased
– Florida suspended 7 players for the season opener against Michigan – is one game enough for the crime? and is it just a built-in excuse if they lose?
– Mayweather is talking himself down before the McGregor fight – that's a new tactic. Has Mayweather really lost a step? And are people not interested in going because this has the feel of a fixed WWE event?
iTunes: https://itunes.apple.com/us/podcast/episode-111-aug-15th-2017-barstool-vs-outkick-sex-robots-etc/id1144599550?i=1000391063566&mt=2
Subscribe to the podcast at these locations, or on any of your favorite podcast apps!
iTunes | Soundcloud | Google Play
TuneIn | Stitcher | RSS feed | YouTube
To advertise on the site, or on the podcast, e-mail gary@winningcureseverything.com for website and podcast stats and pricing!
---
The most entertaining college football podcast in the South!
Hosts Gary Segars and Chris Giannini tackle everything to do with College & NFL football, and dive into other topics as well, discussing CFB odds (along with other sports gambling odds), NFL, NBA, college basketball, baseball, UFC, and any other sports, political, or funny relevant topics that pop up.