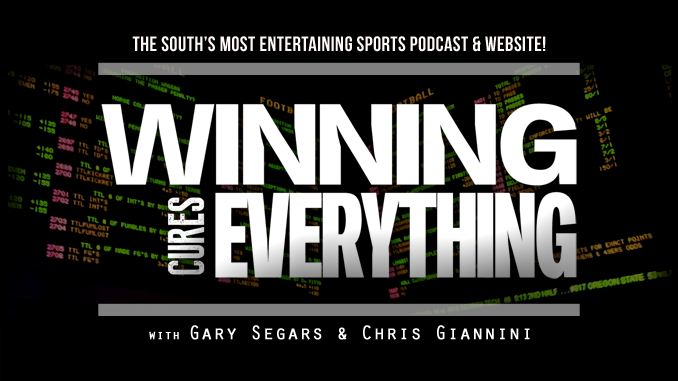 Sign up for our E-mail List!
Get our latest news once a week, including pick'em reminders!
It's Tuesday, Sept 12th! We're now moving to a Tues-Fri format, and on Tuesdays, the guys will be recapping the CFB & NFL weekend-that-was. On today's podcast, the guys hit the biggest games in CFB, go through all 5 power conference results, and then hit on the biggest NFL games, along with our betting results from the weekend.
Oklahoma @ Ohio St
Stanford @ USC
Auburn @ Clemson
Georgia @ Notre Dame
TCU @ Arkansas
SEC, ACC, Big 12, Big 10, Pac 12 results
Raiders @ Titans
Seahawks @ Packers
Giants @ Cowboys
…and our pick results.
Follow us on Twitter: @GaryWCE / @ChrisBGiannini / @WinningCures
Leave us a voicemail: (551) 226-9899
E-mail the show: winningcureseverything@gmail.com
Check out the Website: WinningCuresEverything.com
If you're enjoying the show, please take a second to subscribe to the podcast and leave a review on iTunes! Those two things can really help us build up the audience. Thanks for your support!