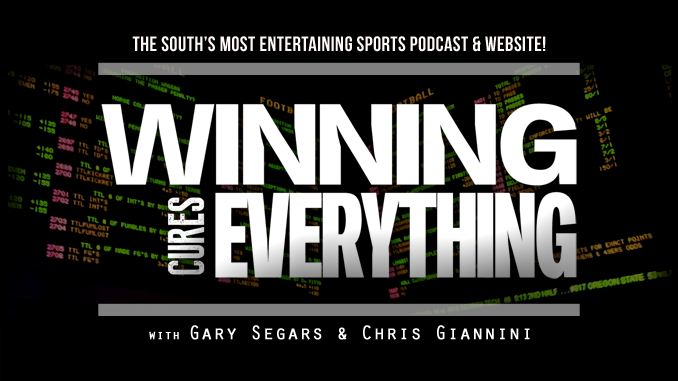 Today's Wednesday, Sept 20th and on today's show, Gary brings in Ole Miss Rivals site RebelGrove.com's Neal McCready and the Wall Street Journal's Andrew Beaton, who just released a story entitled "Burner Phone Accusation Marks New Chapter in Ole Miss scandal," to discuss the latest happenings with Ole Miss, both on and off the field.
In the interview with Neal (1:35), they discuss:
1:35 Neal's been traveling & discusses his Chicago Cubs fandom
4:07 Is Cal a good team, or did Ole Miss beat itself?
6:18 Can Ole Miss fix their offensive & defensive line problems? Neal explains that people should change "Ole Miss cheats" to "Ole Miss tries to cheat" because this roster missing players at key spots
10:35 Could the recent spike in hatred between Ole Miss & Miss St have been prevented?
19:48 Why does it take 6-8 weeks for the NCAA to hand down sanctions after the COI hearing?
22:01 Is AD Ross Bjork's job in trouble? If it's not, why not?
In the interview with Andrew (26:34), the two discuss:
26:54 Andrew gives a rundown of what his latest story entails
29:10 Ole Miss said 29 people signed forms saying they did not use burner phones – did the 29 include former coaches?
30:45 Why would Ole Miss only get information about burner phones from current coaches?
32:19 Does he agree that Mars has a lot of proof, otherwise he wouldn't make these accusations public?
34:05 Thomas Mars has offered to settle the Houston Nutt lawsuit multiple times – why has Ole Miss not agreed to settle rather than continue this PR nightmare?
There are a lot of online sportsbooks out there. MyBookie.ag is the only one that gets our stamp of approval. And you know we don't give that out lightly. To get our endorsement, we've got to personally use them, and that means they have to be the best. And MyBookie.ag is by far the best sportsbook we've used. So go to MyBookie.ag and enter in promo code WCE100 for a 100% deposit bonus. That basically means they're gonna double your first deposit, so knock that thing out. Go to MyBookie.ag, click 'sign up' and enter promo code WCE100.
Follow us on Twitter: @GaryWCE / @ChrisBGiannini / @WinningCures
Leave us a voicemail: (551) 226-9899
E-mail the show: winningcureseverything@gmail.com
Check out the Website: WinningCuresEverything.com
If you're enjoying the show, please take a second to subscribe to the podcast and leave a review on iTunes! Those two things can really help us build up the audience. Thanks for your support!