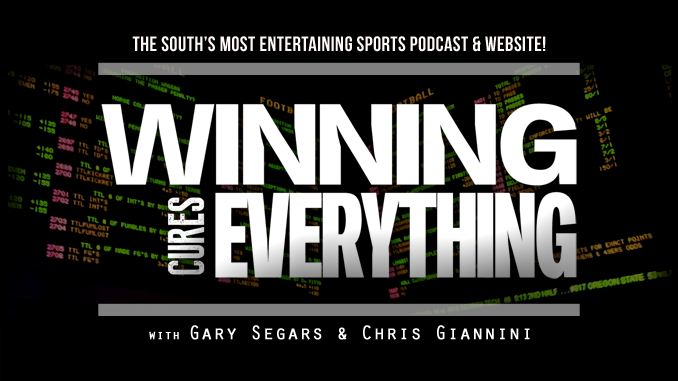 Keep up with our podcasts!
Enter your e-mail, and we'll let you know what's going on at WCE a couple of times a month!
Gary is flying solo from family vacation at Disney World on Tuesday's show, and yes, he said Episode 145, when it's really Episode 144… but we'll let him slide for that.
He runs through some of what happened in the college football universe this past weekend, and discusses what Oklahoma's loss could mean for the Big 12's playoff chances, how the SEC is simply 3 teams and everyone else, he runs down his CFB top 10, and more.
There are a lot of online sportsbooks out there. MyBookie.ag is the only one that gets our stamp of approval. And you know we don't give that out lightly. To get our endorsement, we've got to personally use them, and that means they have to be the best. And MyBookie.ag is by far the best sportsbook we've used. So go to MyBookie.ag and enter in promo code WCE100 for a 100% deposit bonus. That basically means they're gonna double your first deposit, so knock that thing out. Go to MyBookie.ag, click 'sign up' and enter promo code WCE100.
Follow us on Twitter: @GaryWCE / @ChrisBGiannini / @WinningCures
Leave us a voicemail: (551) 226-9899
E-mail the show: winningcureseverything@gmail.com
Check out the Website: WinningCuresEverything.com
If you're enjoying the show, please take a second to subscribe to the podcast and leave a review on iTunes! Those two things can really help us build up the audience. Thanks for your support!