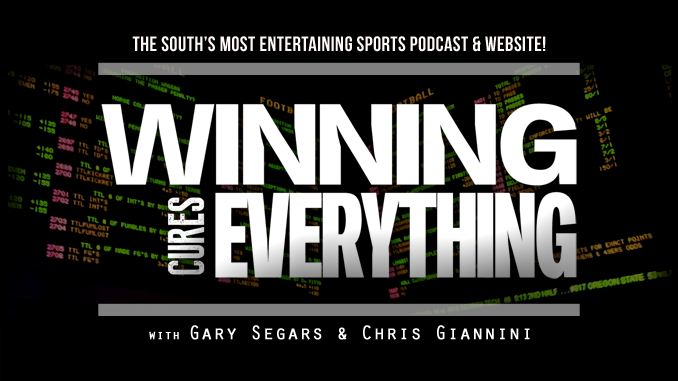 It's the BIG GAME FRIDAY preview show for college football and the NFL. Here are the games Gary and Chris preview this week:
Interesting Games
– Oklahoma St @ Iowa St (11am ABC/ESPN2)
– Washington @ Stanford (9:30pm FS1)
– Florida St @ Clemson (2:30pm ESPN)
– Iowa @ Wisconsin (2:30pm ABC)
SEC Games
– Florida @ South Carolina
– Arkansas @ LSU
– La-Lafayette @ Ole Miss
– Kentucky @ Vanderbilt
– New Mexico @ Texas A&M
– Tennessee @ Missouri
Biggest College Football Games
– Notre Dame @ Miami (7pm ABC)
– TCU @ Oklahoma (7pm FOX)
– Georgia @ Auburn (2:30pm CBS)
– Michigan St @ Ohio St (11am FOX)
– Alabama @ Mississippi St (6pm ESPN)
NFL Games
– Patriots @ Broncos (7:30pm NBC)
– Cowboys @ Falcons (3:25pm FOX)
– Vikings @ Redskins (12pm FOX)
There are a lot of online sportsbooks out there. MyBookie.ag is the only one that gets our stamp of approval. And you know we don't give that out lightly. To get our endorsement, we've got to personally use them, and that means they have to be the best. And MyBookie.ag is by far the best sportsbook we've used. So go to MyBookie.ag and enter in promo code WCE100 for a 100% deposit bonus. That basically means they're gonna double your first deposit, so knock that thing out. Go to MyBookie.ag, click 'sign up' and enter promo code WCE100.
Follow us on Twitter: @GaryWCE / @ChrisBGiannini / @WinningCures
Leave us a voicemail: (551) 226-9899
E-mail the show: winningcureseverything@gmail.com
Check out the Website: WinningCuresEverything.com
If you're enjoying the show, please take a second to subscribe to the podcast and leave a review on iTunes! Those two things can really help us build up the audience. Thanks for your support!