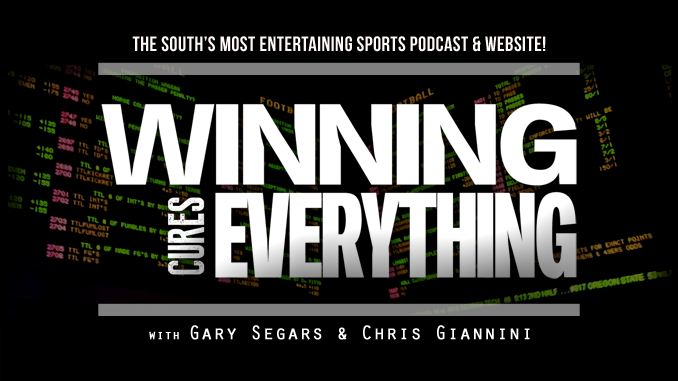 Keep up with our podcasts!
Enter your e-mail, and we'll let you know what's going on at WCE a couple of times a month!
Rather than try to space things out this week, we figured we'd provide several podcasts on Wednesday, so you'll have things to listen to while traveling out of town, or manning the grill, etc over Thanksgiving.
Gary and Chris start off this episode by diving into the latest legal issues with Ole Miss, which involves a player from the 2016 recruiting class wanting to transfer without restrictions, because he feels he was deceived by coach Hugh Freeze and athletic director Ross Bjork. The guys read a statement provided by attorney Tom Mars answering Ole Miss fan conspiracy theories, and the guys break down the entire situation happening in Oxford.
From there, they break down the weekend's games:
SEC Games
– Ole Miss @ Miss St (7pm ESPN Thurs)
– Missouri @ Arkansas (1:30pm CBS Fri)
– Georgia @ Georgia Tech (11am ABC)
– Florida St @ Florida (11am ESPN)
– Louisville @ Kentucky (11am SEC Network)
– Vandy @ Tennessee (3pm SEC Network)
– Texas A&M @ LSU (6:30pm SEC Network)
Interesting Games
– #3 Miami @ Pitt (11am ABC Fri)
– South Florida @ #15 UCF (2:30pm ABC Fri)
BIGGEST Games
– #1 Alabama @ #6 Auburn (2:30pm CBS)
– #14 Washington St @ #18 Washington (7pm FOX)
– #9 Ohio St @ #24 Michigan (11am FOX)
– #2 Clemson @ South Carolina (6:30pm ESPN)
– #8 Notre Dame @ #22 Stanford (7pm ABC)
NFL Games
– THURS: Vikings @ Lions (11:30am FOX)
– Broncos @ Raiders (3:25pm CBS)
– Saints @ Rams (3:25pm FOX)
There are a lot of online sportsbooks out there. MyBookie.ag is the only one that gets our stamp of approval. And you know we don't give that out lightly. To get our endorsement, we've got to personally use them, and that means they have to be the best. And MyBookie.ag is by far the best sportsbook we've used. So go to MyBookie.ag and enter in promo code WCE50 for a 50% deposit bonus. That basically means they're gonna double your first deposit, so knock that thing out. Go to MyBookie.ag, click 'sign up' and enter promo code WCE50.
Follow us on Twitter: @GaryWCE / @ChrisBGiannini / @WinningCures
Leave us a voicemail: (551) 226-9899
E-mail the show: winningcureseverything@gmail.com
Check out the Website: WinningCuresEverything.com
If you're enjoying the show, please take a second to subscribe to the podcast and leave a review on iTunes! Those two things can really help us build up the audience. Thanks for your support!