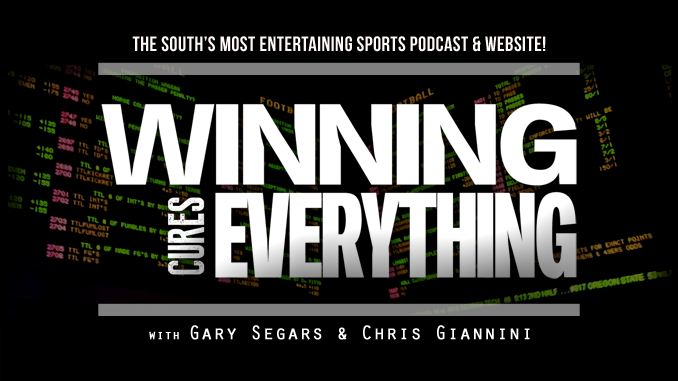 Sign up for our E-mail List!
Get our latest news once a week, including pick'em reminders!
On Thurs, Nov 30th's show, Gary and Chris dive head-first into the SEC coaching searches, discussing the hiring of Joe Moorhead at Mississippi State (with Chris wondering what was the rush, along with the possibility that Jeremy Pruitt didn't accept the Miss St job because people believe Jimbo Fisher is taking the Texas A&M job), the dumpster fire that Tennessee's coaching search has turned into, and what appears to be going on with Arkansas's coaching search.
Finally, the guys get into their picks against the spread in college football and the NFL this weekend. These are the game the guys are going over:
College Football
– FRI: Stanford vs USC
– Fresno St @ Boise St
– North Texas @ FAU
– Wisconsin vs Ohio St
– TCU vs Oklahoma
– Memphis @ UCF
– Auburn vs Georgia
– Miami vs Clemson
NFL
– THURS: Redskins @ Cowboys
– Texans @ Titans
– Lions @ Ravens
– Vikings@ Falcons
– Chiefs @ Jets
– Eagles @ Seahawks
There are a lot of online sportsbooks out there. MyBookie.ag is the only one that gets our stamp of approval. And you know we don't give that out lightly. To get our endorsement, we've got to personally use them, and that means they have to be the best. And MyBookie.ag is by far the best sportsbook we've used. So go to MyBookie.ag and enter in promo code WCE50 for a 50% deposit bonus. That basically means they're gonna double your first deposit, so knock that thing out. Go to MyBookie.ag, click 'sign up' and enter promo code WCE50.
Follow us on Twitter: @GaryWCE / @ChrisBGiannini / @WinningCures
Leave us a voicemail: (551) 226-9899
E-mail the show: winningcureseverything@gmail.com
Check out the Website: WinningCuresEverything.com
If you're enjoying the show, please take a second to subscribe to the podcast and leave a review on iTunes! Those two things can really help us build up the audience. Thanks for your support!