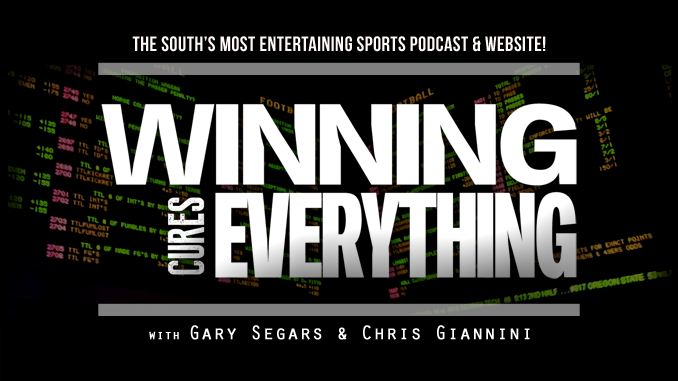 Sign up for our E-mail List!
Get our latest news once a week, including pick'em reminders!
Gary and Chris back in the studio for Wednesday's show! On today's show, the dynamic duo jump into all kinds of discussions:
– the top 5 paid coaches in college football
– the top and bottom college football teams against the spread this year
– Jimbo Fisher's insane deal at Texas A&M
– Gus Malzahn's new deal at Auburn
– Chad Morris being Arkansas's top target
– Mike Norvell signed a new 5 year extension at Memphis
– Phil Fulmer has been talking to coaches
– the guys have been told Les Miles wants to stay in Baton Rouge
– Alabama loses the Iron Bowl, but gets in the playoff
– does the playoff have a ratings bias?
– Ole Miss sanctions & waiving restrictions on players that want to transfer
– Dan Mullen to Florida and Joe Moorhead to Miss St, etc
– and so much more…
There are a lot of online sportsbooks out there. MyBookie.ag is the only one that gets our stamp of approval. And you know we don't give that out lightly. To get our endorsement, we've got to personally use them, and that means they have to be the best. And MyBookie.ag is by far the best sportsbook we've used. So go to MyBookie.ag and enter in promo code WCE50 for a 50% deposit bonus. That basically means they're gonna give you free money (deposit $100, they give you $50), so knock that thing out. Go to MyBookie.ag, click 'sign up' and enter promo code WCE50.
Follow us on Twitter: @GaryWCE / @ChrisBGiannini / @WinningCures
Leave us a voicemail: (551) 226-9899
E-mail the show: winningcureseverything@gmail.com
Check out the Website: WinningCuresEverything.com
If you're enjoying the show, please take a second to subscribe to the podcast and leave a review on iTunes! Those two things can really help us build up the audience. Thanks for your support!