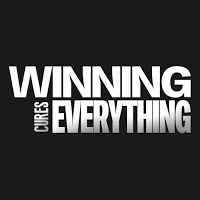 Chris and I knocked out another podcast last night, discussing a wide-range of subjects. We have decided to shorten the podcasts and do 2 a week. This might be easier for people to listen to, considering it's only about 30 minutes per one, and we'll be doing 2 per week, so you won't have to wait an entire week for us to release another one.
Also, we are now available on Stitcher, Tune-In, and will soon be on iTunes. If that's not how you do it, you can download it from Soundcloud.com and subscribe in your favorite podcast app. I prefer Podcast Addict on Android. If you haven't listened before, give us a listen and let us know what you think! We appreciate you guys!
The 2nd installment of the Winning Cures Everything podcast with Gary Segars and Chris Giannini. We had a lot to discuss, including UFC 202 between Conor McGregor and Nate Diaz, an Outkick the Coverage mailbag question about a guy dating a masseuse's daughter, NFL Fantasy discussion and pre-season reviews (Landry Jones and the Steeler, Dak Prescott and the Cowboys, the Rams' crowds in LA, the Chargers crowds in San Diego, and the Broncos' qb situation), and Tim Tebow's attempt at signing on with a Major League Baseball team.