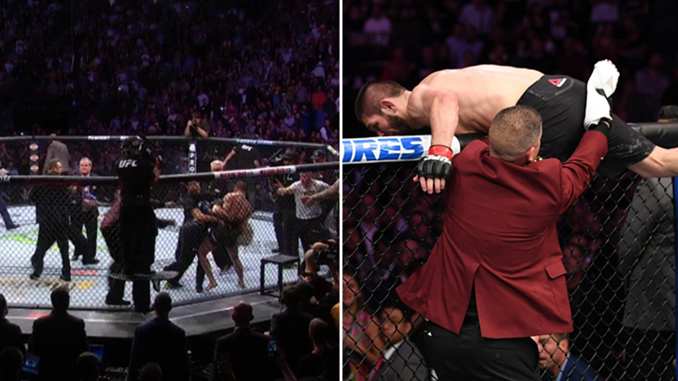 Let's not pretend like Saturday night's brawl did not help the UFC.
McGregor vs Khabib helped bring more eyeballs to the sport than any matchup in the sport's history, and more people will certainly watch going forward because, and let's be honest with ourselves, everybody loves a good train wreck.
Chaos sells. It's entertaining.
That's the positive from last night.  Eyeballs.
But the other side of this is that the 18 years of work that Dana White put in to get the sport to the mainstream definitely took a hit last night.
People called it human cock fighting.
Last night did nothing to make people stop using that terminology.
— Ram Gilboa (@RamGilboa) October 7, 2018
Truth be told, the casual fans only cared about Conor McGregor and Khabib Nurmagomedov.
There were great stories that came out of the entire card, like Derrick Lewis's come-from-behind knockout victory over Alexander Volkov and stripping to his underwear before being announced the winner because "his balls got hot," or Tony Ferguson's victorious return over Anthony Pettis after a year away from the sport, but the biggest audience of the night wanted to see the main event.
The brawl, while disgusting, made last night's card even more interesting, after a fairly boring title fight to the non-diehard MMA fan.
Supporters of Nurmagomedov, and detractors of McGregor, will argue that Khabib did nothing worse than Conor's attack on the bus at UFC 223 in the underbelly of Barclays Arena.
That's incorrect.
McGregor's actions back in February were detestable, but he was attacking a bus with other fighters. I still firmly believe that it was a stunt gone too far, and I don't believe that McGregor actually planned on hurting anyone.
Of course, I could be completely wrong. I've been wrong before, and certainly will be again.
What makes Khabib jumping out of the octagon and into the crowd different, is that this melee happened in a crowd of paying customers.
That's the biggest issue here.
The Nevada State Athletic Commission does not appreciate fighters putting innocent bystanders at risk. And that's exactly what Khabib and his team did Saturday night inside T-Mobile Arena.
Their actions could have caused more widespread violence.  It started more fights inside the arena (as you can see below), and, had the UFC not prepared with as much security personnel as they did, it could have been even worse.
Huge brawl broke out between Khabib and Conor fans in the hall after UFC 229!! The Irish and Russians mix like oil and water 😂😂😂 #McGregor #Khabib pic.twitter.com/hDOuAYzmpd

— Eric McCoy (@ShowtimeRHEC) October 7, 2018
マクレガーとヌルマゴのサポーターが大乱闘!!!#ufc229 pic.twitter.com/1i4UvVdNy5

— 健さま (@gogokensama) October 7, 2018
The expected punishment will go beyond the UFC's reach.
Khabib may not be able to get back into the country.
Violence outside of the cage is assault. If he is charged with a crime, the Nevada State Athletic Commission can take away his visa to enter the United States.
If you look back on the Mike Tyson vs Lennox Lewis fight, and why that was held in Memphis, TN instead of Las Vegas, New York, or any other city, it's because multiple state athletic commissions would not allow Tyson to fight because of his criminal past.
McGregor had no problems in New York because his charges were recuced, along with the fact that there was no public crowd. There were no paying customers around. He still has lawsuits, he still has a criminal record, but it is not to the extent that he would have incited a riot inside of a 20000 seat Arena.
The two are incredibly different.
What Dana White does from here will be telling, because he did not punish McGregor, but McGregor had no issue getting back into the United States.
The two guys that attacked McGregor inside the cage, obviously, are out of the UFC, but Khabib is the lightweight champion, with only one defense of his title.  His name means something now, because of his win over McGregor, and the storyline behind it.
The interesting thing about the idea of Khabib not being allowed to compete is that the state athletic commissions can give the UFC a way to bring in more exciting fighters to compete for championships.
Strikers are infinitely more entertaining. That's just fact.
Only die-hard UFC fans want to see submissions, or decisions.
The casual fan wants the trainwreck.
They want knockouts.
That's what made McGregor such a star. He was able to stand up, and not rely on taking a fight to the ground where it can get very boring very quickly.
Boxing, if there were still interesting characters in the sport (aside from Deontay Wilder), would still be incredibly popular today. Floyd Mayweather was interesting because of his undefeated record, not because of his actual technique. His boxing technique really just pissed fans off, even if those techniques won every fight in which he was ever involved.
Khabib is very similar to Mayweather.  A technical fighter that is an expert at his craft, that can wrestle, take a fight to the ground, and not lose a single round.
The most famous combat sports athletes were guys like Muhammad Ali, Joe Frazier, Mike Tyson, and, now, Conor McGregor.
All of those athletes have the same thing in common: They stand up and throw punches. And not just punches – haymakers.
They knock people out.
But back to why this is different than the bus incident.
You can't have fighters making paying customers feel like they are not safe when attending big fights.
It's bad for business, and the UFC stays away from things that are bad for business.