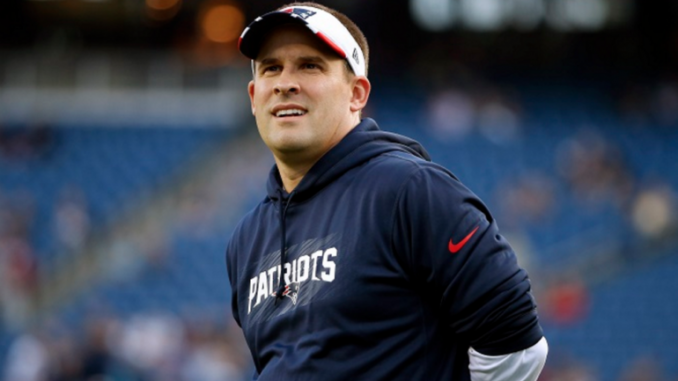 It was reported Tuesday morning that Patriots offensive coordinator Josh McDaniels was being hired as the head coach for the Indianapolis Colts.
Tuesday night, that was no longer the case.
McDaniels agreed to terms, the Colts had already started on his coaching staff, and the news had already gotten out to media outlets.
McDaniels headed back to his office in Foxborough to clean out and pack up his things, and ended up in a conversation with owner Robert Kraft and head coach Bill Belichick which, eventually, led to McDaniels calling Chris Ballard, GM of the Colts, and telling him he would not be taking the job.
There are all kinds of rumors and conspiracy theories as to why McDaniels decided not to head to Indianapolis after being the favorite to land the job for over a month.  Among those:
Andrew Luck is not healthy and may have to have another surgery
this was a way for Belichick and Bob Kraft to get back at the Colts for "deflategate"
Belichick's contract runs out in 2018 and he will retire after next season, and the Pats plan to hire McDaniels as their next head coach
While that news sounds great for the Patriots, who are losing defensive coordinator Matt Patricia to the Detroit Lions as their new head coach, everything else that has gone on for the past month points to trouble in New England.
If McDaniels is indeed staying because he was told Belichick may be retiring sooner than later, that's a big enough problem for the Patriots organization.
While a loss in the Super Bowl is problem enough, the benching of Malcolm Butler still remains a big story, and locker room problems appear to be an issue in New England.
Browner's Instagram post was liked by Hightower, Jamie Collins and Alfonzo Dennard pic.twitter.com/uDGIzvcerH

— Mark Daniels (@MarkDanielsPJ) February 5, 2018
Brandon Browner, former Patriots player, posted about a divided locker room and used the hashtag #foolishpride in reference to Butler not playing in the game.  The biggest news about this was current injured Patriots player Donta Hightower liking the post.
After that, Malcolm Butler, who is an unrestricted free agent, released a statement on twitter denying all of the ridiculous rumors:
— Malcolm CB Butler (@Mac_BZ) February 6, 2018
The biggest part of this is that Tom Brady liked it and even responded to it:
Tom Brady on Malcolm Butler's statement on Instagram pic.twitter.com/acNVX33mAf

— Mike Garafolo (@MikeGarafolo) February 6, 2018
There appears to be tension inside the Patriots organization.  Who is getting along and who isn't?  This, of course, is all happening after the crazy ESPN story about the power struggle between Belichick, Kraft, and Brady from early Jan 2018, which sports writer Clay Travis believes was sourced by Bill Belichick himself.
With all this discord inside the Patriots, we haven't even brought up the fact that Tom Brady will be turning 41 before the start of the 2018 season, and the Patriots have 14 unrestricted free agents that could decide to sign elsewhere next season… many of which were major contributors this past season.
Here is the list of unrestricted Patriots free agents:
RB Rex Burkhead

SS Nate Ebner

RB Dion Lewis

OT Nate Solder
That's a lot of production that could be gone next year.  Odds are that they will keep some of them… but it's never good when a lot of your production has the opportunity to leave for more money, more playing time, etc.
The Patriots may come out next year and win the whole thing again, but there appear to be chinks in the armor, and things appear to be unravelling in New England.