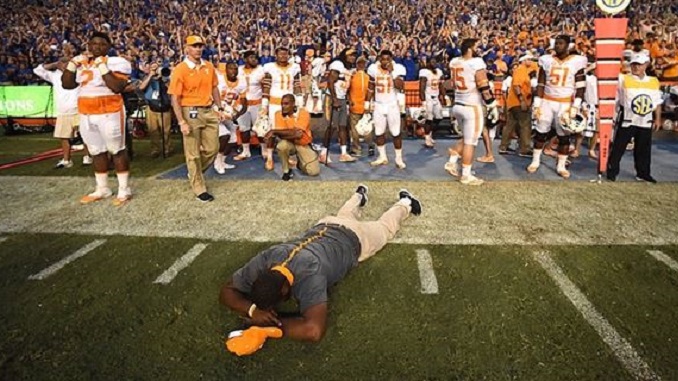 John Adams wrote an article for the Knoxville News Sentinel on Monday, headlined "Tennessee Vols shouldn't have to play Alabama every year."
I had to take a 2nd look at the headline before I even read it.
Immediately, you know what you're getting into before you even click the link.
So I gathered myself and started reading through the article.
Let's break down a few excerpts, starting with this:
As a card-carrying member of the SEC East, Tennessee isn't required to play Alabama every year in football. It does so voluntarily.

And what does it have to show for treasuring tradition and maintaining Alabama as its permanent rival?

Ten consecutive losses by a combined count of 351-119.

I know the counterpoint: Rivalries are cyclical. There are ups and downs in every series.

But here's Tennessee's problem: When Alabama is up, it's really up. It doesn't just have a good stretch. It goes full dynasty.
Whoa whoa whoa.  Hold on here.  This is starting out kinda sounding like Alabama is better than Tennessee, and, for that reason, the Vols shouldn't have to play Alabama.
Starting off with this does not make a strong argument.  It sounds a whole lot like whining about "it's not fair."
But let's dig a little deeper.
That's why UT would be better off not having the Tide as a regular opponent. The SEC also would be better off from a competitive standpoint without permanent non-divisional rivals.

Playing Alabama obviously puts UT at a huge disadvantage in its division. Its scheduling disadvantage will be magnified this season and next.
Ok, just so we get this straight… Adams had a chance here to go with the argument that the SEC should not have permanent cross-division opponents, but instead opened up with the fact that Alabama is too good for Tennessee right now?  LSU and Florida could have a gripe with this.  So could Auburn and Georgia.  But that's not what he went with.  Adams jumped immediately into the idea that Tennessee cannot compete with Alabama.
Would he have written this after the 2015 game where Alabama had to go 71 yards in 8 plays and have Derrick Henry score the go-ahead touchdown with [2:24] left on the clock to pull out a 19-14 win?
I doubt it.
No, it came this past season, when Tennessee got absolutely whalloped by the Tide 49-10 in Knoxville.  The only touchdown UT scored was on a 7 yard Alvin Kamara TD run after Jalen Hurts fumbled on a Derek Barnett sack and UT recovered at the Alabama 11 yard line.  That made the game 14-7 Alabama with [9:41] left in the 2nd quarter.  From there, the Tide outscored them 35-3.
Before the 2016 season started, it was all Tennessee fans talked about – the Vols were going to win the East, and they were finally going to beat Alabama, and Butch Jones would have them in the college football playoff after beating Alabama a 2nd time in the SEC Championship game.
After the season, it's turned into "Alabama's too good and we shouldn't have to play them every year because they're not in our division."
Give me a break.
You didn't hear Alabama fans complaining in the 90s when they were going through the cycle of Coach Mikes, going 2-10 against the Vols from 1995 to 2006.
Nope.  In fact, that was the goal every year for Alabama.  Even if the Tide can't beat anyone else, just beat Tennessee and Auburn.  That was it.  Those games meant absolutely everything.
Nowadays, it's all about participation trophies and hollow SEC divisional titles.  Coaches contracts have clauses written in for every little thing.  Reach a conference championship game, you get more money.  Make a lousy bowl game, make more money.  Have a winning record in conference, make more money.
Between 1997 and 2007, Tennessee represented the Eastern division in the SEC Championship game 5 times.  They won two of those, in 1997 and 1998.  Since 2007 (Tennessee's last SEC Championship game appearance – a loss to LSU – and Phil Fulmer's last full season as coach), the East has been represented by Florida 4 times, Missouri twice, Georgia twice, and South Carolina.  This is how their cross divisional opponents matched up those seasons:
2016 Florida: 31-10 loss at Arkansas, 16-10 win at #16 LSU
2015 Florida: 38-10 win vs #3 Ole Miss, 35-28 loss at #6 LSU
2014 Missouri: 34-27 win at #24 Texas A&M, 21-14 win vs Arkansas
2013 Missouri: 24-10 win at #24 Ole Miss, 28-21 win vs #19 Texas A&M
2012 Georgia: 37-10 win vs Ole Miss, 38-0 win at Auburn
2011 Georgia: 27-13 win at Ole Miss, 27-10 win vs Miss St, 45-7 win vs #20 Auburn
2010 South Carolina: 35-27 loss at #17 Auburn, 35-21 win vs #1 Alabama, 41-20 loss vs #17 Arkansas
2009 Florida: 13-3 win at #4 LSU, 23-20 win vs Arkansas, 29-19 win at Miss St
2008 Florida: 31-30 loss vs Ole Miss, 38-7 win at Arkansas, 51-21 win vs #4 LSU
So let's count that up.  Only one SEC East champ in the last 9 seasons has not had to face a ranked team from the opposing division.  2015 Florida had to face #3 Ole Miss and #6 LSU and still got to Atlanta.  2010 South Carolina faced 3 ranked teams from the other side of the conference, and notched up a win over #1 Alabama en route to the Championship Game.  The SEC East reps have gone 17-5 against their SEC Western Division opponents since 2008.  (Read further and we'll go over Tennessee's record against the West…)
Excuse me if I don't appear to be sympathetic for a team that had gone 10-2 against Alabama from 1995 through 2006, but has gone 0-10 against them since Nick Saban arrived.
The idea of college football is to beat the teams in front of you to try and win a championship.  Even if Tennessee did not have to play Alabama during the regular season, they would still have to match up with them (or a team with a better record than them) in the SEC Championship Game.  No matter what, you're going to have to play good teams from the other division.  To try and run from that by stating that the schedule is unfair is just ludicrous.
Let's get back to the article…
Not only will Tennessee play at Alabama this fall. It also will play LSU from the SEC West. Next season, Tennessee will draw Auburn from the West.

What are the only other programs other than Alabama to win the West in the past 11 years? Auburn and LSU.

There's more chance of Tennessee losing to those teams than anybody in the East. Playing the best teams from the West also will make the Vols more vulnerable to their divisional opponents.
Unbelievable.  He actually wrote "There's more chance of Tennessee losing to those teams than anybody in the East."  This coming just one season after the Vols lost a shot at the SEC Championship game because they lost at 6-6 South Carolina and at 6-6 Vanderbilt.  They beat Georgia on a Hail Mary on the last play of the game.  They beat Florida (who was starting a backup qb) 38-28 when the Gators were up 21-3 at the half.  Tennessee has gone 4-2, 5-1, 3-3 and 2-4 in the SEC East in Butch Jones's 4 seasons.  That's a record of 14-10.  Only Florida (in 2015)has gone undefeated inside the division in those 4 seasons.
You're not going to get an easy game from the SEC West.  The entire division is strong.  You want to replace Alabama with Ole Miss?  The Vols lost to the Rebels 34-3 in 2014.  Want Arkansas?  Lost to them 24-20 in Knoxville in 2015.  How bout Texas A&M?  Same story.  45-38 loss in OT last year at Kyle Field.  Mississippi State?  Lost 41-31 at State in 2012.
In fact, you'd have to go back all the way to 2010 before you found an SEC West team that Tennessee has beaten, and that was Houston Nutt's awful Ole Miss team that went 4-8.  We already know Tennessee has not beaten Alabama in 10 years, but what'd they do against everyone else?  Let's go back to the year after Fulmer was fired.
2009: 26-22 loss vs Auburn, 42-17 loss at Ole Miss
2010: 16-14 loss at #12 LSU, 52-14 win vs Ole Miss
2011: 38-7 loss vs #1 LSU, 49-7 loss at #8 Arkansas
2012: 41-31 loss at #19 Miss St
2013: 55-23 loss vs #9 Auburn
2014: 34-3 loss at #3 Ole Miss
2015: 24-20 loss vs Arkansas
2016: 45-38 loss at #8 Texas A&M
John Adams… your stat of "Ten consecutive losses by a combined count of 351-119" when talking about Tennessee's record against Alabama was cute.  But you probably should have mentioned the fact that Tennessee is 1-10 against the rest of the SEC West over the last 8 seasons, with the losses coming by a combined 370-182.
Honestly, I'm surprised this article was written about how unfair it is that Tennessee has to play Alabama every year rather than how unfair it is that Tennessee has to play members of the SEC West.
Let the Vols pile up some wins against ANYBODY ELSE in the SEC West, and then we'll talk about what's fair and what's not.  Just because Tennessee has sucked for the last decade doesn't mean they should be rewarded with what you would consider some easier games in conference.