It's not like we didn't know this was going on.
Right?
Last night, thanks to a Freedom of Information request through the University of Tennessee, former athletic director John Currie's e-mails, text messages, and twitter DMs were released to several media outlets.
These documents shed quite a bit of light on what was an intense 26-day head coaching search at the University of Tennessee, and ultimately led to Tennessee chancellor Beverly Davenport firing Currie from his position.
The public now has information on how soon UT knew they were firing Butch Jones, which coaches expressed interest in the job, what happened with the botched Greg Schiano hire, and what happened with John Curried flying all over the country in the week after that, when Mike Gundy, Dave Doeren, and Mike Leach were said to have been met with about the head coaching job.
All of that is juicy, for sure, but what I'm most interested in is this text conversation between Currie and USA Today College Sports writer Dan Wolken, who has been on the podcast with me discussing the Ole Miss NCAA mess.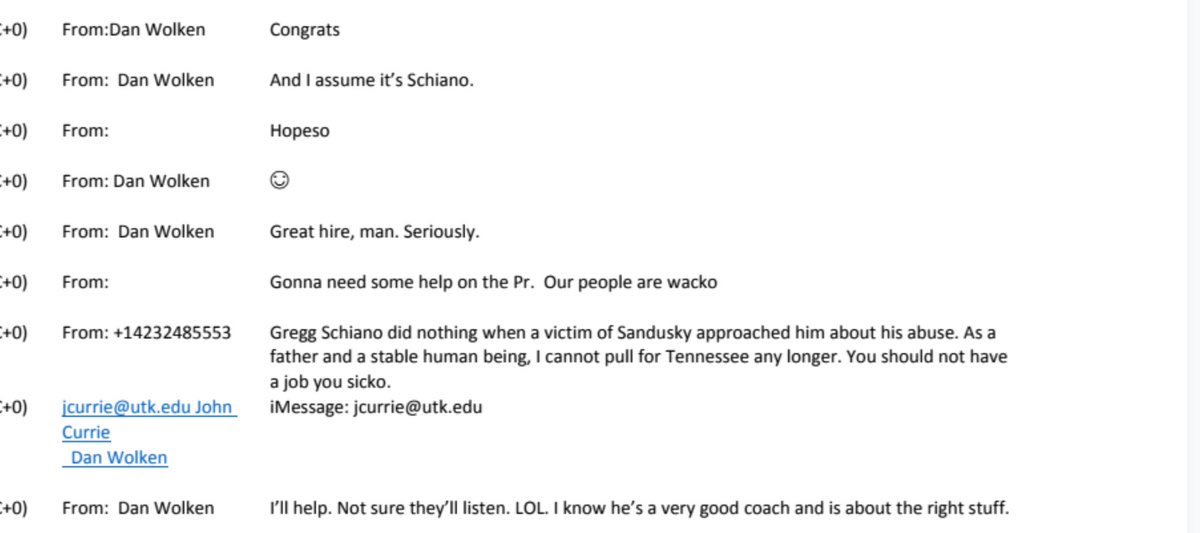 Wolken texting Currie "Congrats" and "Great hire, man.  Seriously" leads you to believe that there's a preexisting relationship here.
Currie responds with "Gonna need some help on the Pr.  Our people are wacko."
He then shares a message that he got regarding Schiano's involvement in the Sandusky case at Penn St (which was WAY overblown by Tennessee fans, to be fair).
Wolken then responds… and this is the most surprising part… "I'll help.  Not sure they'll listen.  LOL.  I know he's a very good coach and is about the right stuff."
My first thought is – why in the world do you have this conversation over text message?
Wolken should have never responded to that request for PR help.  At least, in that case, there's plausible deniability, even with this article praising Greg Schiano and John Currie and blasting Tennessee fans for blowing up the hire, which came out shortly after Currie and Wolken's exchange.
Had Wolken just called Currie after his asking for PR help, there would never be a text that said "I'll help."
"I'll help" is suicide, in this situation.
To be fair, Wolken was a fan of Greg Schiano well before Currie asked him for help.
But there's no denying that he was going to try and spin Currie's story for him.  It's right there in the message.
If you're a respected journalist, you can have friendships with people that grant you access, but you cannot slant your coverage.
How different would Wolken's story about the Tennessee fanbase have been, had he not been "buddy buddy" with the Tennessee AD?
There's no way to know that.  But you can spin it a number of directions.  Another way to look at it is the University should have done a better job, after not squashing the Gruden rumors, of finding a coach that would excite the fanbase, because that's what cost Butch Jones his job in the first place.
Seriously, had Tennessee hired Schiano anyway, they would still run into the same problems, at least initially, that they were trying to curtail by firing Butch – bringing back hope and excitement, and making sure fans actually showed up to Neyland Stadium.
Back to the proof of sports media bias – we have all known that this existed for quite a while.  Relationships give some people great opportunities, and a positive reputation, while not establishing them can have damaging effects on a public figure.  If the media doesn't know a person, they just become a "face" and it's easier to be critical of someone with whom they'll never speak.
It's why Tubby Smith eventually lost his job at Memphis.  He didn't build relationships with people that matter in the city of Memphis, so when he needed somebody to stand up for him and tell the administration why he should stay on as head coach, he had no one on his side.
It's why the media rarely said anything negative about Hugh Freeze, up until he lied to them about what was in an NOA back in Jan 2016.
Writers / Reporters are human.  They have personalities, friendships, and, most importantly, egos.  If somebody doesn't pander to them, their coverage can be more harsh than it would be if they were actually friends.
That's the world we live in now.
Almost all media is biased now.  Newspapers and media companies are owned by people with political interests.  Sports writers grew up fans of certain teams, and likely hold their own teams and alma maters in a certain regard, making it difficult to write critical stories.
It's just another example that honest journalism, in its current form, is dead.