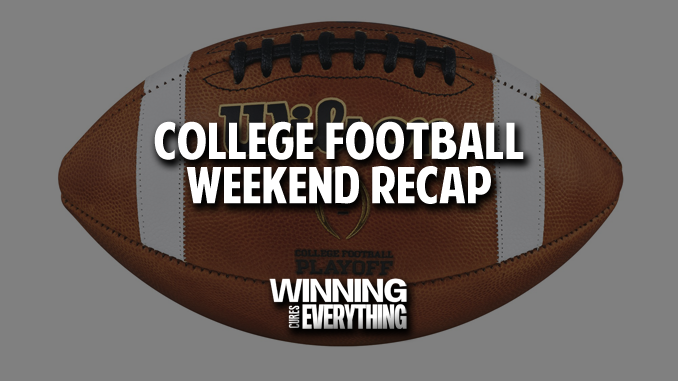 The College Football 3-3-5: Week 6 Reaction
I'm calling October 10th "Stupid Saturday," because the things that I witnessed on college football fields across the country were, to put it bluntly, stupid.  There's just no other explanation.  It was a weird day from opening kick all the way to the nightcap between Alabama & Ole Miss, so here are my 3 main, 3 middle, and 5 rapid fire topics to hit on for the week.
Powered by RedCircle
1. Nick Saban vs Lane Kiffin classic?
Ask any old school Alabama fan, and they'll never admit to this being a classic.  But it was certainly entertaining to watch ping pong on grass.  After both teams scored on their opening drives, the next 5 drives between the teams resulted in 3 punts, a TD, and a fumble (not in that order)… but then the fireworks started.  The offenses scored on 14 straight drives, if you take out the 2 plays to run out the clock at the end of the first half, which saw a 21-21 tie going into the locker room.  There were 10 straight touchdowns scored before Ole Miss had to settle for a field goal to cut the Alabama lead to 49-45, and that was basically the ballgame, because Ole Miss never stopped Alabama.  After a punt with 11:10 left in the 2nd quarter, down 14-7, Alabama scored a touchdown on their last 8 possessions of the game.
So while we're all excited about what Lane Kiffin is bringing to the SEC, my question is whether or not Kiffin will be the coach that drives Nick Saban crazy enough that he finally decides to retire.  This is not the kind of football that Saban wants to play.  We can blame this defensive performance on Alabama defensive coordinator Pete Golding, if you really want to, but the truth is that Kiffin's brand of offense is still new and those missed assignments by the Tide's players were schemed up.  The 268 rushing yards by the Rebels were not the typical line-em-up, smash mouth running plays typical of SEC football.  This was a misdirection, zone running scheme that is built to attack an aggressive defense that plays fast.
It was one helluva game though, right?  I don't know what it says about the future of this season, because I don't know that Alabama will play another team that runs the exact same offense, but Kiffin, OC Jeff Lebby and those feisty Rebels definitely exposed weaknesses.
Also, the Ole Miss defense was wretched, as documented by Rodger Sherman of the Ringer:
lol here's one I didn't think was possible
Alabama ran 43 plays on first down
On those plays, they were more likely to pick up another first down or score a touchdown (this happened 22 times) than they were to have any play which brought up second down (21 times)

— Rodger Sherman (@rodger) October 11, 2020
2. Red River Restlessness: Is Tom Herman done?
If Texas couldn't knock out Oklahoma this year, when is it going to happen?  This is easily the worst Oklahoma team since Herman has been in Austin, and they still couldn't get the win with a senior QB going against a young first year starting QB that was benched early in the game.  It wasn't just that the Longhorns were undisciplined, because the Sooners were as well.  It was the timing of the mistakes.  Both teams lost 3 turnovers.  Texas had 10 penalties for 86 yards, while OU had 11 penalties for 121 yards.  The biggest difference in this game was that Texas and their more experienced roster made the same mistakes that an inexperienced Oklahoma team did, only at much more costly times.
It doesn't help that the only Texas rushing threat in the game was QB Sam Ehlinger, who ran 23 times for 112 yds and 4 TDs.  Oklahoma is down MULTIPLE RBs after transfers, opt outs, etc, and they were able to find T.J. Pledger, a 3rd stringer from last season who was a 4 star recruit, but only had offers from OU, Nebraska, UCLA, Arizona, and Arizona St.  Pledger carried the ball 22 times for 131 yards and 2 TDs.  He had never scored a TD before.  He ran 24 times this season for 88 yards before this game.  Before this season, he had carried the ball 40 times for 244 yds with 1 TD.
There's not one thing that needs to be fixed at Texas.  It's basically everything.  And if they couldn't take over the driver seat of the Big 12 in Oklahoma's down year, when will they?
3. Florida defense exposed at Texas A&M
The Gators, who had skyrocketed up the rankings after fantastic offensive showings against Ole Miss and South Carolina, fell back to earth in a 41-38 last second loss at Texas A&M on Saturday, with the defense being embarrassed to the tune of 543 yds and 7.34 yds per play.  To put that into perspective, the Aggies put up 5.84 ypp on Alabama, and 6.76 ypp on Vanderbilt.  Vandy held this team to 17 points.  Florida gave up 41.  A&M had more yds rushing and more yds passing then they did in either of their first 2 games.
So while Florida was able to put 38 points on the board themselves, they couldn't slow down A&M enough to put the game away, even after taking a 28-17 lead in the 3rd quarter, or a 38-31 lead with 6:14 left in the game.  Fumbling around midfield at the end of the game to give the Aggies a shot doesn't help matters either, but this defense could not stop Jimbo Fisher's attack at any point.
Will a great offense and not very good defense be enough to win the SEC East this year and get them into playoff consideration?  Who knows at this point, because this loss doesn't necessarily kill any of those dreams, but this defense playing this poorly certainly could.
4. Defensive Disaster in the Bayou
Coach Ed Orgeron called it embarrassing after the game.  Still waiting to see if he was discussing his teams's defensive performance, or his hire for defensive coordinator.
We can talk about Missouri putting up massive points and yardage, or LSU not being able to cover any Missouri defenders or missing assignments, or even the fact that LSU couldn't win a game after putting up 41 offensive points.  The fact of the matter is that maybe not only changing coordinators is difficult, but also attempting to switch defensive schemes from a 3-4 to a 4-3 can be difficult for everyone involved, including the new DC, Bo Pelini, who has not been a coordinator since 2007.
LSU lost a ton of talent from the 2019 team, but they also lost any continuity they had by completely switching defensive philosophies.  And this isn't a 1-game thing.  This is going to happen year in and year out, and whether or not Coach O can survive it will be based, basically, on how good the LSU offense is over the next couple of seasons, because this could take quite a while to fix, even with the talent they are bringing in.
5. The U is NOT back.
I'm going to stop short of calling Miami fraudulent, because Clemson does this to basically everybody.  But 42-17 is not what people were anticipating in this Top 10 battle on Saturday night.  New offensive coordinator Rhett Lashlee and new transfer QB D'Eriq King had put up a ton of yards and points on UAB, Louisville, and Florida State… but those 3 teams were not in the same hemisphere as Clemson, and it showed.
Nobody expected Miami to immediately jump to national title contender, so we can toss that out the window for now, but it does appear that they've at least moved up a tier in the ACC, and any step up is a good thing from where this program was prior.
6. Is Iowa St the best team in the Big 12?
Brocktober continues as QB Brock Purdy sizzled, and the Iowa St defense put on a show, holding Texas Tech to zero offensive points until about 4 minutes left in the game.
So this leads to the question… is this the best team in the Big 12?  The blunder in their first game, a 31-14 loss at home to Louisiana, has somewhat become commonplace with Coach Matt Campbell's teams, although they typically pull those games out at the end.  But as the season progresses, there were a lot of people bullish on Iowa St, and they seem to have improved every game since then.
There's still Oklahoma St… but it looks like Iowa St could be the class of the Big 12.
7. Tennessee won't be a contender until they get better QB play.
Tennessee took a 21-17 lead into halftime between the hedges on Saturday, but a 27-0 second half by Georgia in a 44-21 whipping confirmed what everyone already knew; for the Volunteers to be legit conference title contenders, they're going to need a better, more consistent QB.
Jarrett Guarantano's 2nd half drives looked like this:
Fumble (led to Georgia FG)
Interception (led to Georgia FG)
6 plays, 15 yds – Punt
3 plays, -17 yds – Punt (led to Georgia TD)
3 plays, 2 yds – Punt (led to Georgia TD)
Fumble (returned for TD)
6 plays, 20 yds – Ball over on Downs
12 plays 42 yds
The offensive line didn't help much, but it wasn't all on the OL.  A lot of this was on JG, and they will need a better QB going forward that can get them out of these funks, because when things steamroll against this offense, it goes downhill quickly.
8. Auburn's magical officiating saves them in Jordan-Hare again.
How many times have we seen Auburn win games at home due to magical officiating calls?
In the last 3 home games for Auburn, they've been the beneficiary of some pretty crazy calls.
vs Alabama – had :01 added at end of 1st half due to review, even though they had no timeouts left & runner did not go out of bounds
vs Kentucky – UK runner appeared to easily score a TD just before half, but replay evidence couldn't overturn the call of short
vs Arkansas – down 28-27, QB Bo Nix muffed the snap, then attempted to spike the football, but spiked it backwards, which would be a backward pass, and was recovered by Arkansas, effectively ending the game… but the referees gave Auburn the ball back, albeit with a :10 run-off and a loss of down, and allowed them to kick a game winning field goal.
This stuff happens in Jordan-Hare Stadium all the time… but it's almost comical at this point.  Either way, Auburn is obviously not very good, and we may have underestimated Arkansas.
9. Mike Leach's offense scored ZERO points at Kentucky.
Mississippi State opened the season with a 44-34 upset win at LSU, which looks less impressive by the day, and followed that up with a loss at home to Arkansas, and loss on the road where the offense did not score a single point.  MSU QBs threw 6 interceptions in the game, allowing Kentucky to win by 3 TDs with only 150+ offensive yards.
So either SEC defenses figured out Leach's Air Raid system after just one game, or it's going to be more difficult to convert a team from a power running team that ran nearly 70% of the time to a finesse team that throws 70+% of the time.  Either way, it's a shame to waste such a brilliant defensive scheme on an offense that's giving the ball away at a record pace (-9 overall, 11 interceptions thrown & 3 fumbles lost with only 3 fumbles gained and 2 interceptions by the defense) and can't put points on the board.
10. Notre Dame gets win… but did Florida St find a QB?
Notre Dame dominated the line of scrimmage, as I believe everyone assumed they would, but I think Florida St and coach Mike Norvell may have found a QB in sophomore Jordan Travis, who was 13/24 for 204 yds with 1 TD and 1 INT, while also running 19 times for 96 yds and a touchdown.  The Seminoles look much more competent with him behind center.
11. North Carolina's offense EMBARRASSED Virginia Tech in DC Justin Hamilton's debut.
New Hokies defensive coordinator Justin Hamilton missed the first 2 games of the season due to covid-related issues, so his first game calling the defense was at North Carolina on Saturday… and it did not go well.
The Tar Heels put up 656 total yards, including 399 yards rushing (9.3 yds per run), and allowed touchdowns on 8 of 12 drives.  This can partly be explained by the fact that Virginia Tech was missing 15 players for this game due to covid and contact tracing, but only 3 were starters, and when you score 45 points at Virginia Tech, you expect to win the game.
This performance is certainly something to keep an eye on.  Was it just a one-time aberration, or is this what Hamilton's defenses will look like regularly?
Extra Point: Pitt's 31-30 overtime loss to Boston College sums up pandemic football perfectly.
Pitt's kicker Alex Kressman bombed a 58 yd field goal to send the Panthers to overtime against Boston College, and then missed a PAT to lose the game after QB Kenny Pickett threw what appeared to be the game tying TD to Taysir Mack.  This is what football is going to be like this year; plenty of plays to get you excited, and plenty that make you pull your hair out.