I can talk (or write) about almost anything for as long as I need to.  There are not many things in this world that drive emotion from me.  I'm about as stone cold as they get.  But I won't talk or write about this for too long.
But I can't talk or write about this for too long.
It deserves time because this day deserves to be remembered.  I still hate even thinking about it.
For several years, I had this day marked on my calendar, so I would never forget about it.  I eventually took it off so that I actually could try and forget, because overcoming the emotions of today are so difficult.  I doubt I ever will be able to forget what happened.
This week, I had actually planned on writing something longer about this date.  I tried to sit down to write about it for the last 5 days so I could have it ready to post this morning.  But every time I sat down, I got more and more disgusted, and upset.  I could not sit and think about it for longer than 10 minutes.  I tear up every time I think about it.

I remember seeing all of the news coverage, but I didn't think too much about it.  There are tornadoes that pop up in rural parts of the southeast fairly regularly, and while it's awful for those affected, it's never a huge footprint, so it did not normally affect me.
This time was different though.
For those that don't know, I was born in Tupelo, MS and I spent the first few years of my life in Tuscaloosa.  Some of my earliest memories (and the stories my parents always tell) are of me running around as a child, playing on the Alabama football practice field in the offseason.  Or walking from our apartment to the gas station to get a lollipop, because we were too poor to have more than one car, and all we could afford was one little piece of candy here and there as a treat.  My father was in school finishing his degree at the University of Alabama.  Soon after, we moved to Memphis, TN, where my family has lived ever since.
We never stopped going to Tuscaloosa though.  Our family (us, my grandparents, aunts & uncles) have had season tickets for Alabama football games since 1988.  We go to Alabama basketball games.  I've been to baseball games.  I've taken my daughter on sabbaticals to the Bryant Museum during the offseason, just to go wander the campus and get that feeling of being there.  My wife is from a town about 45 minutes to an hour outside of Tuscaloosa.
Tuscaloosa is a 2nd home to me.  The feeling I get when I enter those city limits… I cannot really explain to you.  But it's amazing.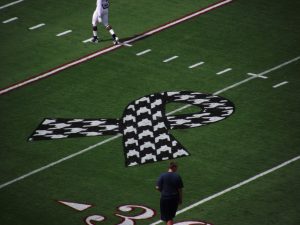 I had been keeping up with the storms all day.  Everyone knew it was supposed to be a day with insanely severe weather across the Southeast.  We had all heard the warnings leading up to the outbreak – conditions were "perfect" for tornadoes.  There were a ton of tornadoes in Arkansas (I believe it was 17 total) just 2 days prior, so we, in Memphis, knew things could be serious.
I had friends in school at Alabama at the time, who were living in apartments not too far from Bryant-Denny Stadium at the time.  But through the day, we never thought Tuscaloosa would be in any real danger.
Like I said – tornadoes almost always hit rural areas that were not really populated.  They take down trees and, every now and then, hit a few homes here and there, but the damage is secluded to a few areas.
But I kept watching the news in Alabama while I was at work in Memphis (the internet is a wonderful thing), and storm after storm after storm kept popping up. James Spann was fired up.  His jacket was off and he was sending out tornado warnings at all different times through the day.  For those that don't know, James Spann is THE weather guy in the state of Alabama.  He's based in Birmingham on ABC 33.  He's the go to when weather gets crazy in the state.
So I watched, and I worried, and there were never any tornadoes around where I live (Memphis never really gets tornadoes thanks to the Mississippi River and the bluff, which helps change the pressure of these storms), but I saw them popping up all over the region.
And eventually I saw live video of a huge tornado headed for Tuscaloosa.
An EF4 tornado.  A mile and a half wide.  Winds up to 190mph.  A real life monster.
I rushed home and jumped on my computer.  It hit Tuscaloosa just a few minutes after I got home.  There was not a lot of live covereage of it.  But there was footage afterwards.
My band had practice that night.  I'm still in that band, amazingly, and they all remember how out of it I was.  I don't normally cry, but I saw the damage of what happened to one of my favorite places on earth, and there wasn't much else I could do.
321 people were killed in the Southeast from April 25-28, 2011.  316 on April 27th alone.  Even with warnings, there was still no way to prepare for that.
Wikipedia gives the best, clearest information on it:
A large multiple-vortex wedge tornado touched down in rural Greene County, Alabama and tracked across neighboring Tuscaloosa County, including the southern and eastern portions of Tuscaloosa at around [5:10] p.m. CDT (2210 UTC) on April 27.[42][108] Debris from the tornado was reported to be falling from the sky across Birmingham over 20 miles (32 km) away in Jefferson County. Skycams operated by Tuscaloosa television station WVUA-CA (channel 7) as well as Birmingham Fox affiliate WBRC (channel 6), ABC affiliate WBMA-LD/WCFT-TV/WJSU-TV (channels 58, 33, and 40), and CBS affiliate WIAT (channel 42) captured video of the tornado as it struck Tuscaloosa (WIAT took home multiple awards including a regional Edward R. Murrow Award for "outstanding live coverage" of the event).[109] As the tornado traveled east to 35th Street and Kauloosa Avenue, the Tuscaloosa Environmental Services and Cintas facilities suffered severe damage. Numerous homes and apartment buildings in the Rosedale and Forest Lake neighborhoods, as well as a P&P Grocery store in Rosedale, were devastated. Several stores and restaurants in a business district at the intersection of McFarland Boulevard and 15th Street, near the DCH Regional Medical Center, were reduced to rubble by the tornado. Buildings were also completely destroyed on 35th Street, between Interstate 359 and Martin Luther King Jr. Boulevard. The Alberta City neighborhood in eastern Tuscaloosa sustained catastrophic damage as numerous homes, apartment buildings, and a shopping center were completely leveled. Additional high-end EF4 damage occurred in the Tuscaloosa suburb of Holt further to the northeast, as several homes were leveled or swept away in that area. The tornado then exited the Tuscaloosa area and moved through dense forest towards Birmingham, downing and debarking thousands of trees.[110] The University of Alabama suspended its operations, cancelled its softball and rowing competitions, cancelled its final exams period, and postponed its commencement until August 6.[111]

Many stations, including WIAT, WBMA/WCFT/WJSU, WTVY (channel 4) in Dothan and WSFA (channel 12) in Montgomery, showed television cameras capturing the event as the tornado moved east-northeast across the western and northern suburbs of Birmingham around [6:00] p.m. CDT (2300 UTC). Several suburbs in the area were severely damaged by the massive tornado as it tore through the west side of Birmingham, resulting in multiple fatalities. The suburbs of Concord, Pleasant Grove, and McDonald Chapel were devastated by the tornado as it moved northeast, flattening entire neighborhoods. As the tornado entered the Birmingham city limits, it devastated the Pratt City neighborhood, destroying numerous homes and apartment buildings. The tornado then struck the suburb of Fultondale, causing EF2 damage to homes and businesses before dissipating east of Fultondale.[108][112] Surveys indicated high-end EF4 damage from the tornado in Birmingham's western suburbs.[108]The National Weather Service determined the path length of this violent tornado to be 80.7 miles (129.9 km) with a maximum damage path width of 1.5 miles (2.4 km). The tornado's most intense damage indicated peak winds of around 190 mph (310 km/h); therefore, it was given a final rating of EF4. Reports from Tuscaloosa indicated 44 people were killed, with an additional 20 deaths in Birmingham.[108][113] Overall this tornado killed 64 people and injured more than 1500.[2][108]PresidentBarack Obama and First LadyMichelle Obama visited Tuscaloosa on April 29, taking a ground tour of some of the affected areas. Obama was quoted as saying that he has "never seen devastation like this." He stated further that he had already declared a federal state of emergency in Alabama.[114]
The tornado was on the ground for 80 miles.  That's from Memphis to Tupelo, MS.  It was unbelievable to see.  The damage left was unlike anything I had ever seen before in my entire life.  The tornado went right by Bryant-Denny Stadium.  If it had shifted even half a mile, it would have demolished Alabama's football stadium and campus.
In all, there were 95 tornadoes that formed in Mississippi and Alabama that day.  It was mayhem.  I've never felt so helpless in my life.
My father refused, for several years, to go to the part of Tuscaloosa that was affected.  I've only seen my father cry twice in my life (that I can remember).  The first was the day that I told him he was going to be a grandfather.  The 2nd was the first time we talked about that day together.  We don't talk about it anymore.  We both remember.  No sense in discussing it.
The entire city was different.  Nobody that lived through that, or that counts Tuscaloosa as home, will ever forget that day, and nobody in the state of Mississippi or Alabama will ever take storm warnings lightly again.
Like I said, I can't think too long on the topic, so I'll close with this; Say a prayer today, and don't forget about those whose lives were changed forever on April 27th, 2011.