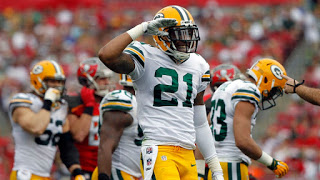 Last night's podcast was awesome. If you didn't get a chance to listen in, I recommend you do so. There was a lot going on this week, and I love touching on as many topics as possible. This week, and the last couple of days, have provided plenty of topics.
To start off with, I believe Washington will beat Stanford tonight, but there's no way they make it through @Oregon, @Utah, @Cal, USC, Arizona St, @Wash St without taking a loss. I think this will setup the possibility of having 2 teams from the same conference in the College Football playoff, especially if Houston gets knocked off by Louisville or Memphis to end the season. You could see two out of Alabama, Tennessee, and Texas A&M get in, or both Ohio St and Michigan (if they both enter their game undefeated). This is definitely setting up to be a crazy year. Now… on to the Five.
1. Blake Barnett has officially left Alabama
Alabama back-up quarterback, redshirt freshman (and former 5 star recruit) Blake Barnett has officially left the team and is planning to transfer to a junior college.
There are a ton of opinions out there. Some people understand and agree that, since he was beaten out by a true freshman, he needs to find somewhere that he can actually get time on the field because even with waiting, he'll never having a season to himself, as long as Jalen Hurts is there. Other people, with more of an old-school mentality, have the opinion that he's quitting on this team in the middle of the season, and that he should stay and continue developing and fight for the job.
Nick Saban came out strongly on the topic:
"I think there's a certain pride people have in competition. There's certain things that I was taught growing up about not quitting and seeing things through. I think if I would have come home and told my dad that I was going to quit the team, I think he would have kicked me out of the house. I don't think I'd have a place to stay."
I don't think I can blame him. Barnett took a lot of practice snaps that could have been used for another player to develop, and for him to leave just as the SEC slate is really getting started, it really looks a bit selfish for him to leave so quickly.
On the other hand… if the loophole he's hoping to exploit actually works, he could be playing by Week 5 for an FBS team next year, as opposed to having to sit out the entire 2017 season, per normal transfer rules.
It will be interesting to see where he lands. If Kiffin takes a job this offseason, you could almost bet the house that Barnett will end up wherever he goes.
2. TCU is the next school rumored to vote against expansion
After Oklahoma has been rumored to be voting against expansion, TCU is now the 2nd school in the Big 12 that appears to be likely to not vote in favor of expansion.
There's not much that has come out regarding this, but my guess is that, just like Oklahoma, this expansion has not gone the way that most of the schools thought. Many thought, initially, that this expansion would be to expand the footprint and to set them up for their own network once their television contracts expire in 8 years.
But… with Texas pushing for Houston (which does nothing to expand the footprint), nobody in the league wants to try and compete in recruiting with another Texas Big 12 school. Adding Houston to the league doesn't help out the other members at all, and since they've already been granted a waiver to host a conference championship game without adding more teams, there's no reason to expand unless they're getting out of the footprint they've already established.
3. Green Bay's Ha-Ha Clinton Dix is pursuing his degree in Criminal Justice
There are plenty of sports figures out there protesting the anthem and making statements about the social issues going on, but the Packers' Ha Ha Clinton Dix is doing something about it.
"I understand what's going on in this world, but cops have to go home at the end of the day. They have a family. They have to go home, too."Growing up where I'm from, some people are afraid of cops. They don't really like cops. And what a lot of people don't realize is, they're really not the bad guys. They're really on our side, they're really trying to help us out. And sometimes, we don't understand that."

"I just want to be a mentor, be able to give back and show people that it's not a bad thing to be in criminal justice or be a cop, if that's what you want to do."
He's not taking classes this semester, instead focusing on football for the Packers, but he plans to graduate in 2017. He left Alabama after his junior season and was drafted early by Green Bay.
It's always fun to read something like this, with people that are trying to learn about the situations going on, so they can be a positive, knowledgeable influence.
4. NFL ratings are WAY down after Week 3
We can blame the NFL ratings drop on any number of things: the national anthem protests, the lack of good primetime matchups, the fact that there's been no Peyton Manning or Tom Brady for the first 4 weeks. My guess is that it's a combination of all of these.
But that fact remains that ratings are down. And it proves that the NFL is not untouchable.
Mark Cuban stated back in 2014 that the NFL was getting too big, and that people would turn to something else eventually. "Just watch. Pigs get fat, hogs get slaughtered. When you try to take it too far, people turn the other way. I'm just telling you, when you've got a good thing and you get greedy, it always, always, always, always, always turns on you. That's rule No. 1 of business. I'm just telling you: Pigs get fat, hogs get slaughtered. And they're getting hoggy."
It will be interesting to see if things pick back up after the election, or once the anthem protests stop, and once Brady is back on the field. For now, the numbers are down… but let's keep it real – they're still great numbers compared to everything else, aside from the presidential debate.
5. McGregor is back against Eddie Alvarez on Nov 12th at UFC 205 in NY
Dana White said after UFC 202 that McGregor needed to defend his featherweight title this year or vacate it… but when you're trying to make a splash in New York for the first time, you bring the big guns.
We had all read the stories about McGregor being on medical suspension until October because of his leg issues, but apparently he's doing significantly better. Alvarez presents an interesting match-up for the Notorious, who successfully defeated Nate Diaz, a puncher and ground game phenom. Alvarez is good at literally everything, and he's got the strength to be able to take some of McGregor's punches.
Alvarez has already called out McGregor at the press conference in New York this week. "You ain't got a [expletive] shot. Tell him the truth. You ain't got a shot," Alvarez shouted at McGregor during the press conference. "Your coach knows you ain't got a shot and anybody who knows anything about fighting knows you ain't got a [expletive] shot. You're here because you're the easiest dude in this division. That's why you're here."
It's definitely going to be entertaining.
White, upon announcing the fight, stated "So, this fight's coming up and he wants to try to gain both belts, and he will give up one of the titles after that fight in New York." Basically, he'll either win the lightweight belt and give up the featherweight, or he'll lose the lightweight and go back to featherweight.
McGregor being granted this fight, rather than being forced to fight Aldo again for the featherweight title, has led to Aldo wanting out of UFC, and out of MMA altogether. According to his coach, he's headed to Portland this weekend to sit down with Dana White to try and terminate his employment so he no longer has to finish the 6 fights left on his contract. This is definitely a fight that's making the UFC more interesting.