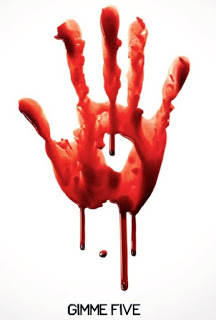 I am one day away from getting married, and I'm sitting at work. With thousands of things to do before the wedding, I'm still here writing the Friday Five, just like every Friday.
That's how much you guys mean to me. Don't ever let anyone tell you I don't love you.
This week has flown by, and, thankfully, Chris has taken on some more articles this week while I've been dealing with wedding venues and rehearsals, etc etc. If you haven't read yesterday's article yet, on why I'm getting married on a college football Saturday, then click away and you'll understand. I'm still the same football fan as I was before — I'll just be watching games before and after the 20 minute ceremony as opposed to during it. I'll just have to catch the opening quarter of South Carolina / Miss St and Arkansas / TCU when they replay it on SEC Network on Sunday.
And don't think I won't.
Anyway, onward we go. NFL talk, the lead up to Bristol, and finally, our picks for the week.
1. Broncos beat Cam Newton… again.
I'm not sure how this happened. I mean, I guess I understand that good defense is generally better than a good offense. And a team that can run the ball between the tackles successfully and control the line of scrimmage will always have a chance.
But this wasn't supposed to happen. I bet on Denver (on the money line) for the Super Bowl… but that was with Peyton Manning, who had been there before. This was Cam Newton, the veteran, against Trevor Siemian, the first time starter who was a 7th round draft pick a year ago. Siemian even threw 2 interceptions in the game… and the Panthers still couldn't find a way to pull out the win, thanks to a missed 50 yard field goal at the end of the game.
The biggest story that came out of it was the fact that the officials did not call several hits on Newton that probably should have been personal fouls. I'm sure the NFL will either make statements on that in the next day or 2… or they may just let all the college football and NFL games take over the headlines over the weekend so they don't have to discuss why their MVP was thrown to the wolves.
Sometimes a team just has your number. And Carolina… that team is the Broncos. Just hope you don't see em in the Super Bowl.

2. Battle at Bristol set to break CFB attendance record.

Tennessee and Virginia Tech square off in the biggest game this weekend. Yes, #17 Tennessee and the unranked Hokies. That's how bare the slate is… but we'll discuss that in a minute.
This game is getting a ton of hype because of the attendance number, and where it's being held. The matchup is taking place at Bristol Motor Speedway in Bristol, TN, which holds 160,000 fans for Nascar races. They're expecting over 150,000, which will shatter the old record of 115,109 for Michigan / Notre Dame in 2013, and I doubt we'll see anything like it again for a long long time.
Jimmy Haslam, owner of the Cleveland Browns, and of Pilot Flying J (the title sponsors of the game), is a huge Tennessee booster, so of course this game came to be. VaTech and Tennessee have only played 9 times in history, even though the schools are only a little over 3 hours apart. And Bristol happens to be right in between them.
The game is worth watching, if for nothing more than seeing that many people watching a football game inside a racetrack.
If you want to read more about the numbers behind the game, and what it took to make it happen, check this link: http://www.wbir.com/sports/motor/nascar/battle-at-bristol/battle-at-bristol-by-the-numbers/313824938

3. Opening week of NFL means terrible college football.
Last weekend was the biggest college football opening weekend ever. Huge non-conference matchups from Thursday through Monday night meant record numbers and a complete college football media takeover.
And now comes the 2nd weekend. Most of the big teams that had big games last weekend are playing, as Chris would say, "high school teams." Which is why ESPN's College Gameday is heading to Bristol Motor Speedway for the #17 ranked team against an unranked team. There are actually no top 25 matchups this weekend. None. Zero. The next most exciting game is between TCU and Arkansas – two teams that failed to put away sub-standard competition in week 1. But hey, at least it's a Big 12 / SEC matchup, right?
The most entertaining game on Saturday may be either BYU / Utah, Washington St / Boise St, or Texas Tech / Arizona St. BYU and Utah because of their intense hatred for each other, and the other two because points, points, points. It'll be like watching ping pong on turf.
I believe this was done intentionally – seeing as to how the media circus will be circling the opening of the NFL season on Sunday and Monday. Next weekend we've got several big games – Florida St at Louisville, Alabama at Ole Miss, Michigan St and Notre Dame, Ohio St at Oklahoma… the list goes on and on. Count me as ready for that. In the meantime, I'll be watching the NFL on Sunday.

4. Charleston Southern suspending 30+ kids against Florida St?




There hasn't been much information come out about this, but the word, currently, is that Charleston Southern is suspending over 30 players for their game at Florida St on Saturday for NCAA violations.

And here's the reasoning. Kids spending textbook money on things other than textbooks. And we're not talking about egregious spending. We mean each kid had a book budget, and the bookstore clerks told them they needed to spend as much of it as they could on pencils, binders, paper, and whatnot, because once they've bought their books, they don't get money back, so they may as well spend all of it.

These kids had no idea that buying other things from the bookstore with the money allotted for books was actually a violation.

Now, we can say they should have read up on the rules, or paid attention when an administrator spelled it out for them (if they did), but that seems a little ridiculous to me that 30+ kids didn't know the rules.

Alabama had a similar issue in 2006-2007, during Saban's first year, where kids were buying textbooks, and then returning them and keeping the money. Bama had 4 kids suspended for the game against Tennessee, and went on probation because of it – but that was just a few kids that thought they could beat the system. Not half the football team who bought pens and pencils with book money.

5. PICKS! SEC Fantasy Week 2, head-to-head against the spread, and our gambling favorites!
What a time to be alive. Chris and I both went 4-1 in our gambling picks, but were awful in our head-to-head picks, with me going 3-5 and Chris going 2-6. I believe this week will be infinitely better. We'll kick this off with our SEC Fantasy picks.
SEC Fantasy Week 2
Last Week

| | | | | |
| --- | --- | --- | --- | --- |
| | Gary's | | Chris's | |
| Week 1 | | | | |
| QB | KY Drew Barker | 34.42 | TN Josh Dobbs | 11.28 |
| RB | Miss St Brandon Holloway | 14.8 | AR Kody Davis | 2.4 |
| WR | TX A&M Christian Kirk | 6.9 | TN Josh Smith | 0 |
| Defense/ST | Florida | 18 | Florida | 18 |
| | | 74.12 | | 31.68 |

This week
| | | | | |
| --- | --- | --- | --- | --- |
| Week 2 | Gary | | Chris | |
| QB | FL Luke Del Rio | | LSU Brandon Harris | |
| RB | AR Rawleigh Williams III | | GA Nick Chubb | |
| WR | Ole Miss Evan Engram | | AL ArDarius Stewart | |
| Defense/ST | Missouri | | Auburn | |
Head to Head picks!

For more on the matchups, listen in to the podcast! Links at the bottom of the page:
| | | | | |
| --- | --- | --- | --- | --- |
| | Gary | | Chris | |
| NFL: Carolina (-3.5) @ Denver | Carolina | 0-1 | Carolina | 0-1 |
| Tennessee (-10) vs VaTech | Tenn -10 | | VaTech +10 | |
| Arkansas @ TCU (-7.5) | Arkansas +7.5 | | TCU -7.5 | |
| Penn St @ Pitt (-6) | Penn St +6 | | Pitt -6 | |
| Kentucky @ Florida (-17) | Kentucky +17 | | Kentucky +17 | |
| South Carolina @ Miss St (-7) | S Carolina +7 | | S Carolina +7 | |
| Washington St @ Boise St (-12) | Wash St +12 | | Wash St +12 | |
Gambling favorites
Gary
Chris
Louisville (-14.5) @ Syracuse
Louisville (-14.5) @ Syracuse
Wake Forest @ Duke (-5)
Cinci (-6.5) @ Purdue
Kentucky (+17) @ Florida
Kentucky (+17) @ Florida
Virginia @ Oregon (-24.5)
South Carolina (+7) @ Miss St
South Carolina (+7) @ Miss St
Central Mich @ Oklahoma St (-21)
Miami (+10.5) @ Seattle
Oakland @ New Orleans (-1)
Minnesota @ Tennessee (+2)
Cinci (-2.5) @ New York Jets
Cleveland (+4) @ Philadelphia
Cleveland (+4) @ Philadelphia
Green Bay (-5) @ Jacksonville
San Diego (+7) @ Kansas City
NY Giants @ Dallas (+1)
Buffalo (+3) @ Baltimore
As always, don't forget to check out the podcast!
iTunes: https://itunes.apple.com/us/podcast/winning-cures-everything/id1144599550
Android: http://subscribeonandroid.com/feeds.soundcloud.com/users/soundcloud:users:247775306/sounds.rss
Stitcher: http://www.stitcher.com/podcast/gary-segars/winning-cures-everything
TuneIn: http://tunein.com/radio/Winning-Cures-Everything-p905158/
Soundcloud: https://soundcloud.com/winningcureseverything