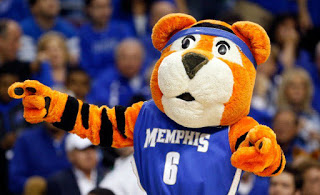 The University of Memphis is in the middle of a coaching search for a new men's basketball coach, now that Josh Pastner, who they were hoping to get rid of, but couldn't afford to pay him AND a new basketball coach, has taken the Georgia Tech job.
The Memphis job is considered, by most, to be a top 20 job in the country.  There is considerable history in the program, it's a proven winner, the talent stable in just the city alone is enough to win for years and years.  And you're in a strong, but winnable conference.  There's a reason that other coaches think highly of the position.
The question is… what hire will work?

Josh Pastner took over an impossible situation.  On one hand, the job was still a fantastic job.  The fan base was still on board.  They were fired up after 4 straight years of 33+ wins by John Calipari's bunch.  They were a national brand.  They had been to elite 8s, a final four and a national championship game appearance.  They had top NBA draft picks come through the program.  But it was all done by Calipari.  He made the job look incredible, in a pretty crap league.
Pastner was handed the keys to a Ferrari… but one that had an engine that was slowly going out, needed new tires, and the brakes were almost gone.  It was still a Ferrari… it just needed some work by the right people.  They handed the keys to a first time driver that didn't have a ton of experience in working on cars.  He could drive it… but eventually, when you don't take care of it the right way, the wheels fall off and the engine goes out.  Currently, the car is sitting on cinder blocks in the driveway.
Pastner tried his best, but simply didn't know how to get the thing running correctly.  Now, in the middle of an incredibly important coaching hire, Memphis's key is finding who can get the car up and running again.
The bad thing about it is this; you've got to not only get somebody that can coach, but you also need a recruiter. And in order to get people fired up, you've gotta get somebody that fans can be excited about.  There's not many people that fit that mold.
Now, do I believe they could go out and get a top caliber coach?  I'm not sure.  The AD has botched things behind the scenes with this program, and word gets around about stuff like that.  Not chartering flights for the team (to UConn, etc), scheduling games behind the coach's back (with Ole Miss, etc) and leaving the coach out to dry in the media by not telling him, not taking cheerleaders to the conference tournament, etc.  Those can be remedied, if they're put in the new coaching contract, but if it's never brought up during negotiations, it will be very difficult to persuade a coach that already has those kinds of things to give them up to come to a theoretically "better" job.
Here's some of the options we're looking at:
Gregg Marshall – head coach at Wichita State
Marshall has been insanely successful everywhere he's been.  At Wichita State, he turned them into a national brand / power, the same way that Mark Few did at Gonzaga, only with more tournament success.  He is known as the best x's and o's coach in college basketball today.  Alabama offered him $4.9M per year over 5 years last season… and he turned them down, returning to Wichita St for $3.3M per year.  Is Memphis that much better than Alabama?  Especially for less money?  Because Memphis is not paying $4.9M a year.
Buzz Williams – head coach at Virginia Tech
Buzz would be great here.  He was great at Marquette, leading the team to 5 straight NCAA tournaments, and 3 straight Sweet 16s (including an Elite Eight appearance), but he left for Va Tech after a 17-15 season, and has gone 11-22 and 20-15 in his first 2 seasons with the Hokies.  The ACC is a substantially more difficult league than the AAC, and the Big East, so VaTech will be more difficult to build.  He would be a riot during press conferences here, and the fan base would love him.  He's a great basketball coach, and a good recruiter, and Memphis is a far better job than Virginia Tech.  He'd be great here.
Penny Hardaway – high school head coach at East High School
Penny is a Memphis legend.  The question is – does Memphis want to take a chance on somebody that's never even been an assistant in college?  He wouldn't be even considered anywhere else.  We know he'd be able to pull in recruits, and he would fire up the fan base… but what worries me is whether he would know how to actually run the program.
Lorenzo Romar – head coach at Washington
Lorenzo is one of those coaches that's on the hot seat where he is, but is still a fantastic coach that has just been at his current school for too long (since 2002).  I heard Dan Wolken bring him up during an interview with Gary Parrish, and it sparked a little interest in me.  He's had 5 straight mediocre seasons, but Washington has never been a perennial powerhouse in the Pac12, and he's done a fairly good job there.  I don't think it would be a wow hire… but I think he could win here, at least for a little while.  A major issue is that he's a west coast guy, and always has been.
Jeff Capel – assistant coach at Duke
Capel would be a great recruiter, and is the former head coach at Oklahoma and VCU.  He understands high stakes, and what it would take to win, but he had Oklahoma turn on him quickly after he missed on a few key recruits and had some subpar years, comparable to what Pastner did here.  He's been a major recruiter for Coach K.  My guess is that he sticks around there and hopes that he can grab that job when K resigns eventually.
Steve Forbes – head coach at East Tennessee State
Steve knows Memphis.  He was an assistant coach under Bruce Pearl at Tennessee, and at Wichita State under Gregg Marshall.  He's another great recruiter, and seems to really know his stuff.  He's well regarded in basketball circles, and while he won't turn heads, he could be very good.  This is far from a wow hire, and people may be incredibly underwhelmed… but this is a cost efficient, reasonable hire with a potential star.  He went 61-6 in 2 years at Northwest Florida State College, and, in his first year at East Tennessee, he went 24-12, including making the semifinals of the Vegas 16 tournament.
Ben Jacobson – head coach at Northern Iowa
Jacobson has been at Northern Iowa since 2006.  He's 4 and 4 in the NCAA tournament over that time, and this past season, he gathered wins over the #1 team in the country (at the time) North Carolina and #5 (at the time) Iowa St.  Pastner didn't have a win over a top 25 team the last 2 seasons, so that would be a welcome change.  Jacobson is only 45 years old, but has years of experience in a smaller, but still incredibly competitive conference, including winning the conference tournament this year.  Not to mention, his team beat Wichita St twice this year, including once in the conference tournament when it looked like Wichita St could miss the NCAA tournament.
Now, it's possible the next head coach might be none of these guys… but this is where I'd start looking.  The key is to get the right guy that knows how to win.  Don't just go for a name.  The next guy has to be hungry, and the AD has to be willing to put the money into this program in order to win.