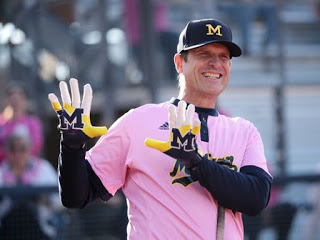 Whenever I sit down at the keyboard, even for just a little bit, there's always about 1000 different things I want to talk about, but I hate for things to get lost in the shuffle.  That's what makes the Tuesday Trifecta so perfect – I can pick out 3 things from the day and just discuss those.
We've got the WCE twitter for the short bits (@winningcures and @proseveregary), and we've got the website for the longer rants.
Today there just happened to be some really good stuff that I wanted to touch on, including the North Carolina Republican party defecating on the NCAA, Colorado poking some fun at Jim Harbaugh, and why you should jump on the Louisville bandwagon.
1. The Republican party in North Carolina destroyed the NCAA.
The NCAA pulled 7 Championships out of the state of North Carolina, in protest of the HB2 law, which limits protections for LGBT individuals.  People everywhere seem to be in agreement with that happening – including CBSSports.com's Gary Parrish – but it's not scaring the North Carolina GOP.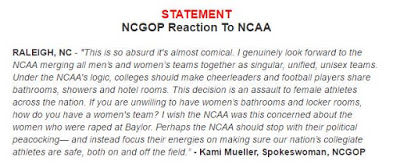 Kami Mueller is a spokeswoman for the state's republican party.  And she pretty much blasted the NCAA for not being able to handle their own business rather than dealing with political issues in their state.
Now, I don't necessarily believe that the NCAA is making a stand to get this law off the books because they believe in that — I believe that they don't want any negative publicity around any of their events that happen in the state.  I don't care what PR statement they put out.  This is solely because supporters of theirs have demanded that they take the games out.
Does anyone really think that Mark Emmert doesn't do things as a result of getting information from people around him regarding what's best for his business?
(I'd suggest you read a lil history on him here: http://www.usatoday.com/story/sports/ncaab/2013/04/02/ncaa-president-emmert-previous-cases-uconn-lsu/2047607/)
Remember, folks… it's all about what's best for business.  Which is why North Carolina will eventually repeal this law — for business.  And if they don't – good on them for standing up for something they believe in.
2. Every team that plays Michigan is America's team.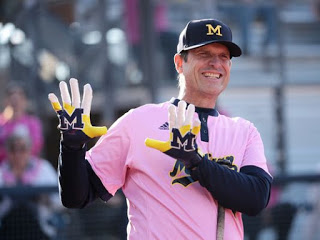 Some people love Jim Harbaugh… and some people love to hate Jim Harbaugh.  He's the most polarizing figure in the sport right now.  A world class wrestling villain, and he enjoys the role.
Since he doesn't release a depth chart, Colorado decided to poke a little fun at the Wolverines with their own version of a depth chart, which includes Eric Cartman, Manute Bol, Austin Powers, James Bond, and a slew of other characters.
We love you, Buffalo.  You may get demolished this weekend, but keep doing you.
3. Louisville's ACC hopes are trending upward right now.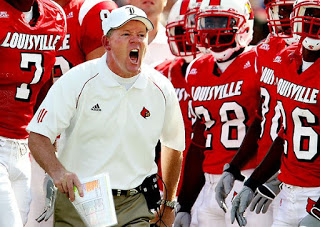 Florida State's Derwin James, one of the top safeties in the country, suffered torn cartilage (meniscus tear) against Charleston Southern last weekend, and will miss this Saturday's big game at Louisville.  Which is awesome for Petrino's Cardinals.
Granted, everyone hates seeing someone injured… but if Louisville wins this game because a backup safety blows a coverage, or misses an angle trying to tackle Lamar Jackson, the record books won't tell you that.  It'll just say that Louisville beat Florida St.
And now, Clemson announced today that starting WR Hunter Renfrow will be out for a few weeks due to a broken hand, which won't allow him to tuck and secure the football.  They hope to have him back in time for the NC State game… and during the span, the Tigers will host Louisville.
If there was ever a year for somebody to sneak up and steal this conference, it's looking like it may be Petrino's year.
I'll tell you this — with College Gameday being on-site at Louisville this week, in FSU's QB's first ever road start… I'm riding with the Cardinals on the money line.