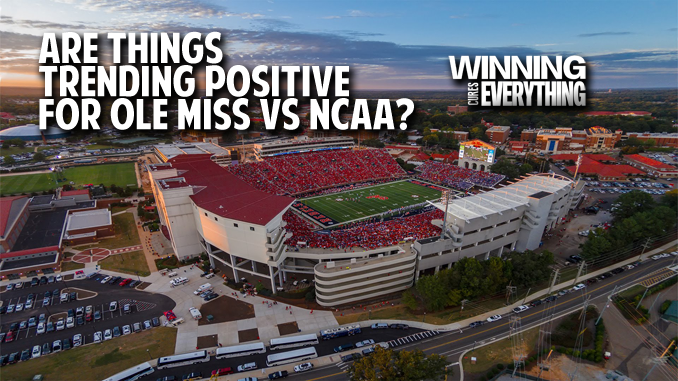 Ole Miss has received their response from the NCAA.
Rebel Rags has a hearing date.
Ole Miss attorneys are requesting that 2 Mississippi St players be present at their Committee on Infractions hearing.
A lot has happened in the last 2 days.
An innocent bystander might think that things are trending upward for Ole Miss's chances against the NCAA.
What does this all mean?
Ole Miss received their response from the NCAA on Monday.
This morning, Mark Schlabach sends this out – Sources: Ole Miss wants ex-recruits to attend infractions hearing.
Schlabach expands on this that, per sources, it's not just wishful thinking by Ole Miss.
NCAA officials have told lawyers representing Ole Miss that Bulldogs players Leo Lewis and Kobe Jones might be asked to appear at the infractions hearing to answer questions from committee members. It's unclear whether the players have received a notice to appear at the hearing, which will probably take place sometime in late August or early September.
I take that to mean that Ole Miss's response from the NCAA did not exactly provide good news.
Otherwise, they would have already released that rather than leaking this to Schlabach.
What about the Rebel Rags case?
This morning, we also received news from Antonio Morales, the Clarion-Ledger's Ole Miss beat writer.
A hearing on the Miller, Lewis and Jones motions in the Rebel Rags case has been set for Aug. 17 and will be held in Holly Springs.

— Antonio Morales (@AntonioCMorales) July 26, 2017
If that hearing goes through on that date, there's no reason for Lewis and Jones to be in Indianapolis, because the desired information will already be out.
Does this mean there's hope for Ole Miss?
There's always hope.
If accused of something like this, you try anything you can.
But it's not likely anything will change for Ole Miss.
Schlabach also points this out, which we already knew:
The NCAA previously denied Ole Miss lawyers' requests to interview Jones and Lewis about allegations they made during the NCAA's investigation of the Rebels. In fact, Lewis' attorneys stopped the second of three interviews with NCAA investigators after Ole Miss' lawyers attempted to cross-examine him. Ole Miss wasn't allowed to have an attorney at his third interview.
Why should we believe this?
Remember, these are "sources" that Schlabach is getting his information from.
He is in Mississippi working on stories.
Ole Miss does not exactly have the best track record with feeding true information to national media members.
Schlabach is one of the only media members that was not, supposedly, fed false information by Hugh Freeze and Ross Bjork back when the first NOA came out.
What really happens here?
So let's be honest with each other here.
If the NCAA requests Lewis and Jones attend, we know they're not going to let Ole Miss put them on the stand.  Remember, the NCAA is not a court of law.
At best, the NCAA would ask the two players "Do you stand by your statements?"
They can just say "yes."
Now, I'm curious about whether or not the hearing for the Rebel Rags case will actually go through, or if Mississippi St lawyers will try and push that hearing to a later date.  Rebel Rags wants this done before the COI hearing, but it does seem like it could be rushing.  Jones, Lewis, and Miller will certainly continue to fight for a later date.
Of course, all of this is still just fodder for the national media to dig through while we are still waiting for the other bombshells to drop out of Oxford.  Wolken, Forde, and others are digging for that stuff, while all of this just looks like Ole Miss has found another journalist to whom they can push their agenda.
It may look like things are trending positive for Ole Miss… but don't always count your chickens before they hatch.  There is still a long way yet to go.
One last thing
The bombshells we were talking about?  Wolken is already at it this morning.
NEWS: Tom Mars now pursuing records related to a burner phone in Yuma, AZ that appears multiple times in Hugh Freeze's records, he tells me

— Dan Wolken (@DanWolken) July 26, 2017
There is more coming.
---
Get caught up with our other stories on the Ole Miss vs NCAA mess:
Ole Miss vs NCAA: All Your Questions Answered
Hugh Freeze: Why is the NCAA going after him?
Hugh Freeze: Why is Ole Miss standing with him against the NCAA?
Ole Miss vs NCAA: The Story Behind Barney Farrar
Ole Miss: Football Enthusiasm is in serious trouble
Barney Farrar's Attorney Responds to Ole Miss
Barney Farrar Response to the NCAA's NOA
Rebel Rags vs Miss St: Does this help Ole Miss?
Bruse Loyd, Farrar's attorney, on Louisville, Rebel Rags & more
Ole Miss vs NCAA: With Nutt lawsuit, how does Freeze keep his job?
Ole Miss Wants to Keep Hugh Freeze, and Here's Why
Hugh Freeze is Out at Ole Miss: What Happened and What's Next
---