I live bearded!  If you've watched any of our podcasts on Facebook Live or Periscope then you know I have what I believe to be an amazing beard.  It has been growing without being cut (other than trimming it occasionally) since April 4, 2016, when I officially left the corporate world.  Thanks to great genetics, and taking good care of it, my beard has grown well and looks fantastic, if you ask me.  Every woman who matters to me hates it.  My wife, my mom, and my grandmother all constantly and fuss about it.  But I just keep on rockin it the best I can.  Now, my kids, they keep me out of too much trouble.  They love daddy's beard!
My obsession with beards first began in the summer of 2004 when the Red Sox were making another run at the postseason and trying to finally pass the Yankees to make the World Series.  They called themselves the "Idiots" and they were lead by a beautifully bearded player, Johnny Damon (#5 on my top 10).  They grew beards and acted like little leaguers, showed a youthful love for the game and I was hooked.  That team went on to win the Red Sox first World Series title in 83 years. Being a Sox fan these men were larger than life to me.  I wanted to be just like them.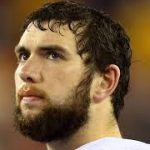 Starting the list with #10 we have none other than the guy I commonly refer to as "Neck Beard," Andrew Luck- Quarterback for the Indianapolis Colts:  Luck's beard has become infamous, as it seems to start from the top of his chest and works its way up to his face.  His beard, along with his voice that sounds like it is Bill Walton and Andre the Giant's love child, has become an image he may never escape.  Now if only it could block for him.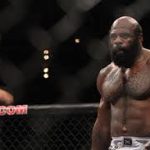 #9.  Kimbo Slice- MMA Fighter:  Kimbo first broke the Internet with his YouTube videos of him knocking out anyone who would challenge him.  His beard was a major intimidation factor while out on the streets searching for a fight.  It separated him from all the other gym jocks who thought they could take him on.  Too bad it couldn't help him in the octagon when he fought actual trained MMA opponents.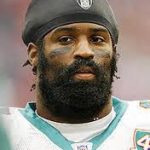 #8.  Ricky Williams- Running Back for the New Orleans Saints and the Miami Dolphins:  Ricky is an interesting guy.  Being one of the best running backs of his era he actually quit football in the prime of his career to travel the world with Lenny Kravitz and smoke pot.  Lots and lots of POT.  His bearded was a much like his life, a spotty-patchy mess that looked burned out.  If facial hair could look high, his did.  But I love Ricky and his crazy carefree beard.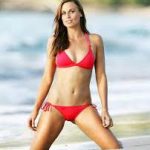 #7.  Amanda Beard:  Okay, I know, she doesn't have a beard.  But her name is Beard, she's a great athlete, and she's smoking HOT.  What did you expect me to do?  Just ignore her?  NO chance!  Just enjoy this image and learn a little something about the lady.  Amanda is a 7-time Olympic medalist swimmer.  Her achievements twice won her American Swimmer of the Year.  She now continues to fight to protect animals.  Cute, cuddly animals (like bearded men maybe).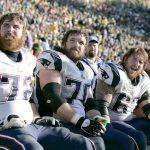 #6.  Matt Light, Logan Mankins, Dan Koppen and Stephen Neal- or better known as the New England Patriots offensive line for around 2007-2011:  This bearded group of guys were known as one of the smallest lines in the NFL, but were one of the best.  Lead by the "Gingerbeards" Light and Mankins this gnarly bunch inflicted pain on defenses across the league and were crucial in keeping their star quarterback out of harm's way when coming back from his knee injury.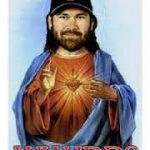 #5.  As mentioned before, Johnny Damon- Centerfielder for the Boston Red Sox:  Damon was the leader of that team; keeping the players loose and always smiling.  His beard in 2004 was perfect.  And it didn't hurt it made him look a lot like Jesus.  He was the Godfather of Playoff Beards.  I remember where I was for all 7 Divisional Championship games against the Yankees that year.  Never have I believed so much in a team, or needed a win like that so badly.  Shortly after that World Series win Johnny became a free agent, shaved the beard, and signed with the hated Yankees.  He never amounted to much in New York and didn't look the same clean-shaven.  Maybe this is blasphemy but I believed there was power in his beard; in all of the Red Sox beards.  Whatever it was I'm sure glad I was able to witness it.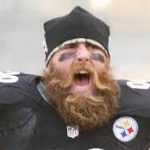 #4.  Brett Keisel- Defensive End for the Pittsburgh Steelers:  The only word I can think of to describe Keisel's beard is massive.  His beard gets its own team locker; hell, maybe its own zip code.  This beard checks all the boxes for effects of having a beard:  Scares the hell out of people? Check!  Looks like it could win a fight with a grizzly? Check!  Makes the ladies go crazy? Double Check!  And trust me, this beard isn't for those who've never been with a bearded man before.  If this is your first beard you might want to start off with a smaller beard, like the one David Beckham had for a time, because once you go Keisel size beard you won't ever going to be able to go back to anything else.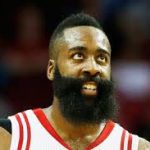 #3. James Harden- Guard for Houston Rockets:  While being one of the most offensively gifted scorers in the NBA Harden has catapulted himself to the top of the 2016-2017 MVP race.  He's been representing his facial hair for so long now his nickname has become simply
"The Beard."  Usually, a strong beard is a sign of tough and rugged, but James is the exception to this rule.  His defense is non-existent and he is known as "soft" in the eyes of many other players.  But with a beard like his who cares about toughness?  I'm sure it helps with his perfect jump shot.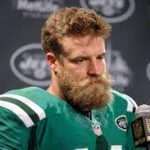 #2.  Ryan Fitzpatrick- Quarterback for New York Jets:  Fitzpatrick has been sporting a serious "face forest" for many years.  There are times when it seems out of control, but coming from a QB it helps earn him much more respect.  Being a marginal player most of his career bouncing from team to team, his recognizable beard, in my opinion, has helped him stay relevant.  He makes the ranks at #2 for another reason, though; his degree from Harvard.  His beard has to be the smartest beard in the entire sports world.  And the bushy, un-kept look reminds me of another genius who had amazing facial hair, Albert Einstein (although not a beard his stash is known worldwide).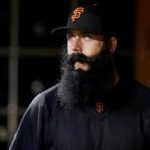 #1.  Finally the greatest beard in all of sports, Brian Wilson- Closing Pitcher for San Francisco Giants:  Brian Wilson went to Louisiana State University and then was drafted by the Giants.  While in SF he began to grow what would be seen as the best beard in the sports world.  What do I believe made his beard so great?  The same thing that makes most anything else great, MONEY!  San Francisco is a huge, hip city that is unbelievably expensive to live in.  While there Wilson was able to pamper his beard like no one else before.  It was regularly dyed to stay jet-black, trimmed and shaped flawlessly, and conditioned to perfection.  As the seasons went on it grew longer and better than I could have imagined.  With the optimal conditions, Wilson's beard was able to reach its fullest potential.  Just picture major league hitters staring back into the darkness of his beard, mesmerized by its beauty and wonder, completely unable to focus on the 95mph fastball coming towards them making it impossible to hit.
The bar has been set.  If you are curious about growing out your beard or just rocking a 5 o'clock shadow just remember how beards have helped all of these people achieve some level of success and notoriety.  It can help you too.  I know that "no shave November" is a cool concept but living bearded has become a way of life for many.  If you are a manager in the corporate world and you are still afraid of, or offended by, facial hair I'd like to offer you a piece of advice, get over your smug self!  No one cares what you think.  And if a guy wants to sport an "Alabama Mudflap" on his face, then it's no business of yours.