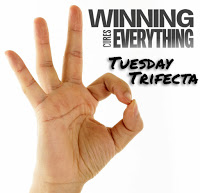 Today's Trifecta involves a lot of college football. We're looking at injuries, two touchdown spreads in Top 10 matchups, and what lower ranked team can make it into this year's college football playoff…
1. Tennessee's injuries are getting ridiculous
It was announced today that Alvin Kamara is out for the rest of this season with a meniscus tear. It's just another terrible injury to a start player that this team couldn't really afford. They really get their bye week at the best time possible. Here's the list so far:
| | | | | |
| --- | --- | --- | --- | --- |
| | RB | Alvin Kamara | Knee | out indefinitely |
| 10/18/16 | DL | Kahlil McKenzie | Pectoral | out for season |
| 10/17/16 | LB | Jalen Reeves-Maybin | Shoulder | out for season |
| 10/15/16 | DB | Malik Foreman | Undisclosed | was doubtful vs. Alabama |
| 10/14/16 | WR | Preston Williams | Personal | has left team |
| 10/13/16 | OL | Dylan Wiesman | Concussion | was doubtful vs Alabama |
| 10/11/16 | DL | Danny O'Brien | Dismissed | has left team |
| 10/09/16 | LB | Cortez McDowell | Undisclosed | was questionable vs. Alabama |
| 10/09/16 | LB | Darrin Kirkland Jr. | Ankle | was questionable vs. Alabama |
| 10/09/16 | OL | Jashon Robertson | Undisclosed | was questionable vs. Alabama |
| 09/19/16 | DB | Cameron Sutton | Ankle | out indefinitely |
| 09/19/16 | LB | Quart'e Sapp | ACL | out for season |
With this many injuries, can this team win out against a slate at South Carolina, Tennessee Tech, Missouri, Kentucky and at Vandy in order to get to Atlanta? It's an easy schedule, but their players are dropping like flies.
2. Alabama -16.5 at home over Texas A&M this week
Alabama's blowout of Tennessee has everyone in the country talking about Alabama being unbeatable. But we've seen things like this before. This will be only the 5th Top 10 matchup with a spread over 2 TDs in the last 30 years. The prior results were these:
2001 #5 Tennessee 34 @ #2 Florida 32 (line was Florida -16.5)
1996 #5 Colorado 12 @ #4 Nebraska 17 (line was Nebraska -17)
1994 #6 Auburn 36 @ #1 Florida 33 (line was Florida -16)
1994 Orange Bowl #1 Florida St 18 vs #2 Nebraska 16 (line was Florida St -16)
The underdog is 4-0 against the spread, and 3-1 straight up in those games.
Along with that, add to it that Kevin Sumlin is 3-1 straight up and against the spread when he's been a double digit underdog at Texas A&M. Those results are here:
2012 #15 Texas A&M 29 @ #1 Alabama 24 (line was Bama -13.5)
2014 #21 Texas A&M 52 @ #9 South Carolina (line was SoCar -10.5)
2014 #21 Texas A&M 0 @ #7 Alabama 59 (line was Bama -14)
2014 Texas A&M 41 @ #3 Auburn 38 (line was Auburn -20)
Keep in mind, though, that Sumlin, with a win at Auburn earlier this season, is only 4-6 as a road underdog in his time at A&M.
If Alabama covers this spread, they're going to be bucking A LOT of trends.
3. CFB Playoff rankings – who's ranked low that can get in?
Tues, Nov 1st is the first college football playoff rankings. USA Today has a playoff projection committee that all vote on the 4 teams that will get into the playoffs… and this week they're at a season low 5 teams that received votes. Between 13 voters, only 5 teams received playoff votes. How amazing is that?
In 2014, the first playoff poll started like this:
1. Miss St
2. Florida St
3. Auburn
4. Ole Miss
The teams that eventually made it, this is where they were ranked when the first poll came out:
2. Florida St.
5. Oregon
6. Alabama
16. Ohio St.
That's right. Ohio St started out at #16 in the first CFB Playoff Poll and worked their way all the way to the top 4 and won a national championship.
In 2015, the first playoff poll started like this:
1. Clemson
2. LSU
3. Ohio St
4. Alabama
The teams that made it, this is where they were ranked when the first poll came out:
1. Clemson
4. Alabama
7. Michigan St
15. Oklahoma
So that's 2 straight years that somebody ranked lower than 10th won their way into the playoff.
The teams I'm looking at right now, that already have a loss, but could work their way into the playoff picture, are #12 West Virginia (who is actually undefeated right now), #15 Florida, and #19 Utah.
West Virginia has a fairly difficult schedule, but their most difficult remaining opponents, Oklahoma and Baylor, both have to travel to Morgantown in November.
Utah can make huge strides over the next two weeks, with a game at UCLA and with Washington visiting. After a bye week, they travel to Arizona St, host Oregon, and at Colorado. If they win out, especially with a win over Washington, they could find a way to sneak in.
The one that I'm really looking at is Florida. The only way for this to work is for them to win out, and I don't know that they can do that against their schedule, but, honestly, it wouldn't surprise me if they beat everyone left on their schedule. Nobody is overly daunting, and the Gators defense is fantastic. The team is getting healthier, and they put a nice beatdown on Missouri last week. Their schedule does get brutal though – Georgia, at Arkansas, South Carolina, at LSU, at Florida St… and then either Alabama or Texas A&M in the SEC Championship game. It's the kind of schedule that allows a team to continuously climb up the polls, and with a big win in a conference championship game, the Gators would definitely find themselves in the playoffs.
Florida is one of the only 13 teams that could theoretically win the national championship this year, as I pointed out before the season started.
Since 1996, there's only been one team to win a national championship without having at least 2 Top 10 recruiting classes in the 4 years leading up to their national championship. That was Bob Stoops' 2000 Oklahoma team, who had 3 Top 25 classes, but no Top 10 classes.
According to Rivals, Florida had the #3 recruiting class in 2012, the #4 in 2013, #8 in 2014, #23 in 2015, and #14 in 2016. They do have talent, but that schedule may just be too much.