Jon Gruden opened on Oct 5th with 20/1 odds to replace Butch Jones over at BetOnline.ag.
On Oct 19th, former Vol, and former NFL defensive lineman, Albert Haynesworth tweeted something interesting.
This morning, the odds were at 6.5/1.
Tonight, these are the odds: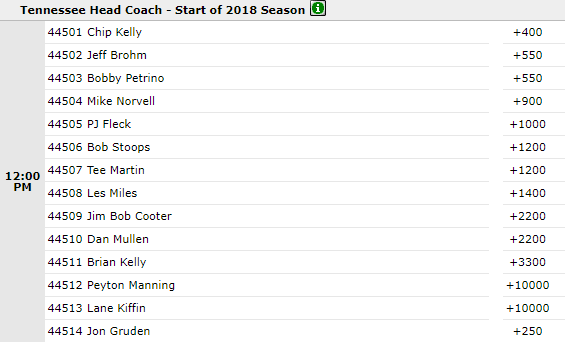 Yes… down there at the bottom.
There's Gruden at 2.5 to 1.
Has Tennessee already promised Gruden the job? It kinda looks like it.
I could give you a million reasons why he would not take the job, and I can also give you about a thousand reasons why he would not be best coach for the job.
Either way, it would definitely be entertaining.
Hell, it already is.
One thing all of the detractors have been stating is that Gruden already makes $6.5M a year at ESPN, along with millions more in endorsements from Hooters and Corona.
But what if he was no longer making that money from ESPN?
Mike McCarthy at The Sporting News put out an article today stating that ESPN is "heading for more painful layoffs."
The next round of cutbacks could come down in late November or early December, with 40-60 positions potentially being impacted, according to sources. The layoffs could hit both on-air TV/radio talent and behind-the-scenes production staffers.

"This time it won't matter if you're 'liked' or not. It's not going to be pretty," one source warned.
Gruden makes a TON of money just to do Monday Night Football. What ESPN pays for their NFL package is already absolutely absurd, as documented on numerous websites, and adding Gruden's salary every year makes it even crazier.
Instead of laying off a bunch of $75k / year producers and behind the scenes guys, wouldn't it make more sense to lay off some big time faces that make multiple millions of dollars? You've got a failing business model – the easiest way to fix this is cut production costs and cut on-air talent.
Seriously, how many people are not going to watch NFL / Monday Night Football if Gruden is not helping call the game? You could toss in any number of former NFL players or coaches with a little bit of personality, and people will still watch.
I think it's entirely possible that Gruden's agent knows that he's going to be part of the layoffs, and they already started talking with the Tennessee boosters and administrators about taking over in Knoxville…
Or they have already accepted the job behind the scenes, and Tennessee is just waiting to fire Butch Jones gracefully, where they can negotiate the buyout down and not owe as much money. Or any of the other reasons I gave earlier in the week.