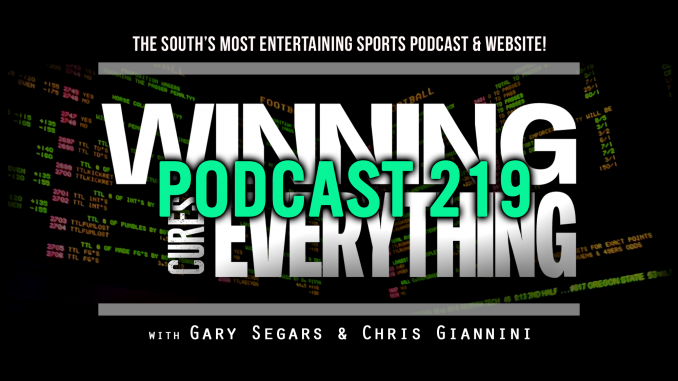 Sign up for our E-mail List!
Get our latest news once a week, including pick'em reminders!
College Football Talking Season is officially here! After SEC Media Days last week, Gary and Chris run through their SEC East preview and predictions, and also discuss other things that happened last week.
In this week's "The Blurbs:"
– Rob Manfred, MLB commissioner, stated he wants to expand from 30 teams to 32 teams, and even listed cities. Where should MLB place new franchises?
– Kawhi Leonard & Danny Green to the Raptors, Demar Derozan to the Spurs. Who won the trade?
– Larry Fedora at ACC Media Days said that "football is under attack" and that if football goes down, the country goes down with it. He also said it hasn't been proven CTE is linked to football. Should North Carolina fire him?
– The guys talk about Ryan Nanni's SBNation article "Why it should cost one point to punt."
The Ranking: Our 10 Best / Favorite NFL Quarterbacks of all-time. Chris has the first pick, but Gary's draftees may surprise you…
Song of the Week – Chris's pick this week comes from George Strait.
Chris's HOT TAKE: Josh Gordon isn't being allowed to attend Browns mini-camp. The reason? Roger Goodell wants him to spend time "thinking" about his past mistakes. Chis thinks that's ridiculous and goes in on him.
Garys HOT TAKE: Aaron Murray and David Pollack basically attacked Jeremy Pruitt during SEC Media Days last week, because he was "disrespectful" to former Georgia coach Mark Richt during his time as defensive coordinator, and said he wouldn't make a good head coach because he doesn't know how to treat people. That's ridiculous, and Gary explains why.
FACT OR FICTION: Chris asks Gary, based on this past weekend's Open Championship PGA tournament, if some sporting events would be better if the ending were fixed.
————————————-
There are a lot of online sportsbooks out there. MyBookie.ag is the only one that gets our stamp of approval. And you know we don't give that out lightly. To get our endorsement, we've got to personally use them, and that means they have to be the best. And MyBookie.ag is by far the best sportsbook we've used. So go to MyBookie.ag and enter in promo code WCE50 for a 50% deposit bonus. That basically means they're gonna give you free money ($100 deposit gets you $50 in free bets), so knock that thing out. Go to MyBookie.ag, click 'sign up' and enter promo code WCE50.
Follow us on Twitter: @GaryWCE / @ChrisBGiannini / @WinningCures
Leave us a voicemail: (551) 226-9899
E-mail the show: winningcureseverything@gmail.com
Check out the Website: WinningCuresEverything.com
If you're enjoying the show, please take a second to subscribe to the podcast and leave a review on iTunes! Those two things can really help us build up the audience. Thanks for your support!