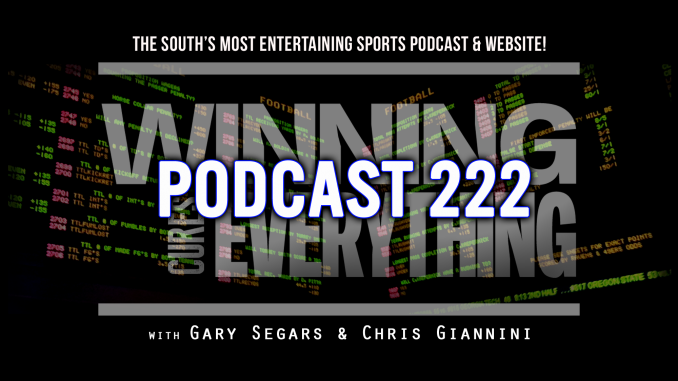 Sign up for our E-mail List!
Get our latest news once a week, including pick'em reminders!
College Football season inches closer and closer…
Gary and Chris kick off this week's episode with a college football preview and predictions for their hometown team, the Memphis Tigers.
After that, the guys jump into The Ranking. This week's Top 10 list is CFB uniforms. Traditional or new age? Everything is represented here.
Next up, the guys jump into both divisions of the Big 10, and go through records, over/under win totals, and some news & notes about all 14 teams in the Big 10 East and West.
Finally, the show wraps up with an interview with ESPN College Gameday's Chris "The Bear" Fallica. Gary and the Bear discuss a myriad of topics:
– when is Chris coming to Mississippi to check out the new sportsbooks down in Tunica?
– Was there a concerted effort to get back to a campus location as opposed to one of the many neutral site locations for week one, or did the schedule just work out that way?
– the opening line over the summer for Notre Dame vs Michigan was Notre Dame -6 or -7. It's now Michigan -3. Is this normal for an opening line to move that much?
– What brought on last year's trip to Times Square in NY, and would he imagine College Gameday will be doing more shows from non-game sites in the future?
– Does ESPN have a list of games already for the entire season that you're watching closely for College Gameday to possibly visit each season?
– Who are some teams, outside of the major favorites, that people need to pay attention to in the playoff race?
– Who is our Group of 5 team that's going to make a New Year's 6 bowl?
– The Bear has season win totals he loves.
– How much of an impact does Urban Meyer's situation at Ohio St impact their win total, national title and Big 10 championship odds, and just game lines in general?
————————————-
There are a lot of online sportsbooks out there. MyBookie.ag is the only one that gets our stamp of approval. And you know we don't give that out lightly. To get our endorsement, we've got to personally use them, and that means they have to be the best. And MyBookie.ag is by far the best sportsbook we've used. So go to MyBookie.ag and enter in promo code WCE50 for a 50% deposit bonus. That basically means they're gonna give you free money ($100 deposit gets you $50 in free bets), so knock that thing out. Go to MyBookie.ag, click 'sign up' and enter promo code WCE50.
Follow us on Twitter: @GaryWCE / @ChrisBGiannini / @WinningCures
Leave us a voicemail: (551) 226-9899
E-mail the show: winningcureseverything@gmail.com
Check out the Website: WinningCuresEverything.com
If you're enjoying the show, please take a second to subscribe to the podcast and leave a review on iTunes! Those two things can really help us build up the audience. Thanks for your support!