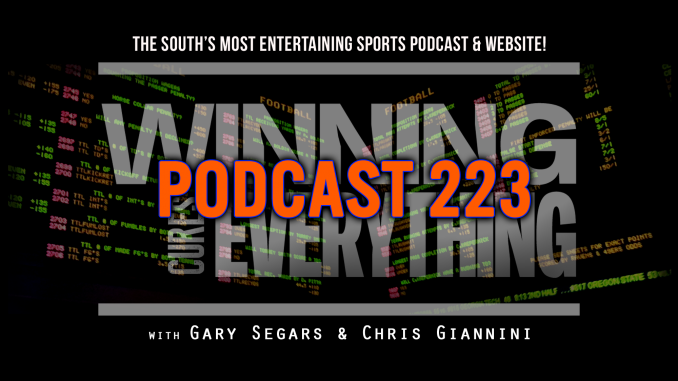 Keep up with our podcasts!
Enter your e-mail, and we'll let you know what's going on at WCE a couple of times a month!
The guys haven't forgotten about the NFL! Today's show jumps into NFL divisional previews, complete with news and notes about each team, last year's record, this year's MyBookie.ag over/under win totals, each team's odds to win the division, and our predicted record, along with who will win each division.
This week, Gary and Chris tackle:
NFC South
– New Orleans Saints
– Carolina Panthers
– Atlanta Falcons
– Tampa Bay Buccaneers
AFC South
– Jacksonville Jaguars
– Tennessee Titans
– Houston Texans
– Indianapolis Colts
NFC East
– Philadephia Eagles
– Dallas Cowboys
– Washington Redskins
– New York Giants
————————————-
There are a lot of online sportsbooks out there. MyBookie.ag is the only one that gets our stamp of approval. And you know we don't give that out lightly. To get our endorsement, we've got to personally use them, and that means they have to be the best. And MyBookie.ag is by far the best sportsbook we've used. So go to MyBookie.ag and enter in promo code WCE50 for a 50% deposit bonus. That basically means they're gonna give you free money ($100 deposit gets you $50 in free bets), so knock that thing out. Go to MyBookie.ag, click 'sign up' and enter promo code WCE50.
Follow us on Twitter: @GaryWCE / @ChrisBGiannini / @WinningCures
Leave us a voicemail: (551) 226-9899
E-mail the show: winningcureseverything@gmail.com
Check out the Website: WinningCuresEverything.com
If you're enjoying the show, please take a second to subscribe to the podcast and leave a review on iTunes! Those two things can really help us build up the audience. Thanks for your support!