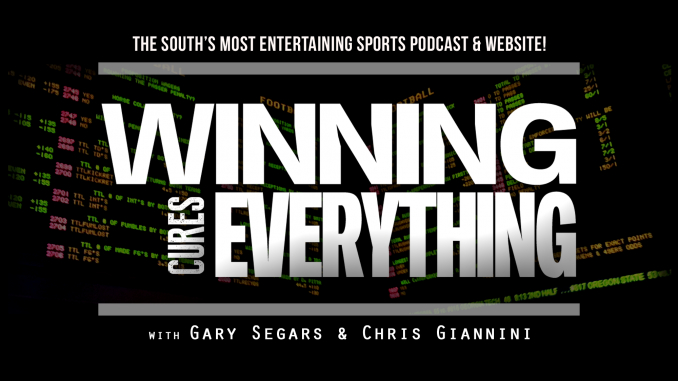 Sign up for our E-mail List!
Get our latest news once a week, including pick'em reminders!
NFL Week 1 is over, and we're ready to get into Week 3 of College Football and Week of the NFL! To start off, we recap Week 1 of the NFL:
– Aaron Rodgers rose from the dead to beat the Bears
– The Good, Bad, and Beautiful from a 21-21 tie between the Steelers and Browns
– Patriots beat the Titans, but Gronk threatening to retire in the offseason was the big news story
– Sark and the Falcons offense still has not figured out how to score in the redzone
– The Titans suffered major injuries in a 27-20 loss that took 7 hours in Miami
– the 3 highest salary cap hit players combined for 3 TDs and 10 ints, and an 0-3 record
– Gary underestimated Alex Smith and the Redskins…
and more!
After the recap, we immediately jump into the NFL Week 2, discussing the biggest… or at least most interesting… games.
– Vikings at Packers
– Patriots at Jaguars
– Thurs: Ravens at Bengals
– Chiefs at Steelers
– Eagles at Bucs
– Texans at Titans
– Panthers at Falcons
– Browns at Saints
Then… what you're really here for… the College Football gambling picks. We discuss these games:
– Florida St at Syracuse
– Hawaii at Army
– Boise St at Oklahoma St
– Tulane at UAB
– Washington at Utah
– Miami OH at Minnesota
– Houston at Texas Tech
– Oregon St at Nevada
– Oklahoma at Iowa St
– Thurs: Boston College at Wake Forest
– LSU at Auburn
– Ohio St at TCU
And we end the show with our NFL Week 2 gambling picks, discussing these games:
– Colts at Redskins
– Panthers at Falcons
– Dolphins at Jets
– Giants at Cowboys
– Chiefs at Steelers
– Chargers at Bills
– Seahawks at Bears
– Cardinals at Rams
———-
► Football Picks Contest! Winner gets a different prize each week! Enter here: http://www.winningcureseverything.com/fb-picks-contest
► Site: http://www.winningcureseverything.com
► YouTube: http://www.youtube.com/winningcureseverything
► Store: http://www.winningcureseverything.com/store/
► Podcasts: http://www.winningcureseverything.com/podcasts
► Facebook: http://www.facebook.com/winningcureseverything
► Twitter: http://www.twitter.com/winningcures
Gary's twitter: http://www.twitter.com/garywce
Chris's twitter: http://www.twitter.com/chrisbgiannini