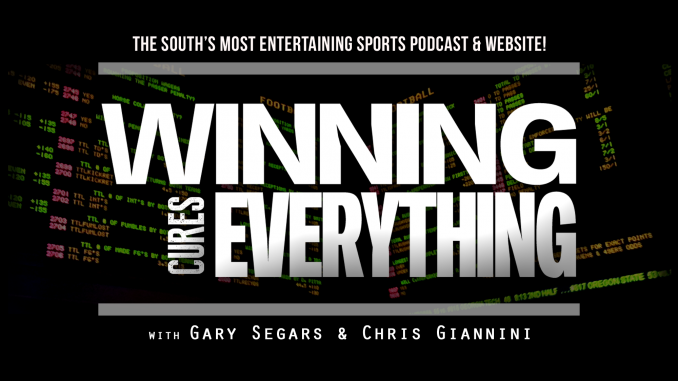 Sign up for our E-mail List!
Get our latest news once a week, including pick'em reminders!
Gary and Chris jump into College Football's Week 4 Recap! We called it rapid-fire… and then it wasn't. Here's what was talked about:
1. Stanford stole a game from Oregon
2. Iowa gave away a game to Wisconsin
3. Kentucky is LEGIT
4. Is Texas actually back?
5. Virginia Tech embarrassed themselves vs Old Dominion
6. What the hell happened to Oklahoma St?
7. Army took Oklahoma to OT
8. Florida took Tennessee behind the woodshed
9. Notre Dame's Brandon Wimbush ain't gettin his job back
10. Michigan was really mad at Scott Frost
11. Winless Purdue took out 3 weeks of frustration on Boston College
12. How insane was the box score from Auburn / Arkansas?
———-
► Football Picks Contest!
Winner gets a different prize each week! Enter here: http://www.winningcureseverything.com/fb-picks-contest
► Site: http://www.winningcureseverything.com
► YouTube: http://www.youtube.com/winningcureseverything
► Store: http://www.winningcureseverything.com/store/
► Podcasts: http://www.winningcureseverything.com/podcasts
► Facebook: http://www.facebook.com/winningcureseverything
► Twitter: http://www.twitter.com/winningcures
Gary's twitter: http://www.twitter.com/garywce
Chris's twitter: http://www.twitter.com/chrisbgiannini