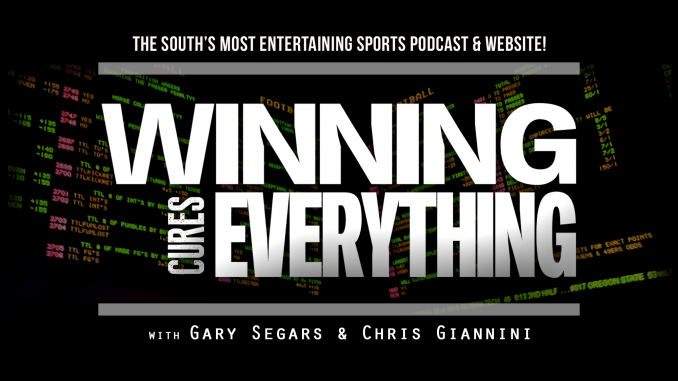 Sign up for our E-mail List!
Get our latest news once a week, including pick'em reminders!
Gary and Chris dive into the NFL's week that was, along with a preview of College Football's biggest games, and our gambling picks for the week, and then the same thing for NFL Week 4.
To start, the guys recap Week 3 of the 2018 NFL season with the most impressive performances! This week's topics:
– Ryan Fitzpatrick (Bucs)
– Matt Patricia (Lions)
– Pat Mahomes (Chiefs)
– Sean McVay (Rams)
– Drew Brees (Saints)
– Adam Gase / Ryan Tannehill (Dolphins)
– Buffalo Bills
– Mike Vrabel (Titans)
– Khalil Mack (Bears)
– Baker Mayfield (Browns)
From there, it's on to College Football, with a preview of the week's biggest matchups, complete with odds, totals, and thoughts on the games. This week's biggest games:
– Ohio St at Penn St
– Stanford at Notre Dame
– Florida at Mississippi St
– West Virginia at Texas Tech
– South Carolina at Kentucky
– BYU at Washington
– Oregon at Cal
– Iowa St at TCU
– Virginia Tech at Duke
– Ole Miss at LSU
– Army at Buffalo
Finally… it's time for Gary and Chris's College Football Week 5 gambling picks! The guys picks 7 games each, against the spread. So far, Gary is 14-13-1, and Chris is 13-14-1. This week's games include:
– Army at Buffalo
– Syracuse at Clemson
– Oregon at Cal
– Virginia Tech at Duke
– UTEP at UTSA
– Pitt at UCF
– West Virginia at Texas Tech
– South Carolina at Kentucky
– ULM at Georgia St
– Purdue at Nebraska
– Old Dominion at East Carolina
– Stanford at Notre Dame
– Temple at Boston College
From there, the guys move back into the NFL, discussing the biggest matchups in upcoming Week 4. This week's best games include:
– Vikings at Rams
– Dolphins at Patriots
– Bucs at Bears
– Ravens at Steelers
– Chiefs at Broncos
– Eagles at Titans
– Browns at Raiders
– Texans at Colts
And last, but certainly not least… Gary and Chris's NFL Week 4 gambling picks, against the spread. Gary is 9-6 on the year, and Chris is 10-5 on the year. This week's games include:
– Vikings at Rams
– Seahawks at Cardinals
– Bills at Packers
– Lions at Cowboys
– Texans at Colts
– Eagles at Titans
– Jets at Jaguars
– Browns at Raiders
– Bucs at Bears
———-
► Football Picks Contest!
Winner gets a different prize each week! Enter here: http://www.winningcureseverything.com/fb-picks-contest
► Site: http://www.winningcureseverything.com
► YouTube: http://www.youtube.com/winningcureseverything
► Store: http://www.winningcureseverything.com/store/
► Podcasts: http://www.winningcureseverything.com/podcasts
► Facebook: http://www.facebook.com/winningcureseverything
► Twitter: http://www.twitter.com/winningcures
Gary's twitter: http://www.twitter.com/garywce
Chris's twitter: http://www.twitter.com/chrisbgiannini