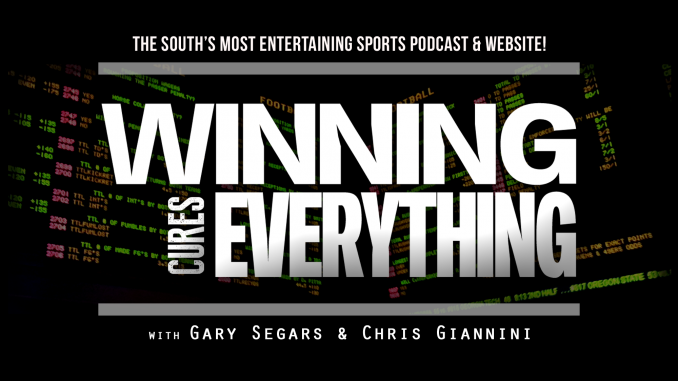 Keep up with our podcasts!
Enter your e-mail, and we'll let you know what's going on at WCE a couple of times a month!
Gary is riding solo, while Chris is in Boston! On today's show, Gary breaks down College Football week 6, discussing these topics:
– Sam Ehlinger looks like he's got Texas rolling
– Dan Mullen and Florida found a way to control the trenches vs LSU
– Notre Dame is still really good
– Texas A&M's defense is going to win them a lot of games
– what is wrong with Auburn's rushing attack?
– Northwestern won at Mich St with 2 defensive starters out and only 8 rushing yards!
– NC State ran a ton of plays and stayed undefeated
– Miami almost let a terrible Florida St team beat them
– Iowa St's 3rd string QB is incredible
– South Carolina's win expectancy was 4%… and they beat Mizzou
Gary also gives out his top 10, along with his CFB Playoff predictions after Week 6!
———-
► Football Picks Contest!
Winner gets a different prize each week! Enter here: http://www.winningcureseverything.com/fb-picks-contest
► Site: http://www.winningcureseverything.com
► YouTube: http://www.youtube.com/winningcureseverything
► Store: http://www.winningcureseverything.com/store/
► Podcasts: http://www.winningcureseverything.com/podcasts
► Facebook: http://www.facebook.com/winningcureseverything
► Twitter: http://www.twitter.com/winningcures
Gary's twitter: http://www.twitter.com/garywce
Chris's twitter: http://www.twitter.com/chrisbgiannini