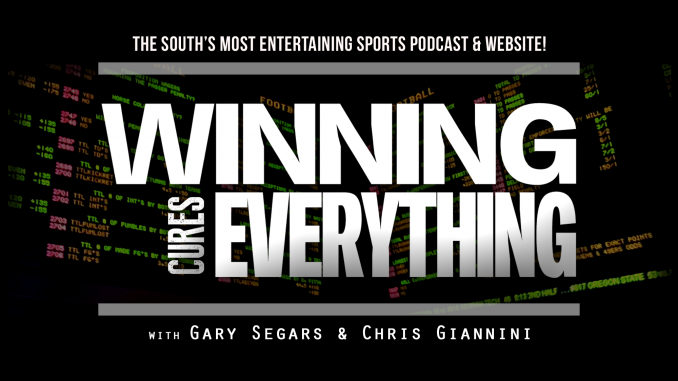 Sign up for our E-mail List!
Get our latest news once a week, including pick'em reminders!
Chris is back from Boston, and he and Gary jump into the NFL Week 5 recap, the NFL Top 5 & Bottom 5 rankings, College Football Week 7 big game previews & gambling picks, and NFL Week 6 big game previews & gambling picks.
NFL Week 5 Recap Topics:
– Drew Brees broke the passing record & the Saints rolled the 'Skins
– Jaguars slowed down Mahomes… but still got blasted
– Patriots are back to their old tricks
– Steelers found their mojo against the hapless Falcons
– Cardinals got their first win, even though they were outgained by 200 yds, gave up 33 1st downs to only 10, and held the ball for only 19 minutes.
– Titans got the Bills in an ugly game… and lost
– Bengals went down 17-0 to the Dolphins… and won
– Browns would be 5-0 with a decent kicker… but their kicker helped beat the Ravens in OT
– the Texans are the beneficiaries of another win thanks to a coaching error by the opposing team
– the Packers had a missed field goal and fumble festival in Detroit Sunday
– the Rams may get down, but you'll never beat them
Gary and Chris then give you their NFL Top 5 & Bottom 5 rankings after Week 5.
The guys then jump in with College Football Week 7 big game previews. This week, they discuss these games:
– Wisconsin @ Michigan
– Georgia @ LSU
– Washington @ Oregon
– Michigan St @ Penn St
– UCF @ Memphis
– Texas A&M @ South Carolina
– Colorado @ USC
– West Virginia @ Iowa St
From there, they dive into CFB gambling picks! This week's games include:
– Army @ San Jose St
– South Florida @ Tulsa
– Temple @ Navy
– Virginia Tech @ North Carolina
– Nebraska @ Northwestern
– Iowa @ Indiana
– UCF @ Memphis
– Missouri @ Alabama
– Colorado @ USC
– West Virginia @ Iowa St
– Georgia @ LSU
– Troy @ Liberty
After finishing up College Football, the guys jump into NFL Week 6 big game previews. This week's games include:
– Chiefs @ Patriots
– Bears @ Dolphins
– Steelers @ Bengals
– Ravens @ Titans
– Jaguars @ Cowboys
– Eagles @ Giants (Thursday)
– 49ers @ Packers (Monday)
– Rams @ Broncos
– Chargers @ Browns
And, finally, to end the show, the guys give our their NFL Week 6 gambling picks, which include these games:
– Steelers @ Bengals
– Rams @ Broncos
– Ravens @ Titans
– Panthers @ Redskins
– Jaguars @ Cowboys
– Chargers @ Browns
———-
► Football Picks Contest!
Winner gets a different prize each week! Enter here: http://www.winningcureseverything.com/fb-picks-contest
► Site: http://www.winningcureseverything.com
► YouTube: http://www.youtube.com/winningcureseverything
► Store: http://www.winningcureseverything.com/store/
► Podcasts: http://www.winningcureseverything.com/podcasts
► Facebook: http://www.facebook.com/winningcureseverything
► Twitter: http://www.twitter.com/winningcures
Gary's twitter: http://www.twitter.com/garywce
Chris's twitter: http://www.twitter.com/chrisbgiannini