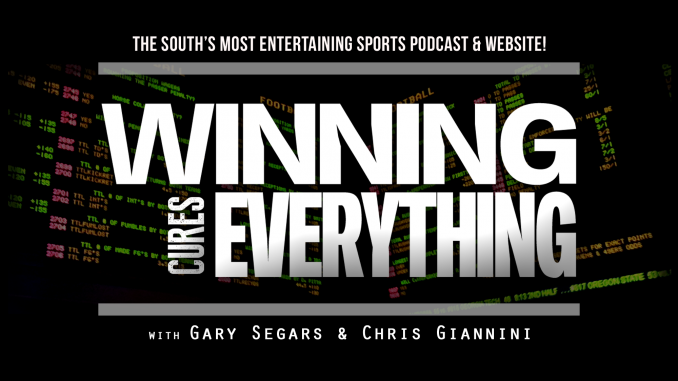 Keep up with our podcasts!
Enter your e-mail, and we'll let you know what's going on at WCE a couple of times a month!
Gary and Chris recap NFL Week 6 and give their top 5 / bottom 5 rankings, and are ready for College Football Week 8 and NFL Week 7!
The topics for this week's NFL Week 6 recap are as follows:
– Chiefs / Patriots was exhilerating… but Chiefs don't have an offense to run clock
– is the AFC North the best division in the NFL?
– Broncos are playing the wrong quarterback!
– are the Titans dead this season?
– AFC South is the worst division in the NFL
– somebody should tell Nate Peterman that he's not good at football
– how good can the Jets be?
– what can we take from the Packers / 49ers game?
– Chargers are starting to handle some teams
– defense in the NFL is dead
In the College Football Big Game Previews, the guys discuss these games:
– NC State @ Clemson
– Oregon @ Washington St
– Michigan @ Michigan St
– Miss St @ LSU
– Cincinnati @ Temple
– Oklahoma @ TCU
– Ohio St @ Purdue
– Auburn @ Ole Miss
– Memphis @ Missouri
– Colorado @ Washington
– Alabama @ Tennessee
The guys give their College Football Week 8 gambling picks and, in no particular order, give their picks on these games:
– Wake Forest @ Florida St
– Ohio St @ Purdue
– Houston @ Navy
– Colorado @ Washington
– NC State @ Clemson
– Memphis @ Missouri
– Miss St @ LSU
– Maryland @ Iowa
– Miami OH @ Army
– E Mich @ Ball St
– Oregon @ Washington St
– Vanderbilt @ Kentucky
– Fresno St @ New Mexico
In the NFL Big Games Preview or Week 7… or at least the most interesting games… the guys discuss these games:
– Patriots @ Bears
– Bengals @ Chiefs
– Saints @ Ravens
– Panthers @ Eagles
– Browns @ Bucs
– Thurs: Broncos @ Cardinals
– Mon: Giants @ Falcons
– Chargers @ Titans
– Texans @ Jags
And finally, the guys give their NFL Week 7 gambling picks, discussing these games:
– Chargers @ Titans
– Patriots @ Bears
– Texans @ Jaguars
– Saints @ Ravens
– Cowboys @ Redskins
– Browns @ Bucs
– Panthers @ Eagles
– Rams @ 49ers
– Giants @ Falcons
———-
► Football Picks Contest!
Winner gets a different prize each week! Enter here: http://www.winningcureseverything.com/fb-picks-contest
► Site: http://www.winningcureseverything.com
► YouTube: http://www.youtube.com/winningcureseverything
► Store: http://www.winningcureseverything.com/store/
► Podcasts: http://www.winningcureseverything.com/podcasts
► Facebook: http://www.facebook.com/winningcureseverything
► Twitter: http://www.twitter.com/winningcures
Gary's twitter: http://www.twitter.com/garywce
Chris's twitter: http://www.twitter.com/chrisbgiannini