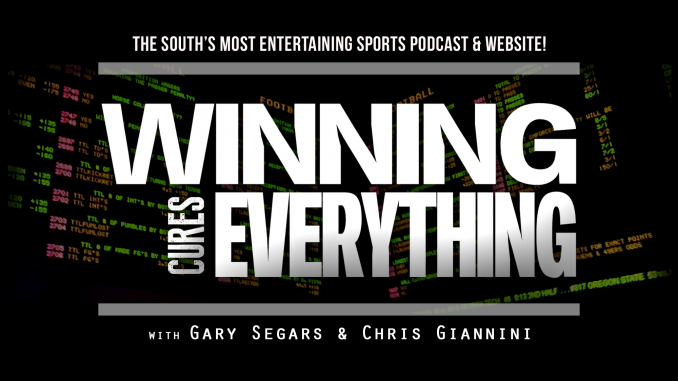 Sign up for our E-mail List!
Get our latest news once a week, including pick'em reminders!
Gary and Chris recap Week 9 of the 2018 College Football season, along with the guys top 10 and their playoff predictions. Here are this week's topics:
– Georgia smoked Florida
– Washington St kept their playoff hopes alive in Palo Alto
– Penn St survived a few miscues at home against Iowa
– Oklahoma St came out on fire and held on late to upset Texas
– Kentucky came up with a last minute win at Missouri to setup an SEC East Championship game vs Georgia
– Houston is REALLY good
– Where did that Nick Fitzgerald performance come from in Miss St's win vs Texas A&M?
– Northwestern beat Wisconsin… and Pat Fitzgerald is frustrating.
– Arizona upset Oregon, and we have no idea what to make of the Pac 12.
– Boston College beat Miami Friday night, and Richt's team isn't great if they don't have a great QB
– Michigan St started a new QB, and their offense actually looked good in a win over Purdue
– and more!
———-
► Football Picks Contest!
Winner gets a different prize each week! Enter here: http://www.winningcureseverything.com/fb-picks-contest
► Site: http://www.winningcureseverything.com
► YouTube: http://www.youtube.com/winningcureseverything
► Store: http://www.winningcureseverything.com/store/
► Podcasts: http://www.winningcureseverything.com/podcasts
► Facebook: http://www.facebook.com/winningcureseverything
► Twitter: http://www.twitter.com/winningcures
Gary's twitter: http://www.twitter.com/garywce
Chris's twitter: http://www.twitter.com/chrisbgiannini